Through the Mask
Conversations about Culture and Covid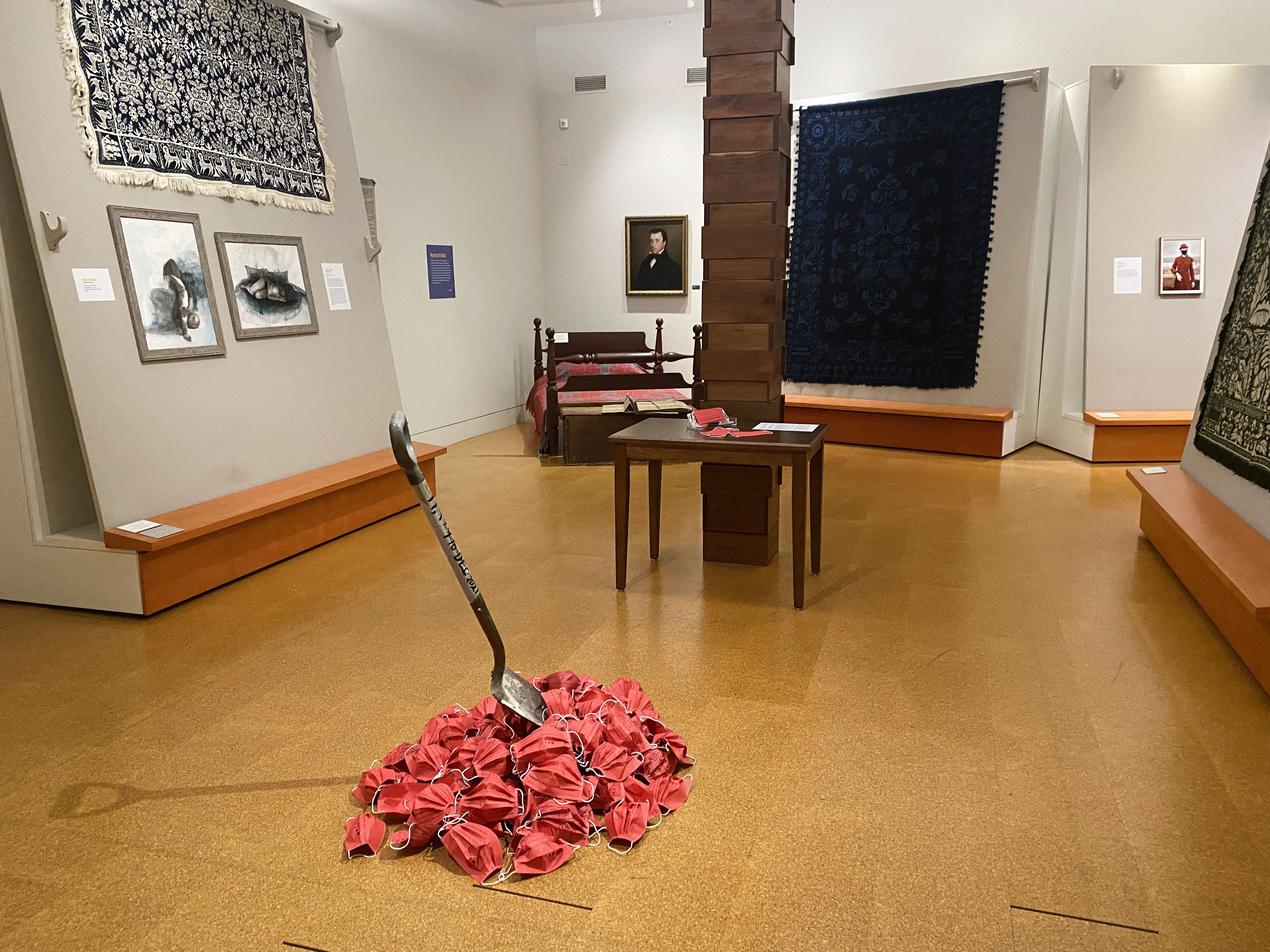 Masks can have many purposes. They can slow the spread of disease, provide protection and privacy, and represent one's profession or culture. They can also carry diverse meanings. Worn by healthcare workers and the public, the face mask may be the most ubiquitous symbol of the COVID-19 pandemic. Not since the 1918 influenza pandemic has mask-wearing become so widespread among the public. Since then, the mask has been a source of many conversations and reflections about the pandemic and our individual and collective experiences of it.
This exhibit highlights artistic responses to the pandemic, interpretations of masking in all forms, and the impact of COVID-19 on the creative community and communities at large. Artwork explores experiences of wearing a mask, concealing or "masking" deep emotions, and revealing or "unmasking" demands for social change. This exhibit uses the symbol of masking to look at the relationships between power, culture, and social justice.
Funding for this exhibit has been provided by PA Humanities and the National Endowment for the Humanities as part of the American Rescue Plan Act of 2021.
Under the Mask
When the United States declared COVID-19 a pandemic in March 2020, it dramatically changed the lives of healthcare workers and the public, transforming daily routines and long-term plans. The nuanced stories of individuals were often overshadowed by the scale of the pandemic's devastation. The artwork featured in this section represent some of these individual stories, spotlighting the impacts on healthcare workers, patients afflicted by the disease, and those striving to prevent infection. Many of these stories are told through the artistic exploration of one object – the medical mask.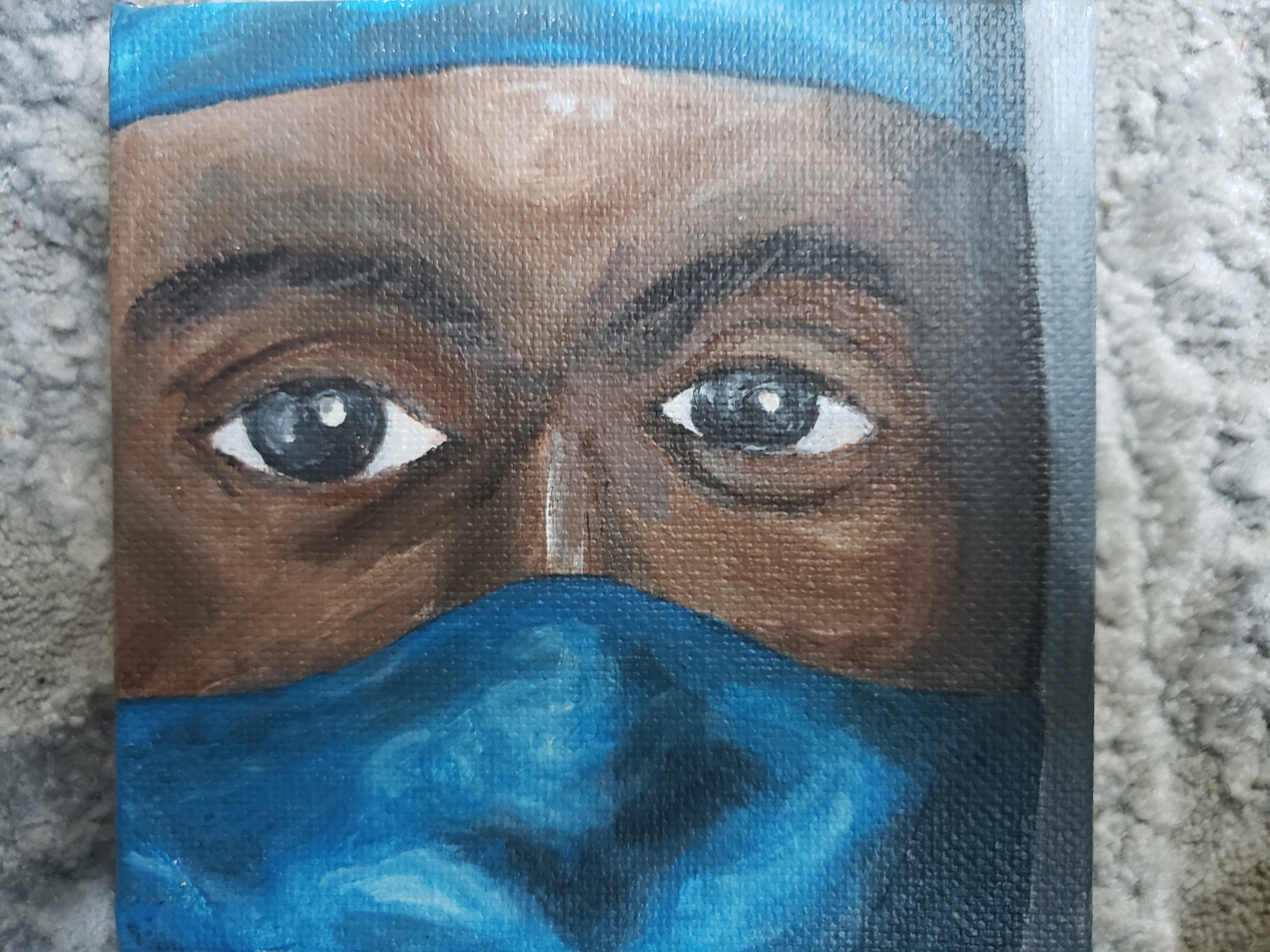 When COVID-19 was declared a pandemic, little was known about this novel disease. Information, therefore, was shared in real time. Scientists, reporters, and world leaders communicated with the public about the disease, while the public expressed a multitude of thoughts, feelings, and experiences online. Unknowns, such as how the disease spread, combined with rapidly climbing death counts, triggered fear, confusion, and action. All this information was broadcast across multiple platforms and represented many perspectives in an overwhelming collage of statistics, policies, and images.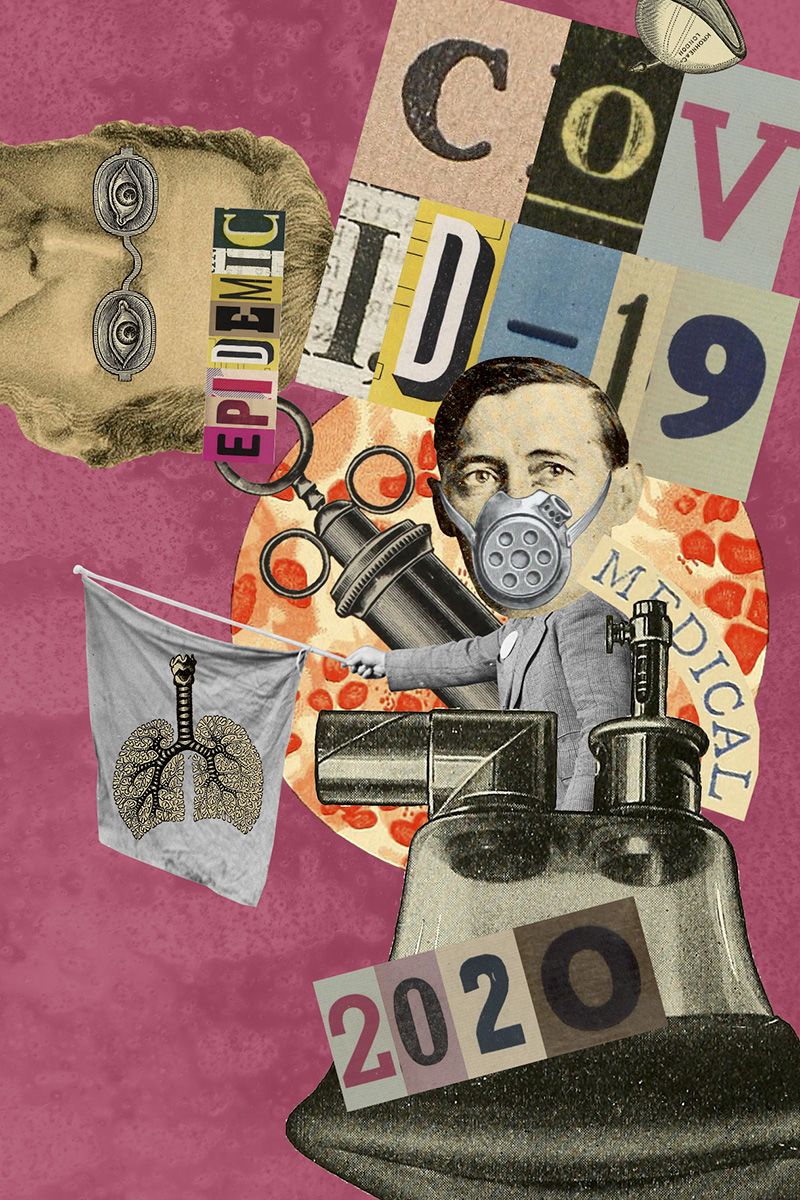 Pawel Pacholec, "COVID-19 I."
2020
Gdansk, Pomorskie, Poland
Collage CGD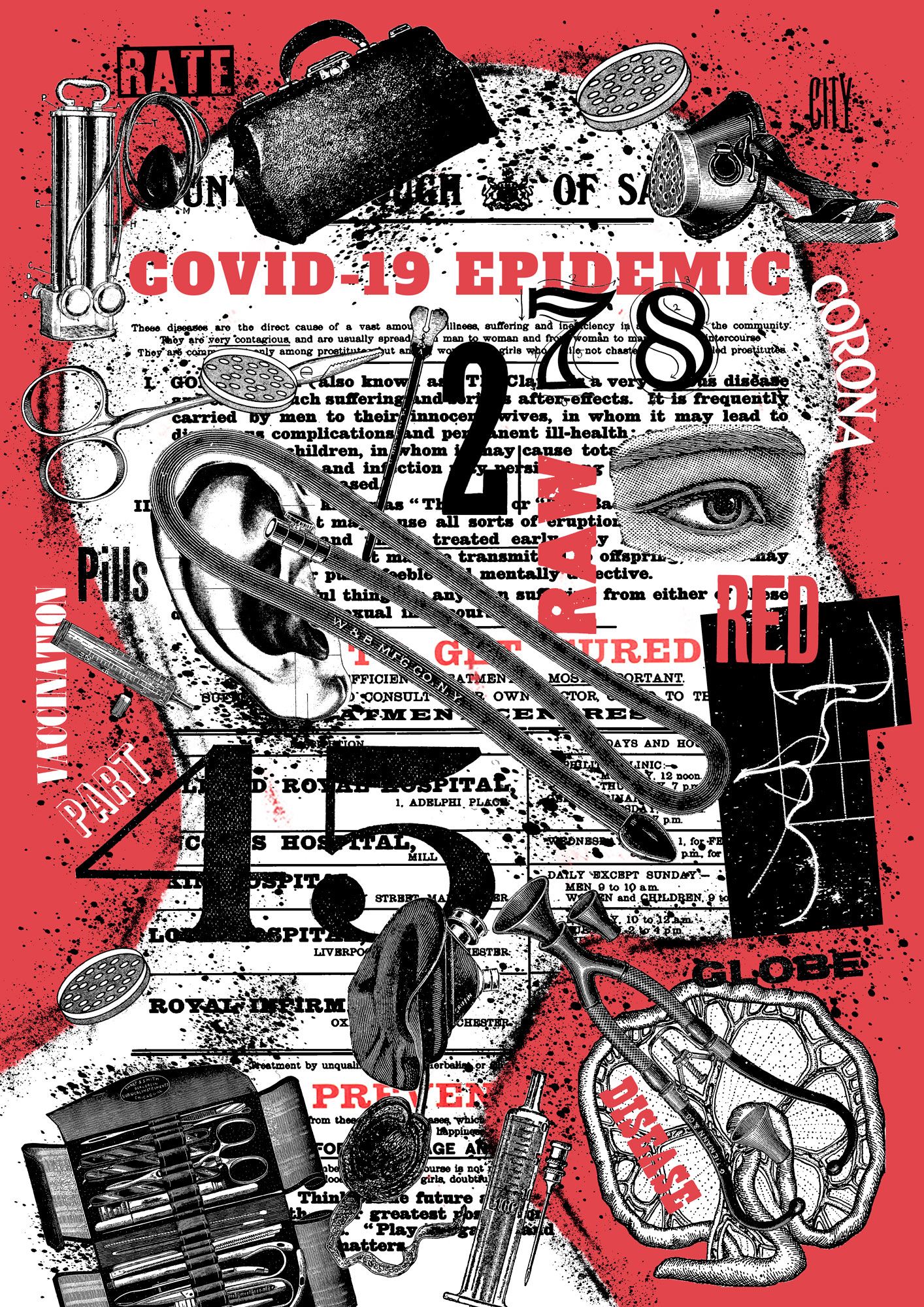 Pawel Pacholec, "COVID Portrait I."
2021
Gdansk, Pomorskie, Poland
Collage CGD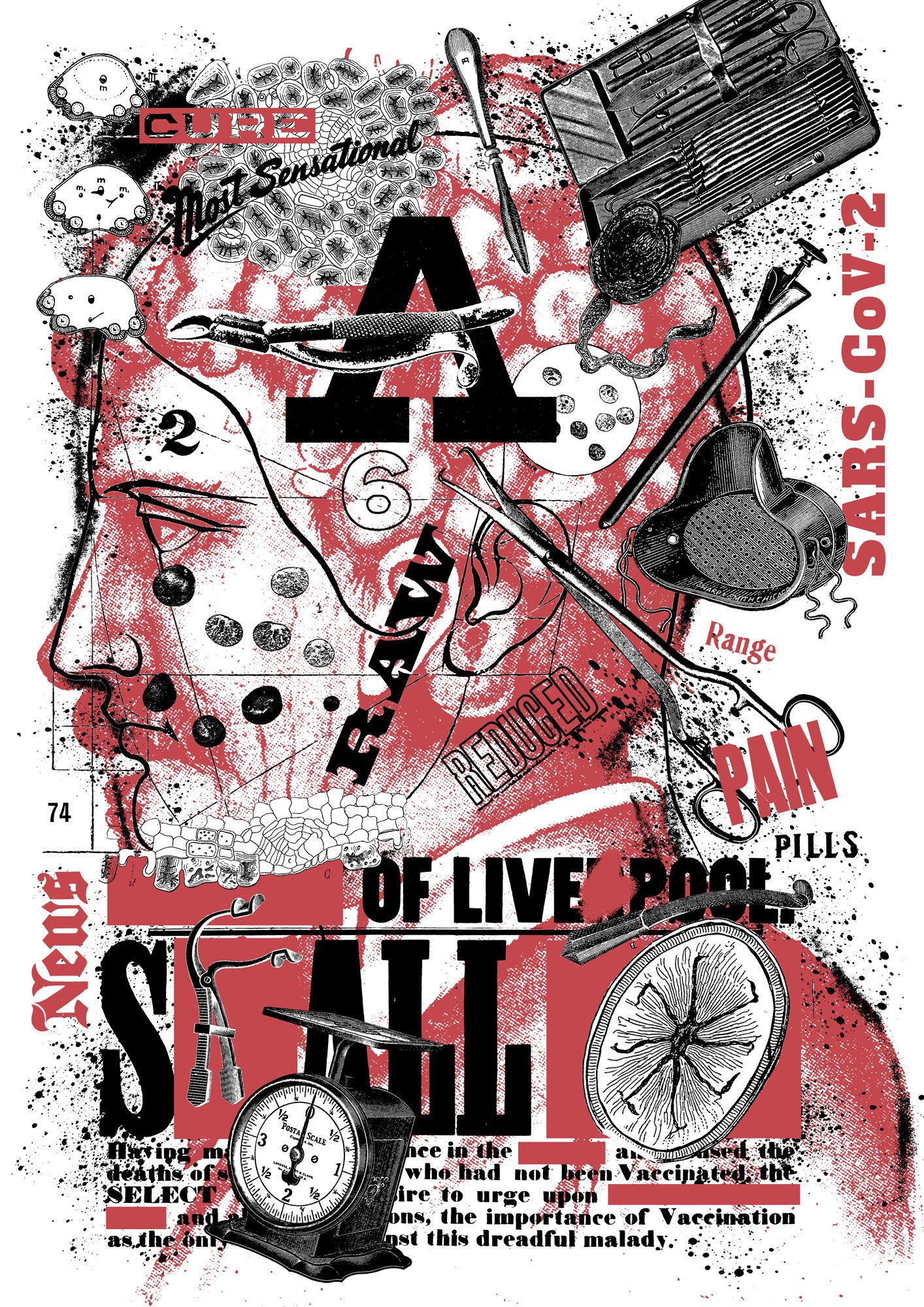 Pawel Pacholec, "COVID Portrait II."
2021
Gdansk, Pomorskie, Poland
Collage CGD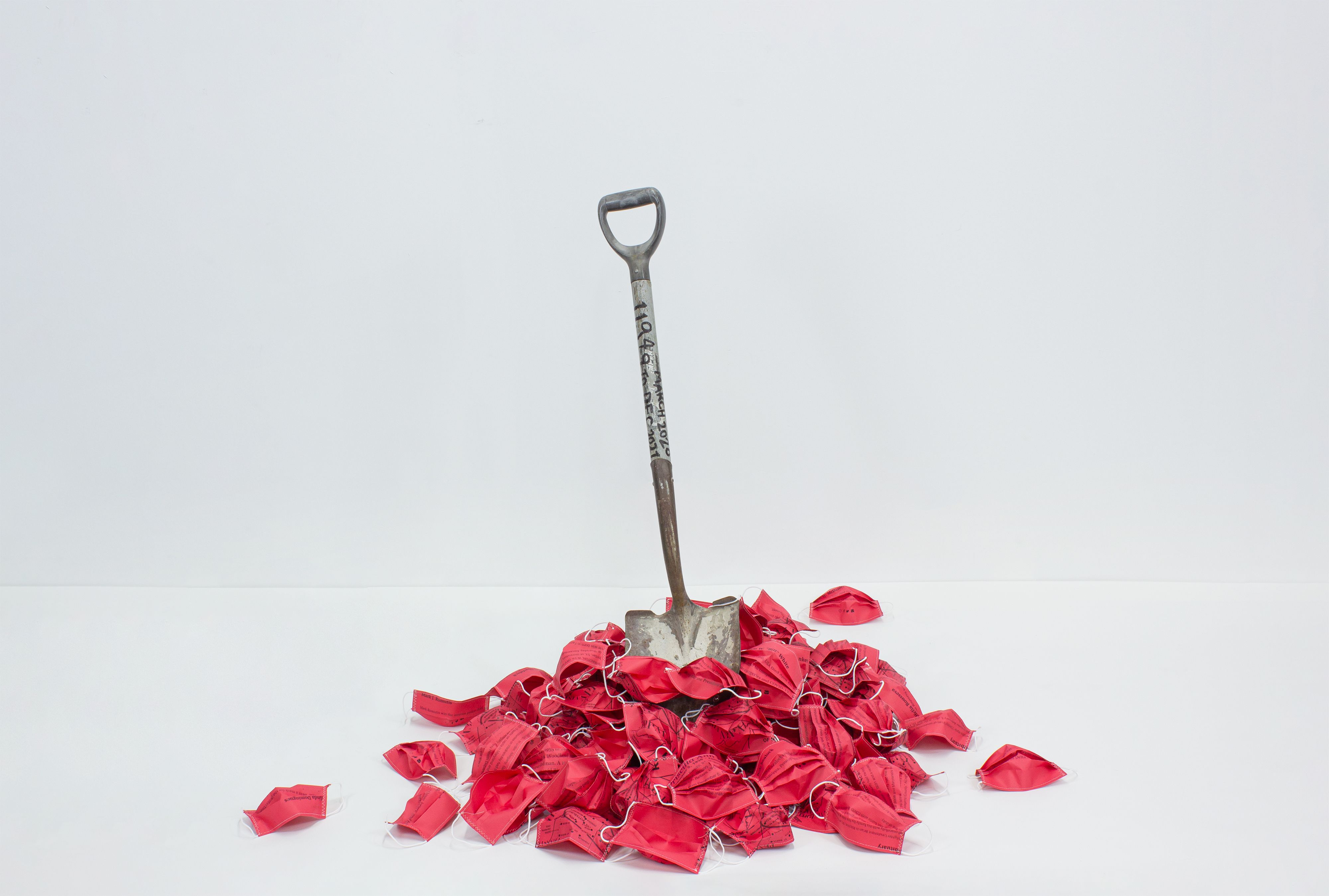 Sarah Simmons and Evan Rumble, Dig
2022
Pittsburgh, Pennsylvania, United States
Repurposed round-point shovel on steel braces, laserjet ink on paper, spandex cord, and thread
"Between March 2020 and December 2021, 11,949 people died from COVID, or COVID related complications in the 32 counties surrounding Pittsburgh. With lower population numbers and density, we did not see the dramatic totals of loss that larger metropolitan areas experienced. In the Pittsburgh region, the intersection of the Appalachia and the rust belt, we have traditionally labored intensely in coal, and steel, mostly outside of the interest of the rest of the country. In this way, we have continued to labor through our losses in this pandemic, intensely and quietly.

Dig is a memorial to the 11,949 lives lost in this region due to COVID. The shovel is ready to lift, hold and carry the memory of each person who was lost to us. Visitors are encouraged to write the name or a message on a red paper memorial mask and add to our collective pile of grief. Beginning with a ratio of one mask per 100 deaths, our ratio will climb closer to equal as people contribute memories and names. We are always stronger together, sharing the load of our loss and pain, while lifting and holding our memories of life and the celebration of our departed loved ones."
"...it's also been a big healing process as other artists can dialogue and work through some of the, some of the sort of collective issues that we've experienced in the last three years."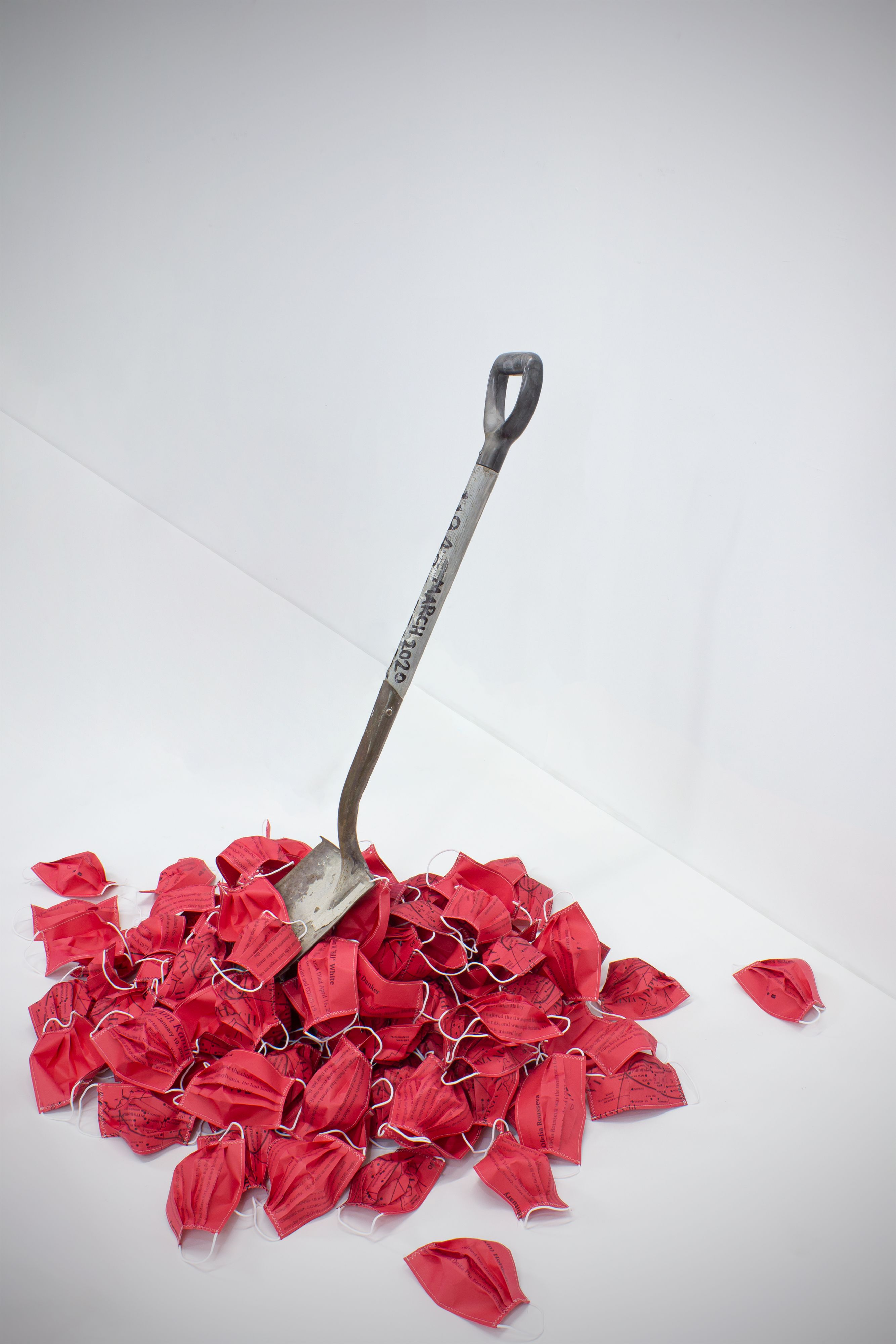 The tools used to confront COVID-19 have become well-known artifacts of the pandemic. As the government grappled with increasing infections, guidance presented the tools at hand: face masks, social distancing, closing schools and businesses, and limited gatherings. Researchers studied the symptoms, including coughs, fevers, sore throats, and breathing difficulties, and developed screenings and tests to differentiate COVID symptoms from those in common diseases. They experimented with treatments to care for the sick and developed vaccines to prevent further spread.
As COVID has continued to change and mutate, these tools have provided a line of defense.
I used my interest in history to inform my interpretation of the theme by reproducing newspaper headlines and advertisements from the 1918 u pandemic onto N95 masks. The images were chosen to reflect a shared experience between our social responses to the Covid-19 pandemic and the social responses 100 years ago.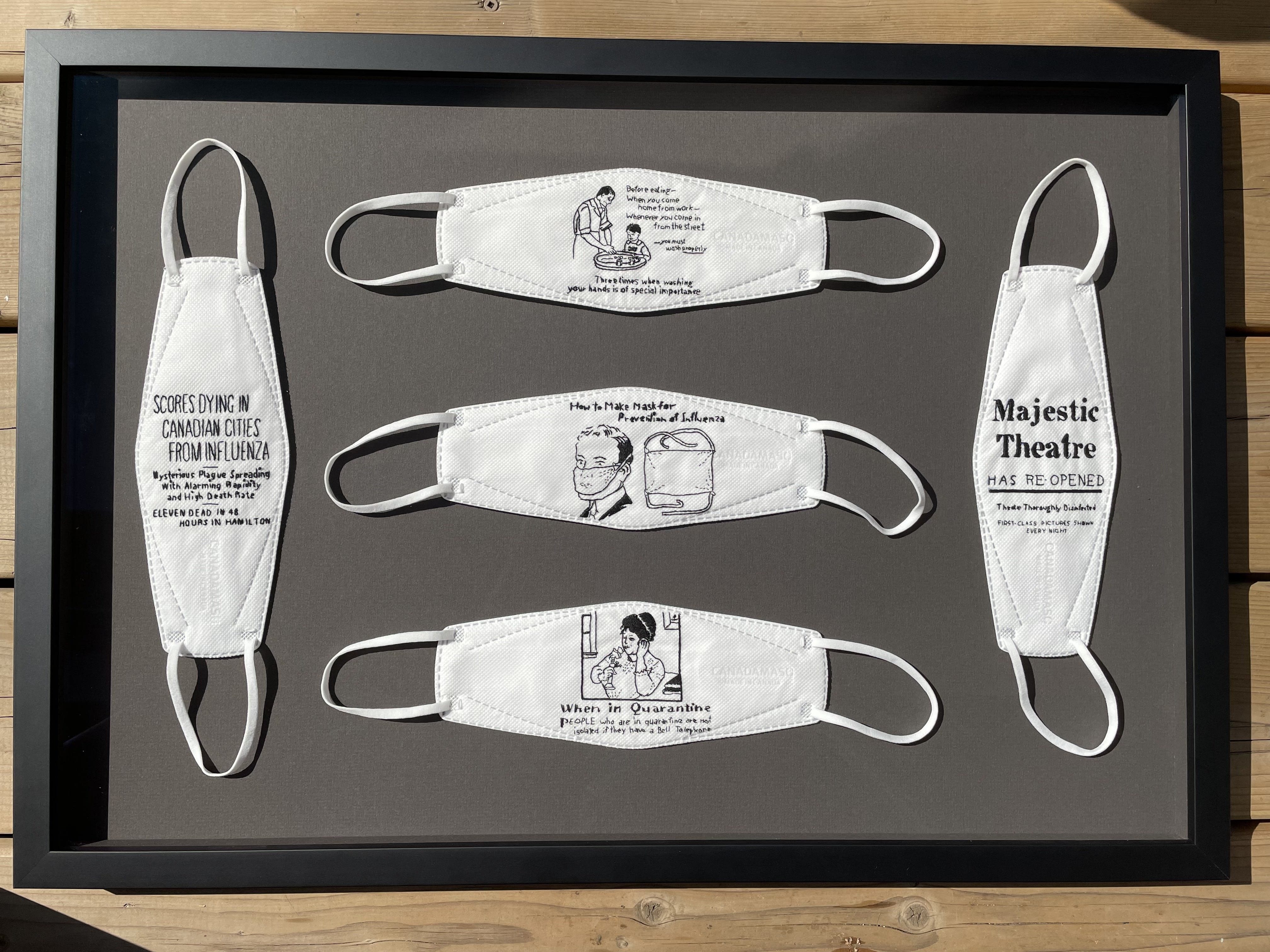 Brooke Ali, History Repeating
2022
Toronto, Ontario, Canada
Cotton embroidery on N95 masks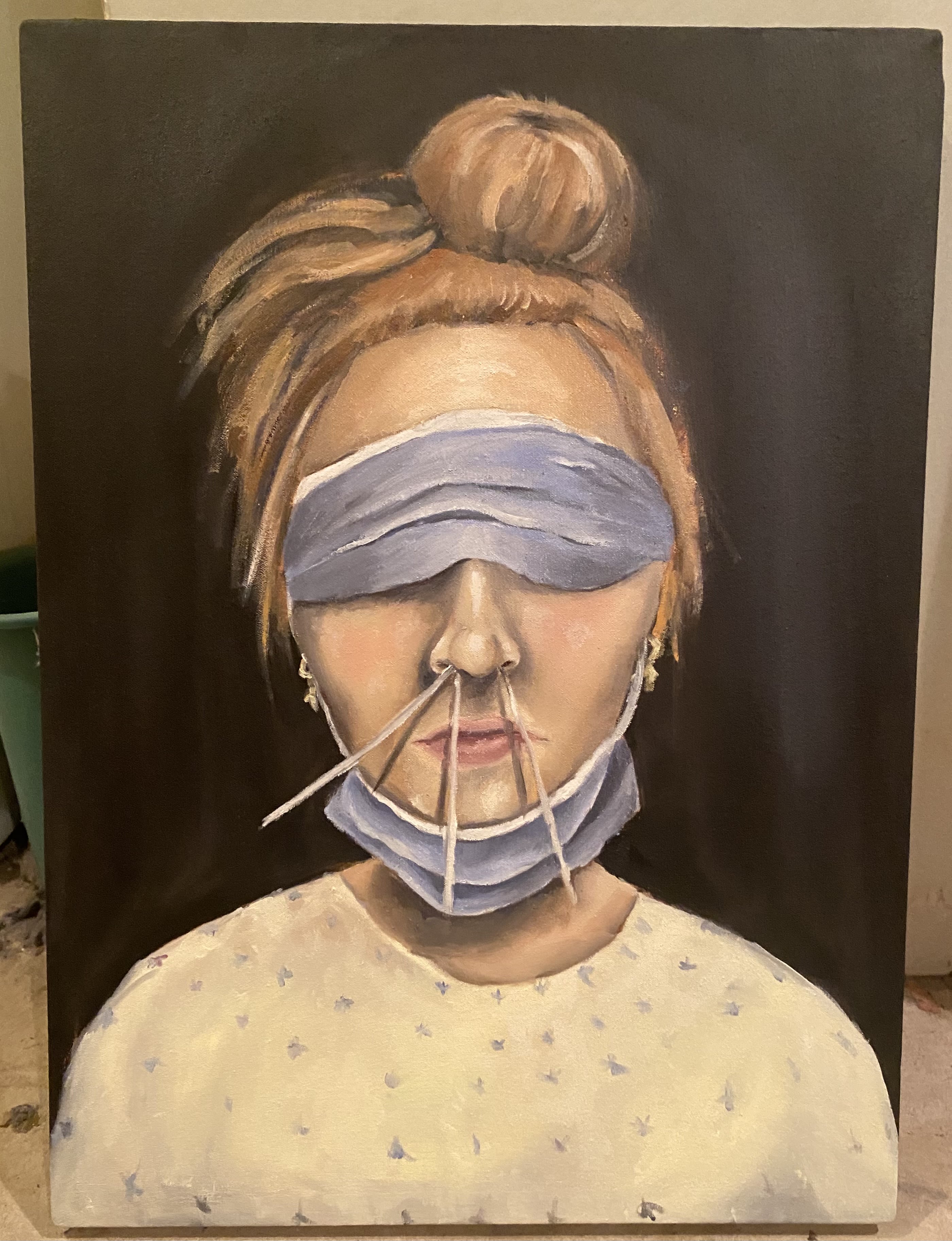 Jess Logozo, Interrogation
2022
Long Pond, Pennsylvania, United States
Oil on canvas
There is solidarity in the unspoken, and my work is a hand to hold while the audience confronts, forgets, or heals their inner turmoil. With representations of all things that are the human experience, I aim to present a memory or feeling personalized to each viewer: the mundane, the nostalgic, the extreme, the comforting, and the disheartening. With brushstrokes somewhat visible and gestural, it is a reminder that the art is a product of another human with their own issues and experiences, which may or may not be parallel to those of the viewer. Regardless of the differences, it is a silent reminder that we are still the same at the core...
... The art is simultaneously for the artist and the viewer; to view and take as much time as they need to distract from or to devour their internal actions. It is a nod to the complexity of the human brain and its ailments. A peaceful landscape to some may induce devastating nostalgia for others. The specific subject matter is not important, as color, form, and depth will communicate what the viewer needs to hear. There is a mutual understanding between the piece and the viewer, and the meaning will mold itself accordingly.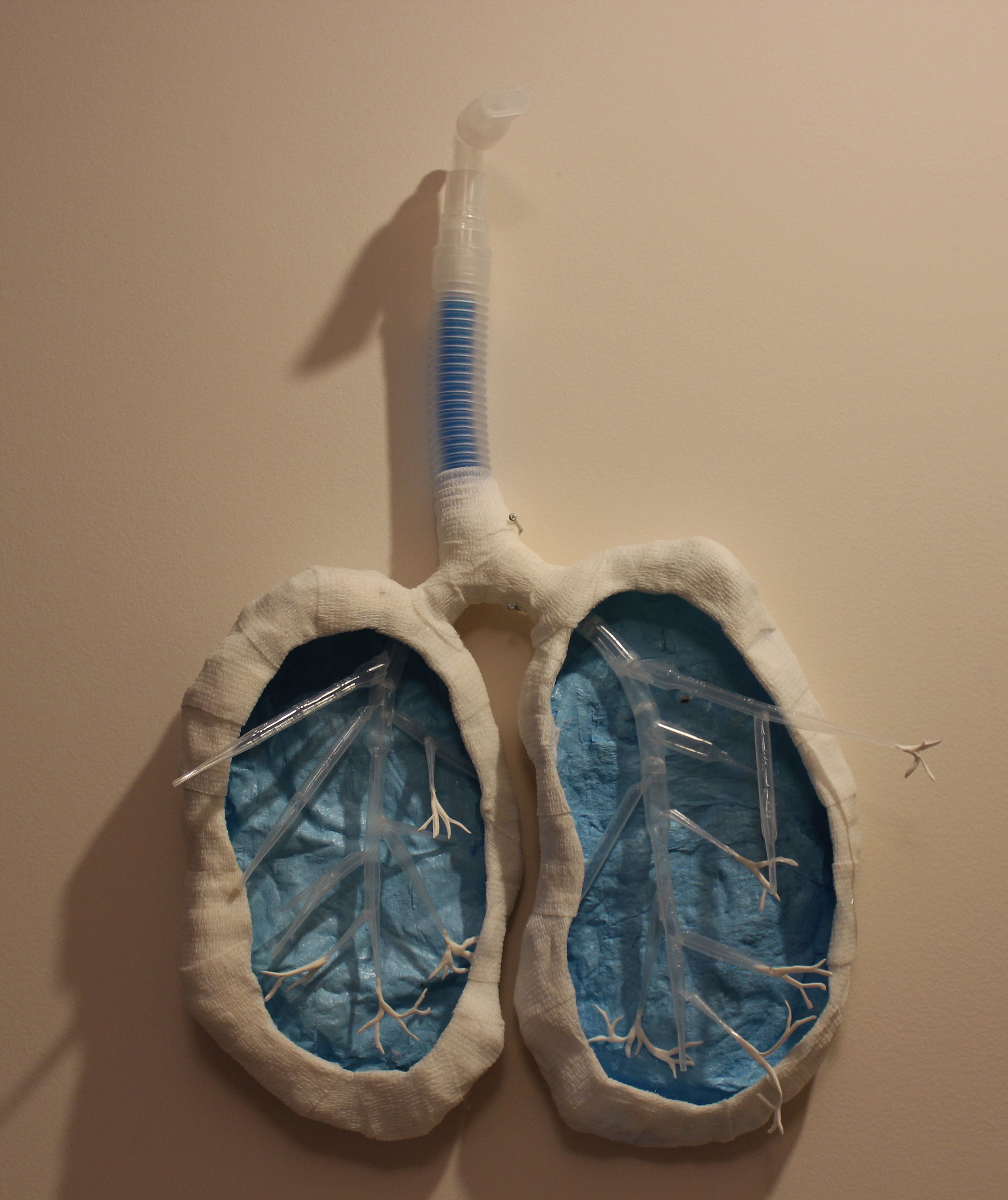 Trisha Gupta, Breathe COVID
2022
Burtonsville, Maryland, United States
Photograph of original art
This set of lungs is a commemorative piece to appreciate the role of medical professionals during the pandemic. The piece is created from medical grade bandages, used mask parts, and medical paraphernalia. While breathing and mask usage have been a divisive issue, the artist uses these masks in this sculpture to be appreciative of their critical role in keeping us alive. The artist also invites the viewer to consider how bodies are assisted by modern medicine, and how we can choose to have a symbiotic relationship with science and how we can not live without it.
When the first wave of COVID hit the United States, weaknesses in the healthcare system became apparent - entire senior homes quarantined, emergency rooms flooded, and hospitals filled beyond capacity. Working without established guidelines and adequate personal protective equipment, healthcare workers of all backgrounds, including doctors, nurses, paramedics, technicians, hospital staff, and more, exposed themselves to additional danger.
Since then, 83% of healthcare workers have reported high levels of stress, exhaustion, worry about loved ones, struggles with parenting, compassion fatigue, and the ability to eat and sleep, all leading to a sense of isolation. The faces behind the masks are themselves victims of COVID.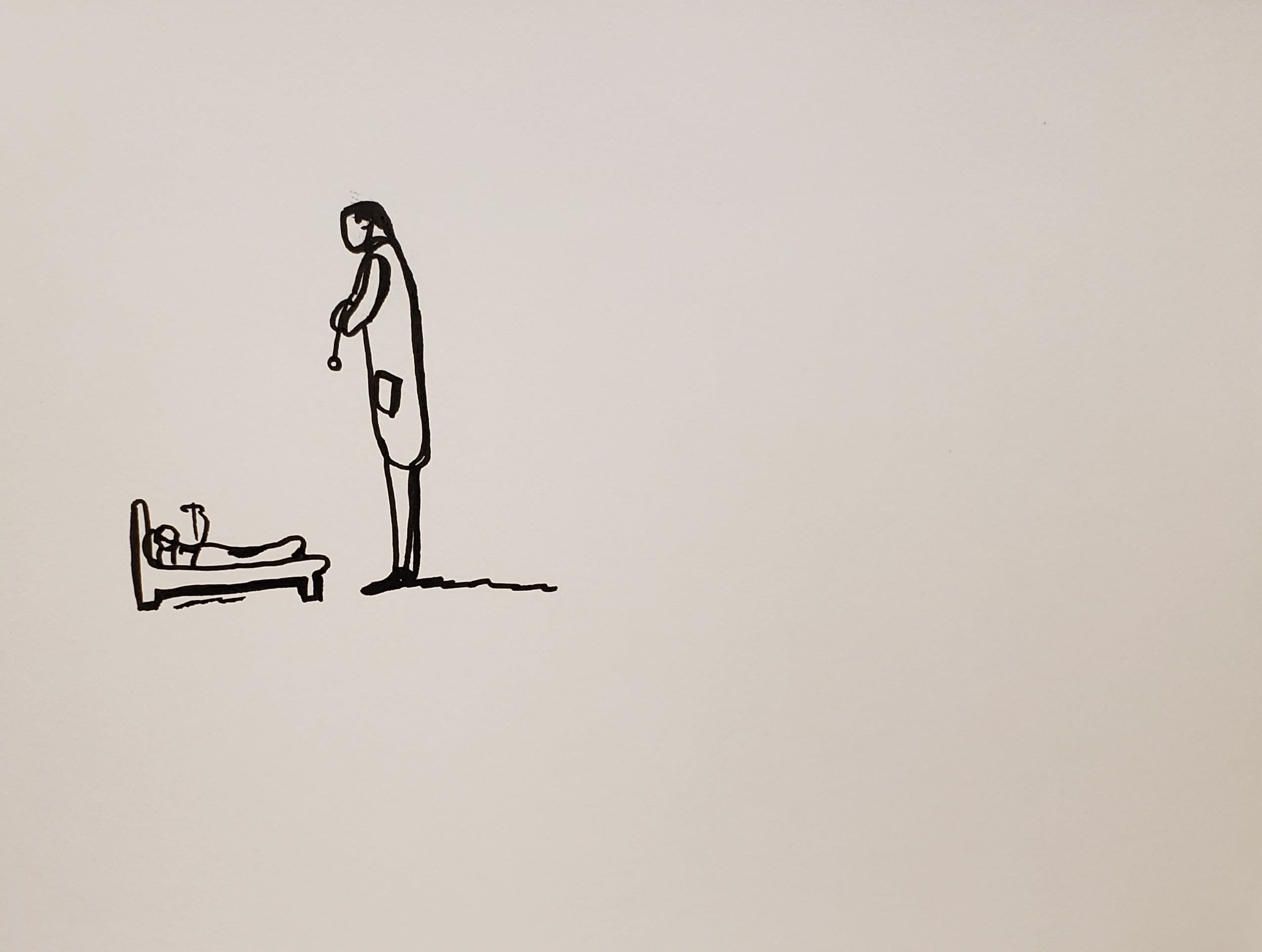 Doctor's Orders, Suliman EL-Amin
2021
Westborough, Massachusetts, United States
Ink on Paper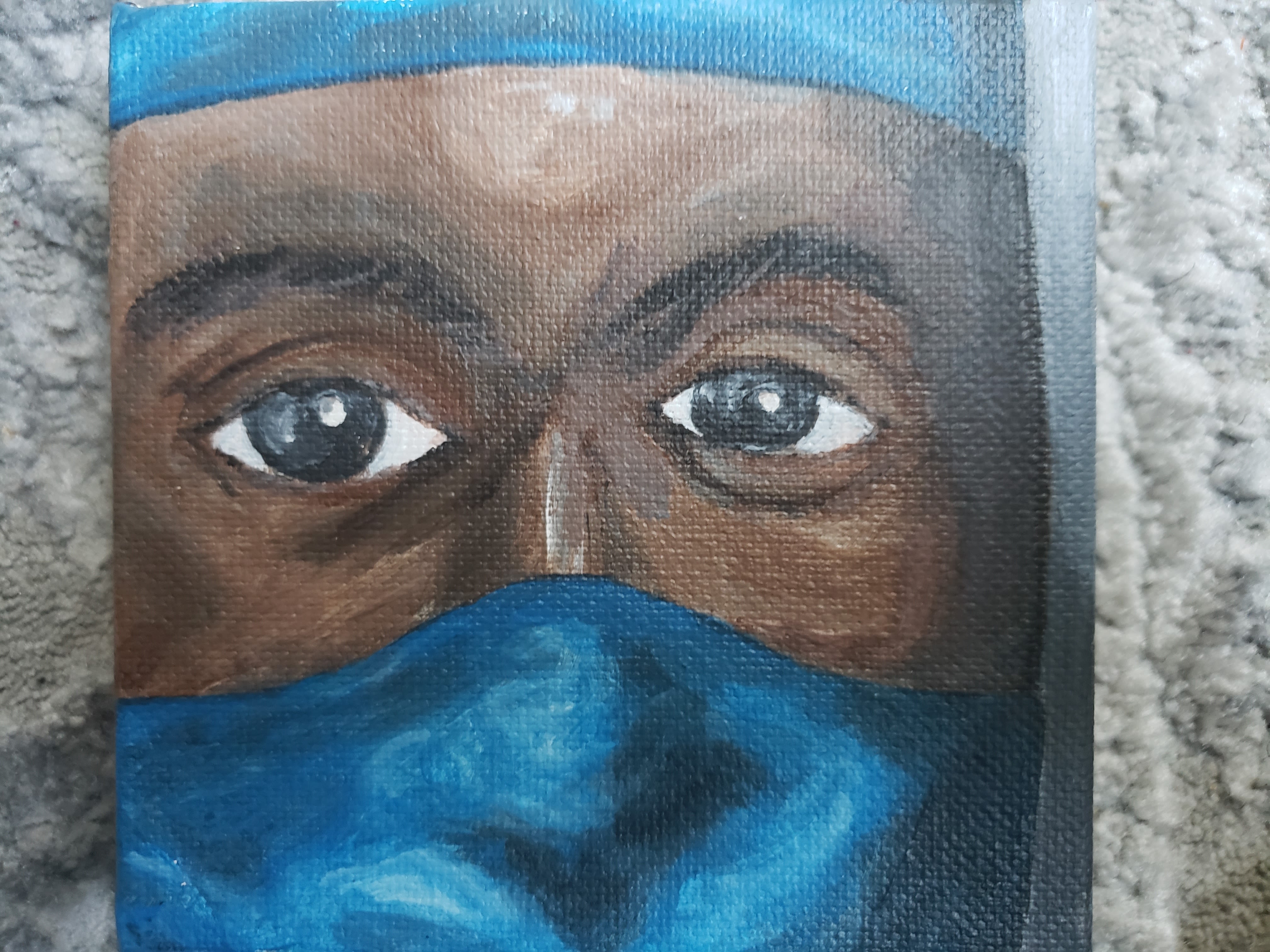 Suliman EL-Amin, The Eyes Still Talk
2021
Westborough, Massachusetts, United States
Acrylic on Canvas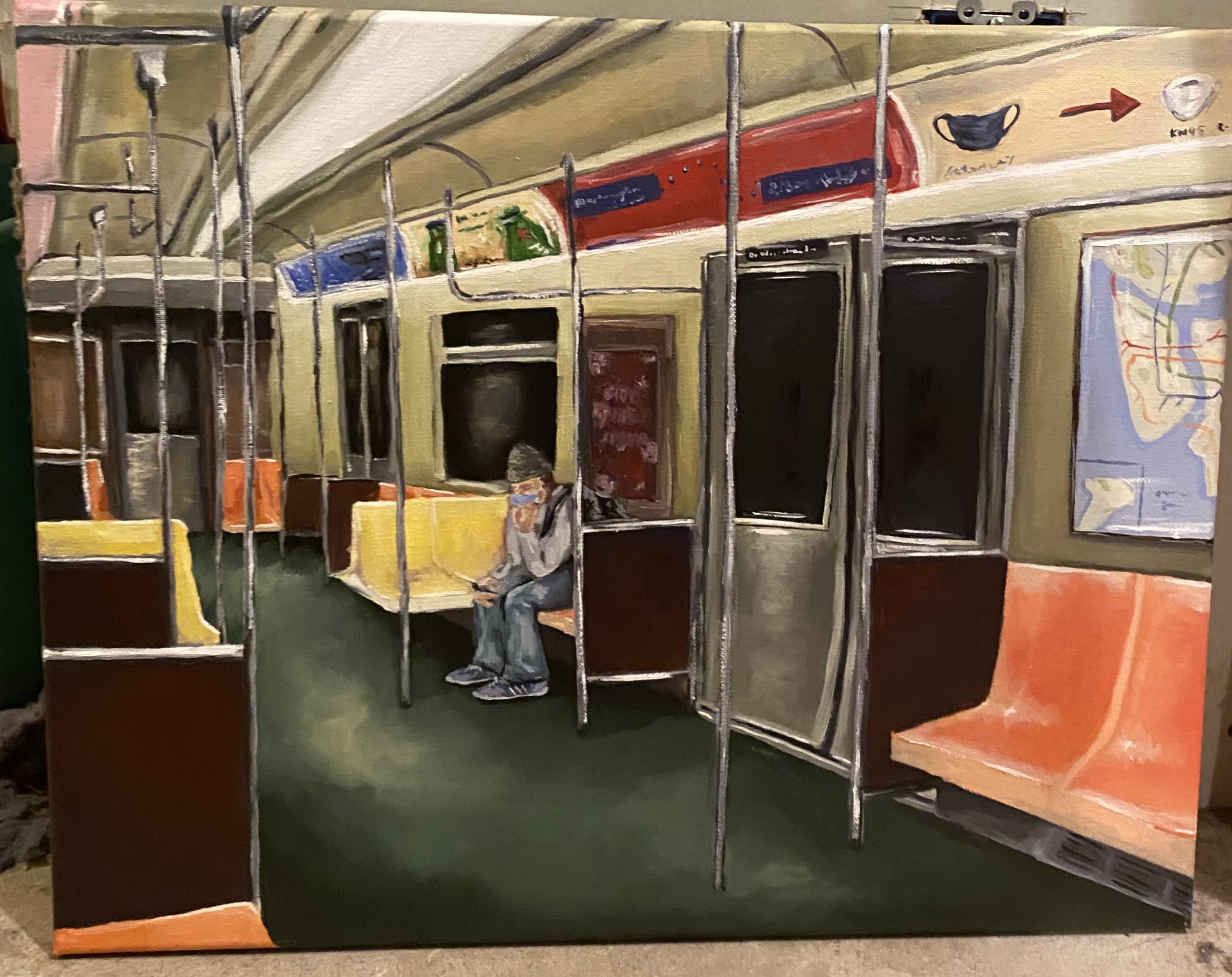 Jess Logozo, Subway
2022
Long Pond, Pennsylvania, United States
Oil on canvas
Beyond the Mask
As COVID-19 swept the nation, it coincided with a renewed wave of activism and action. Longstanding inequalities in healthcare, civil rights, and education, all of which disproportionally impact marginalized groups, were brought to the surface, making it clear that disease was not the only battle to fight. People rallied around causes while striving to maintain community connections. Radical changes in the fabric of society led many to ask, "Should we go back to the way things were, or should we imagine a different future?" These artworks look beyond the mask to the things that could not be hidden, exploring the pandemic's social and cultural impacts on individuals and communities.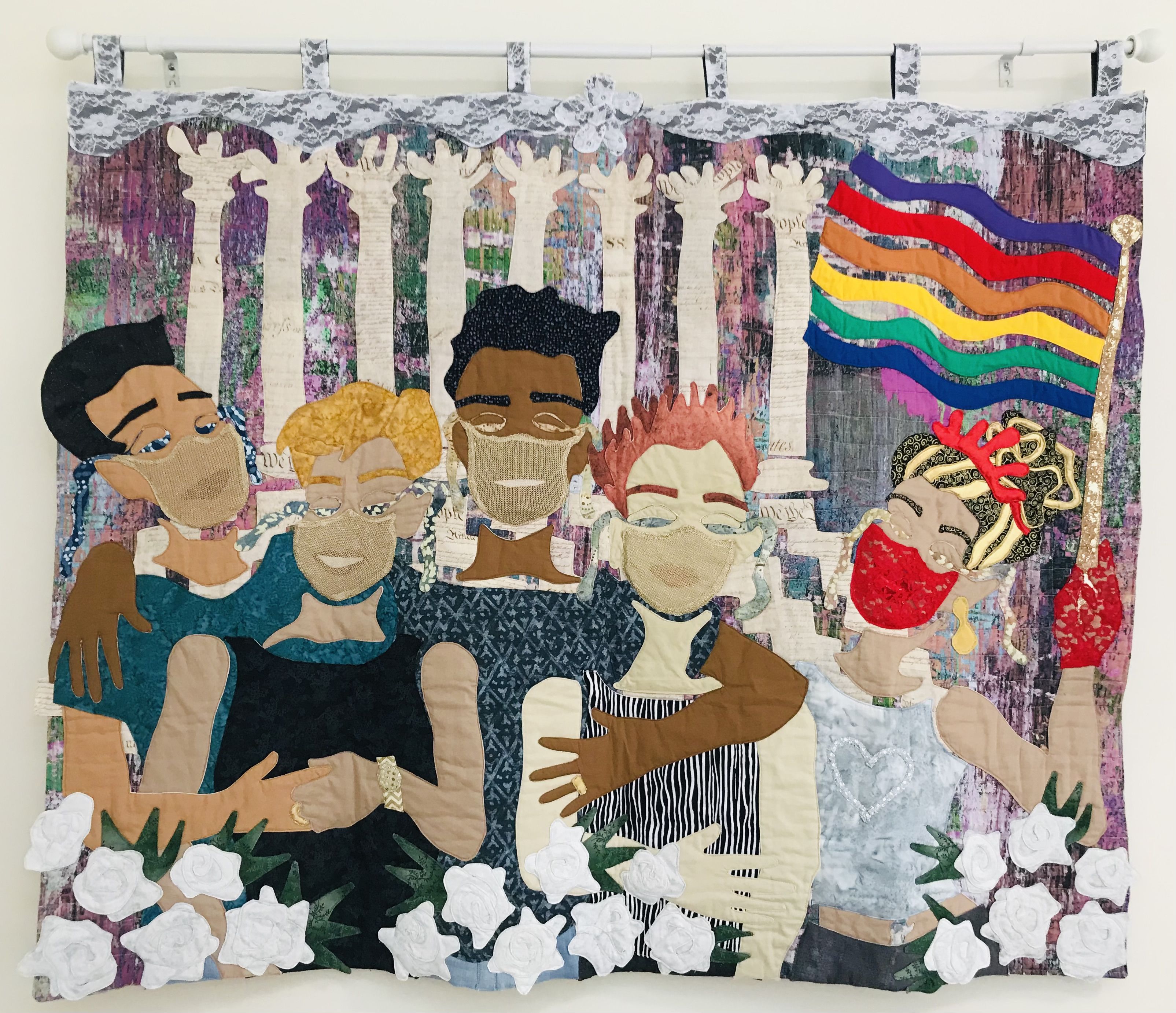 While staying indoors was a characteristic of the pandemic, so was taking to the streets to stage demonstrations calling for justice and peace. Marginalized groups bore the brunt of the pandemic's hardship due to higher levels of poverty, less access to healthcare, and preexisting conditions.
The deaths of unarmed Black people, particularly George Floyd and Breonna Taylor, sparked nationwide protests challenging systemic racism and police brutality. Because COVID-19 originated in China, Asian Americans reported 9,000 anti-Asian hate crimes from March 2020 to June 2021, likely an underreported number. Indigenous communities, already lacking resources, had life expectancies fall by 6.5 years between 2020 and 2021. Internationally, the war in Ukraine exacerbated public health issues and displaced people's access to supplies. More than two years after the pandemic began, activists strive to maintain focus on addressing persisting issues.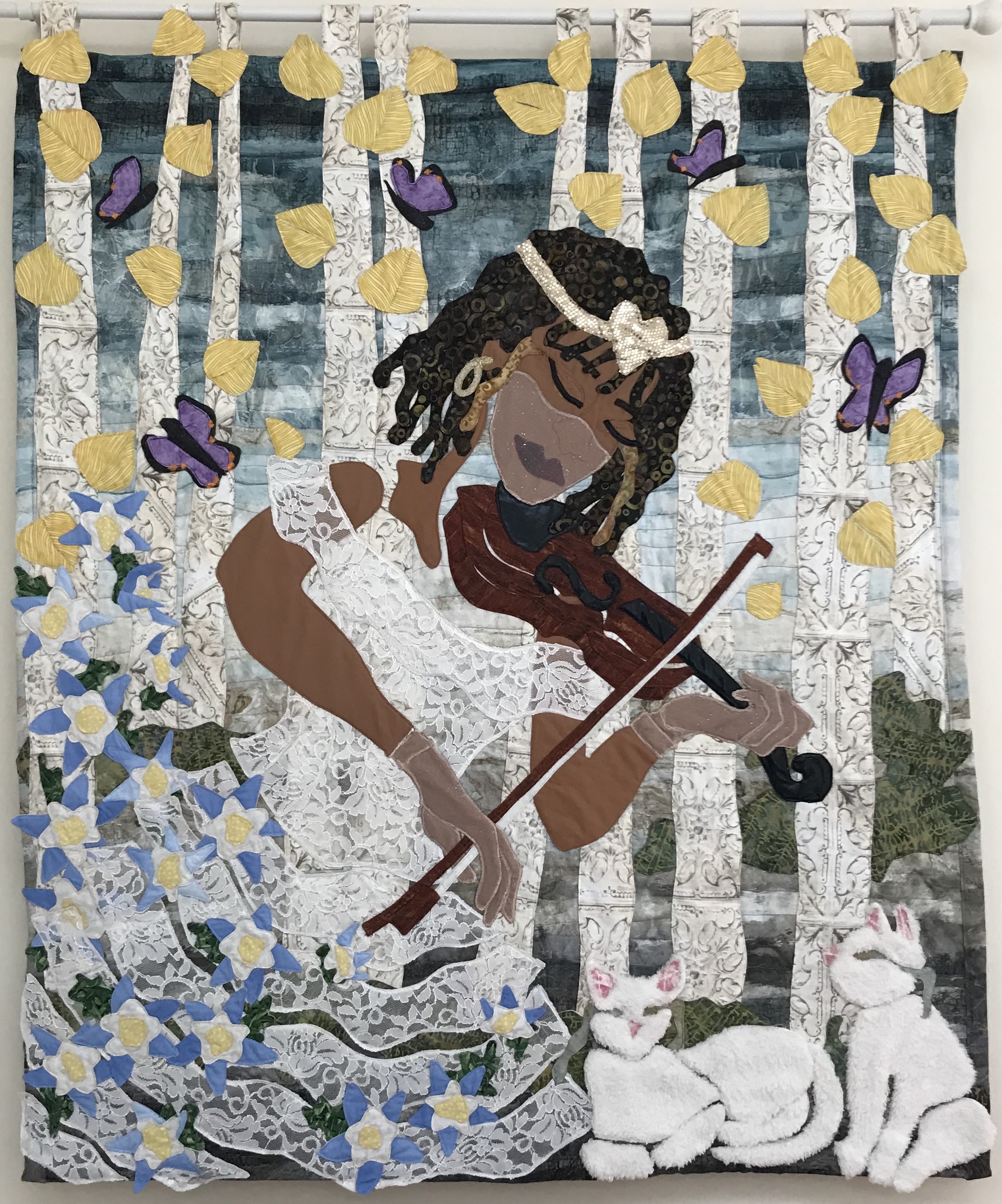 Jo-Ann Morgan, Elegy for Elijah
2021
Surfside Beach, California, United States
Stitched cotton fabric
Jo-Ann Morgan, Lady Corona Comforts the Children
2020
Surfside Beach, California, United States
Stitched cotton fabric
"In March 2020, as stay-at-home orders were being initiated because of the spreading coronavirus, I bought a sewing machine. I had recently seen a quilt competition at a local museum and wondered how I might employ the innate characteristics of this familiar medium. As my competency increased, I thought about quilts as comforters, much needed at the time.
Gradually, a series of quilted pictures took shape around a figure I call Nuestra Dama de la Corona (our lady of the corona [virus]). Lady Corona, flanked by 19 flowers (symbolic of COVID-19), wears a face mask, gloves, and a small crown (corona). The series is comprised of wall-mounted hangings, constructed in three layered cotton fabric, machine quilted with an appliqué technique through which I craft artworks that comment on people and events of our time. Averaging from 34 to 60 inches in either direction, the works themselves resemble comforters. Lady Corona provides a comforting presence, not unlike a deity or favorite doll. Sometimes other female figures take on the role of offering respite or hope.
Because the quilt medium is familiar and approachable, it offers a soothing counterpoint to the harsh themes of contemporary reality. Topics addressed have included Black Lives Matter protests following the killings of George Floyd and Breonna Taylor, memorials honoring Congressman John R. Lewis, Supreme Court Justice Ruth Bader Ginsburg, and Washington DC Police Officer Brian Sicknick as well as the separation of families at the U.S. southern border. Lady Corona has paid tribute to lives lost to police brutality and other violent events. She is a vision of something beautiful within the desolation of Russia's attack on Ukraine.
If there is a thematic thread running throughout this series of work completed since summer 2020 it is "seeking comfort in a fraught world." Art can be a way to process events and experiences that are almost too much to bear.
A global pandemic killing millions, seemingly endless murders by police, "kids in cages" cruelty at the US southern border, the unfathomable horror of Russians massacring Ukrainian civilians—the bad news has been unrelenting. My work becomes a visual chronicle in an attempt to wrest something lovely from truly horrible events." - Jo-Ann Morgan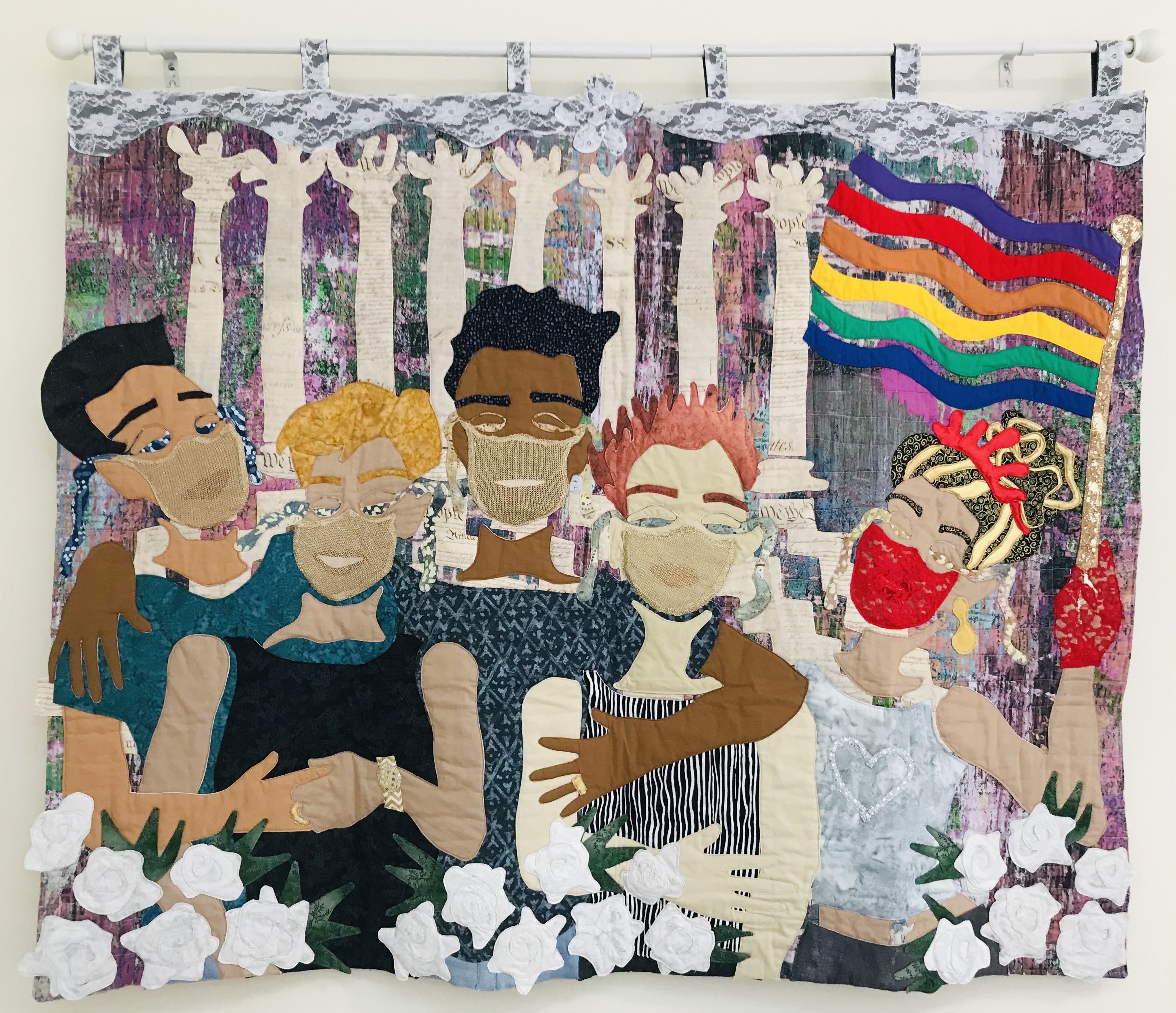 Jo-Ann Morgan, Justice for All – Memorial for Ruth Bader Ginsburg
2020
Surfside Beach, California, United States
Stitched cotton fabric
The slogan, "I can't breathe" and the death of George Floyd was the key event that inspired this piece. The lungs are created using cotton fabric with white cotton embroidery and the trachea is made with tree branches. The branches refer to lynching and to racial violence, while the cotton refers to the slave trade. It commemorates lives lost during the pandemic due to police violence. This piece shows support of the Black Lives Matter movement. The piece invites the viewer to think of the right to breathe as a human right. And to consider the fragility of the human body.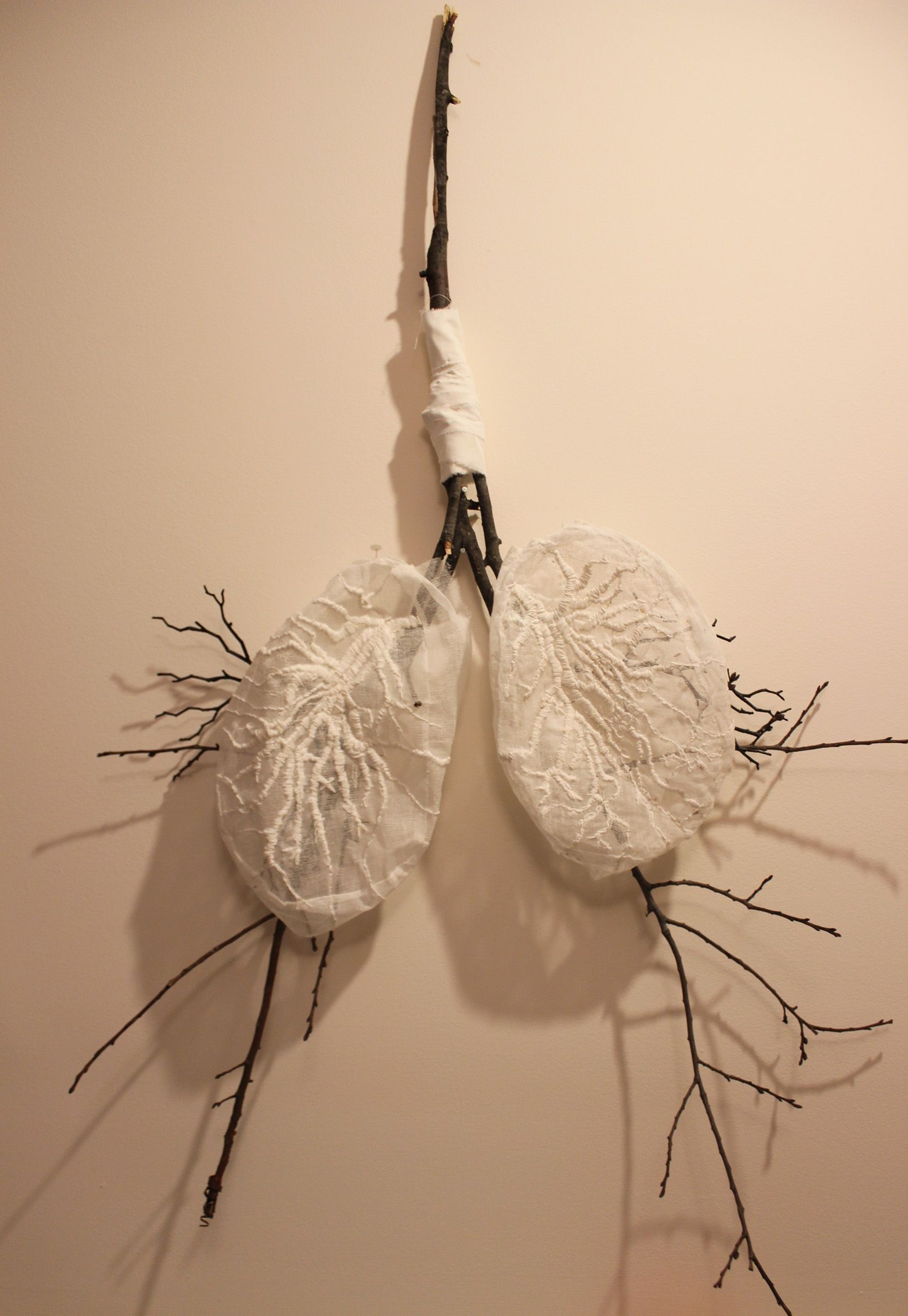 Trisha Gupta, Breathe Race
2022
Burtonsville, Maryland, United States
Photograph of original art
The chaos of 2020 can be highlighted through many social, political, and health crises. I aim to distill this chaos by highlighting these events in painting during a time when media (visual and verbal) tends to negate the actuality or seriousness of these events. The systemically racist and inequitable roots of these events become evident as I create these paintings distinctly from my perspective as an African-American. Within this portfolio, I'm highlighting our interconnected, contemporary reality with these significant events.

One of my major themes is a rise to power and justice with the Black Lives Matter movement. These figures rise to reinvent a new world through the ashes of the racist old one. From these frames is a rebirth, which is symbolized by the blossoming marriage.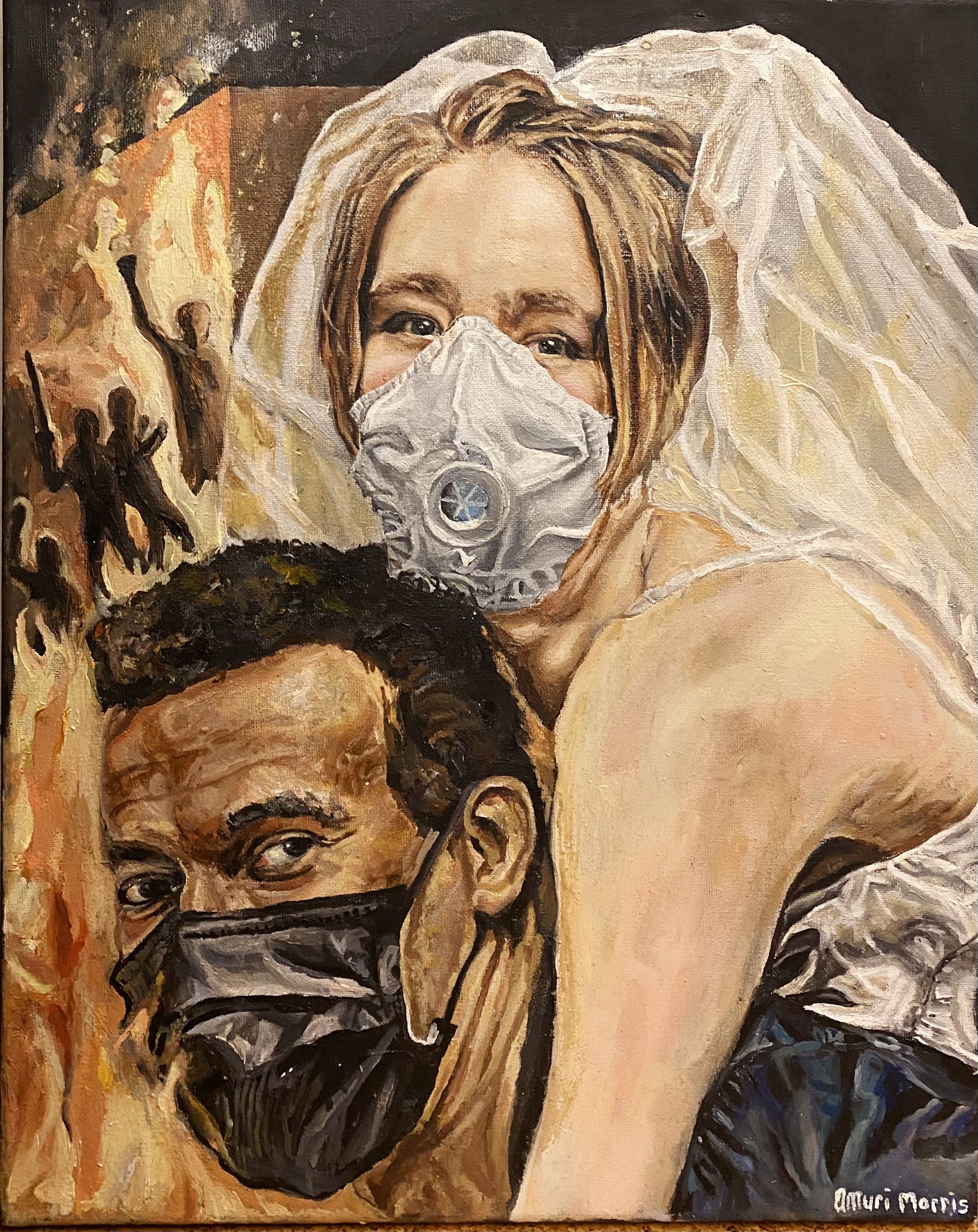 Amuri Morris, Wedding Bells
2020
Richmond, Virginia, United States
Oil on canvas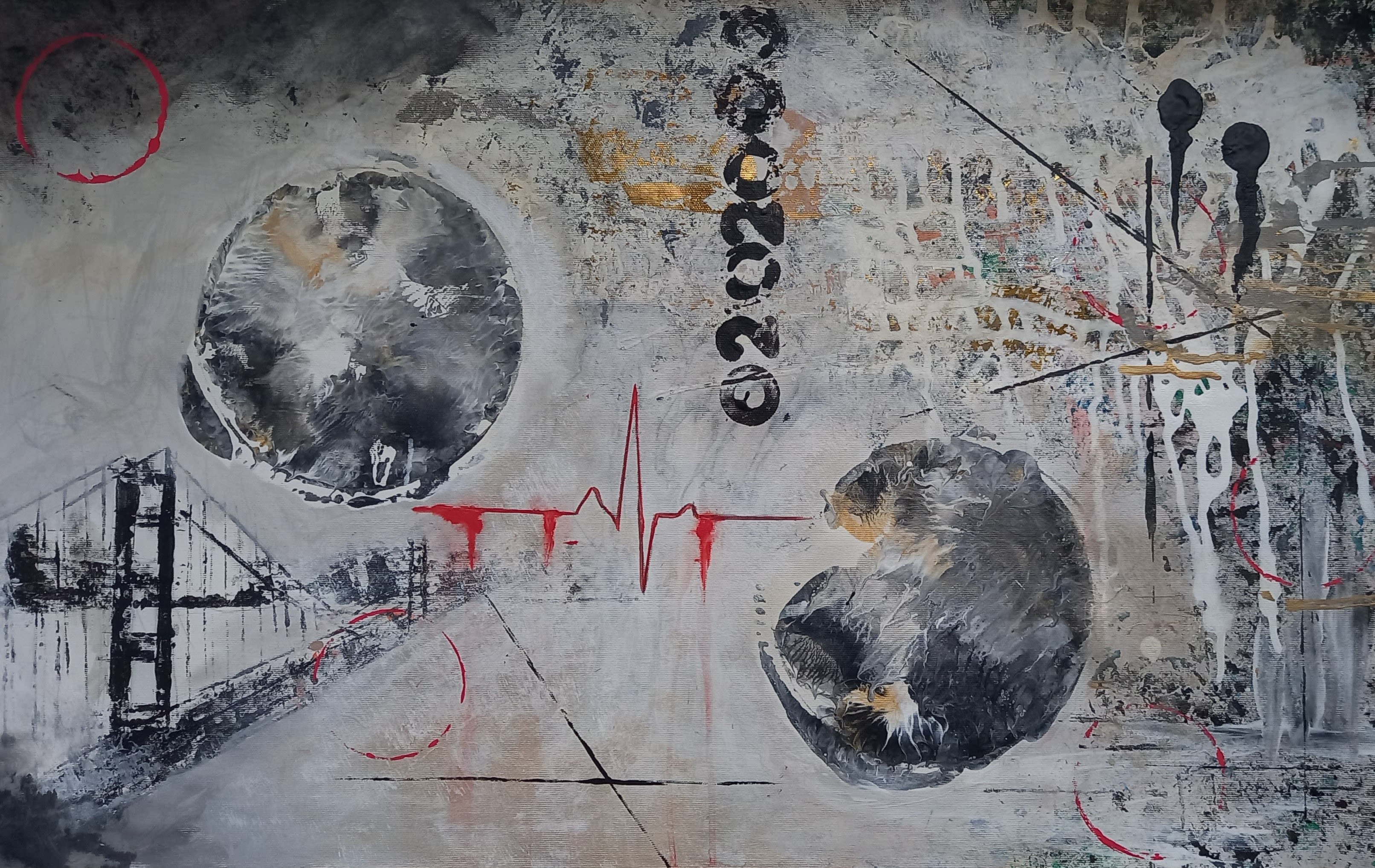 Iryna Calinicenco, 2020
2020
Chișinău, Moldova
Acrylic on canvas
The pandemic magnified inequities within the education system, creating a so-called "COVID gap." Children and families encountered a range of circumstances - students learned virtually with or without adult supervision, some students returned to in-person classes while others homeschooled, affluent parents hired tutors and formed learning pods, and low-income families struggled to find Internet access.
Furthermore, schools provide many resources for students, including meals, mental health services, socialization, and mentorship. Teachers faced higher-than-ever demands to immediately move to virtual learning, adjust ill-equipped classrooms when in-person classes returned, and enforce mask and social distancing mandates, on top of providing quality education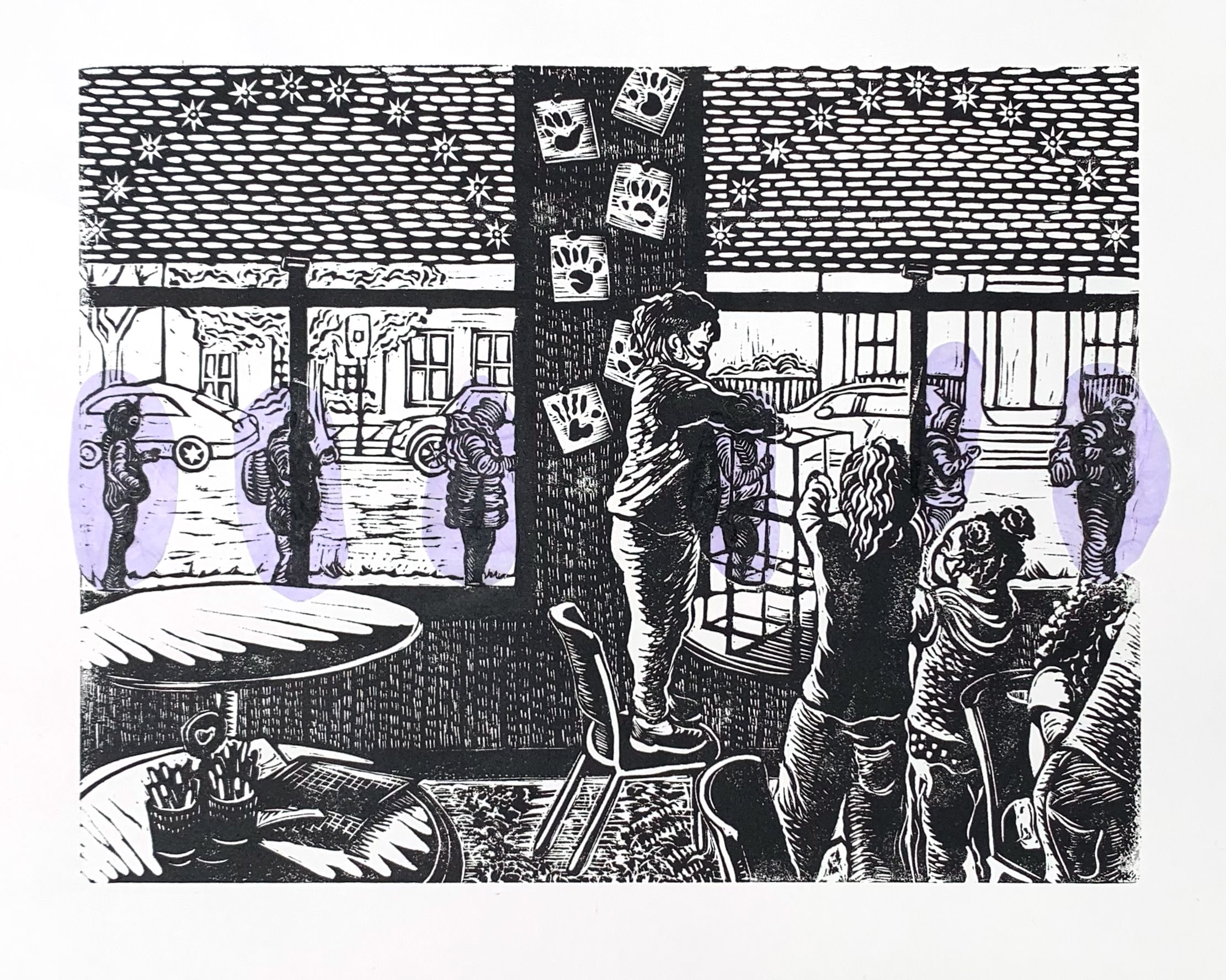 Etai Rogers-Fett, Our Classroom, Wrapped in a Testing Line
2022
Arlington, Virginia, United States
Linocut Print and Chine-collé
Our Classroom, Wrapped in a Testing Line, was inspired by experiences during January 2022 when COVID was surging in the DMV area and elsewhere throughout the country. I was teaching students in a local rec center that was also doubling as a COVID testing site. Every day outside our large classroom windows, a line would form wrapping around from the testing booths in the front of the building around the block. Over the hours we were together, the individuals in line would slowly shift but their spacing and presence remained a constant pattern creating a backdrop for all the conversations happening within the classroom space. We were reminded that the classroom space was not in fact separate from this experience as many of our students and their families caught COVID and were absent during this time.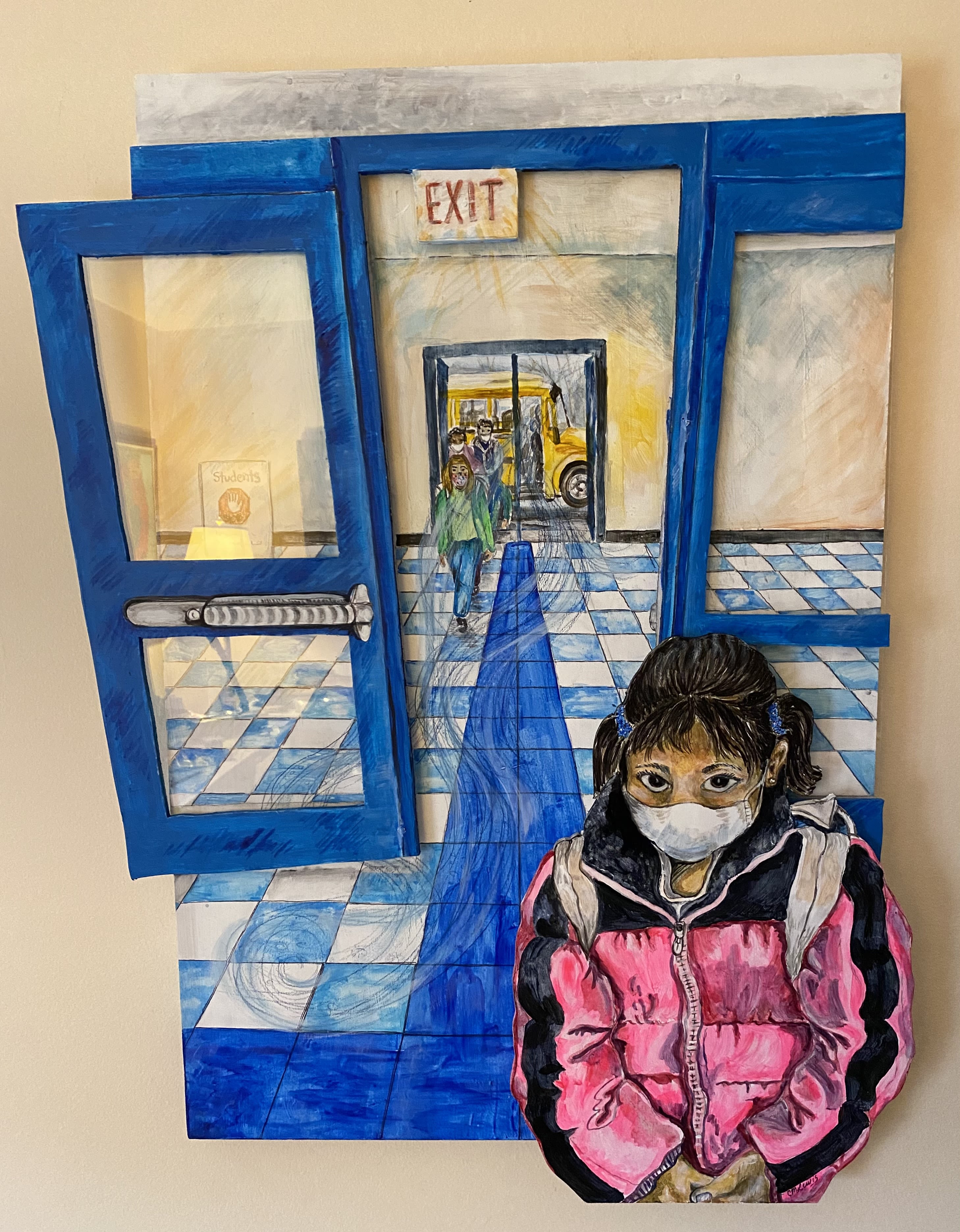 Cindy Morris, The Wind of Uncertainty
2022
Hockessin, Delaware, United States
Acrylic on wood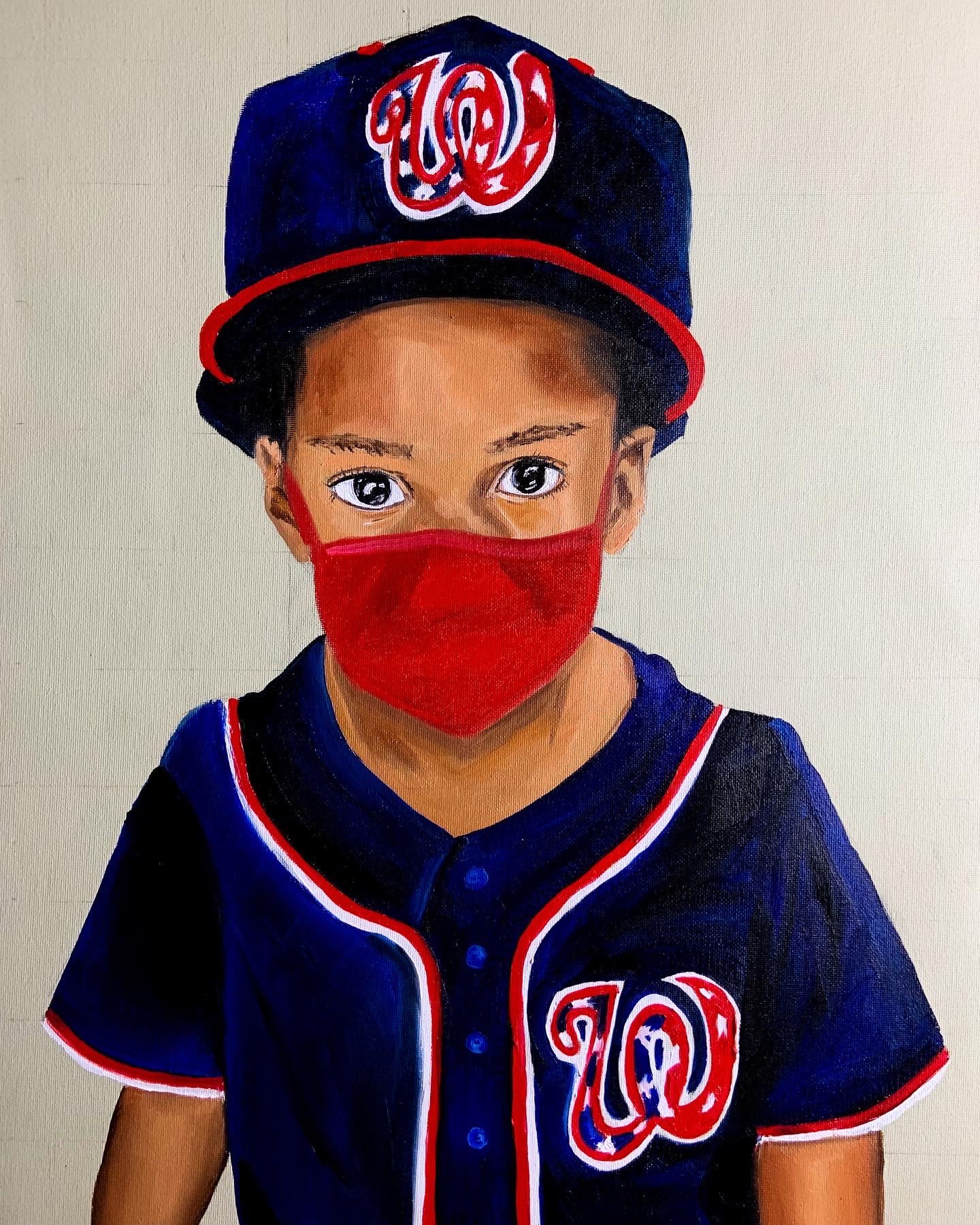 Lex Marie, Baseball Practice
2020
Arlington, Virginia, United States
Oil on toned canvas
Lex Marie's nostalgic portrait paintings are an unedited biography of her own life. Pulling from both past and present experiences, Marie combines portraiture with found objects, often with sentimental value to her, and embeds those objects into her work...

Influenced by classical portraiture, Lex emphasizes her subjects, often herself or her son, by placing them front and center minimizing the initial impact of the smaller yet very important background details. The poses are soft yet stoic, the colors strong and vibrant, she captures a split second of a scene forcing ambiguity as to what that subject may currently be enduring a few moments before or after.
TAs health guidelines closed venues, canceled programs, and limited group activities, people connected with one another in innovative ways. The desire for cultural and artistic expression endured. Art centers, museums, and independent artists strived to meet the public's needs through online programs and community projects that invited connection but with social distancing in mind. The public also had new expectations of cultural organizations, demanding they work to address racism, income inequality, and other social and civic issues.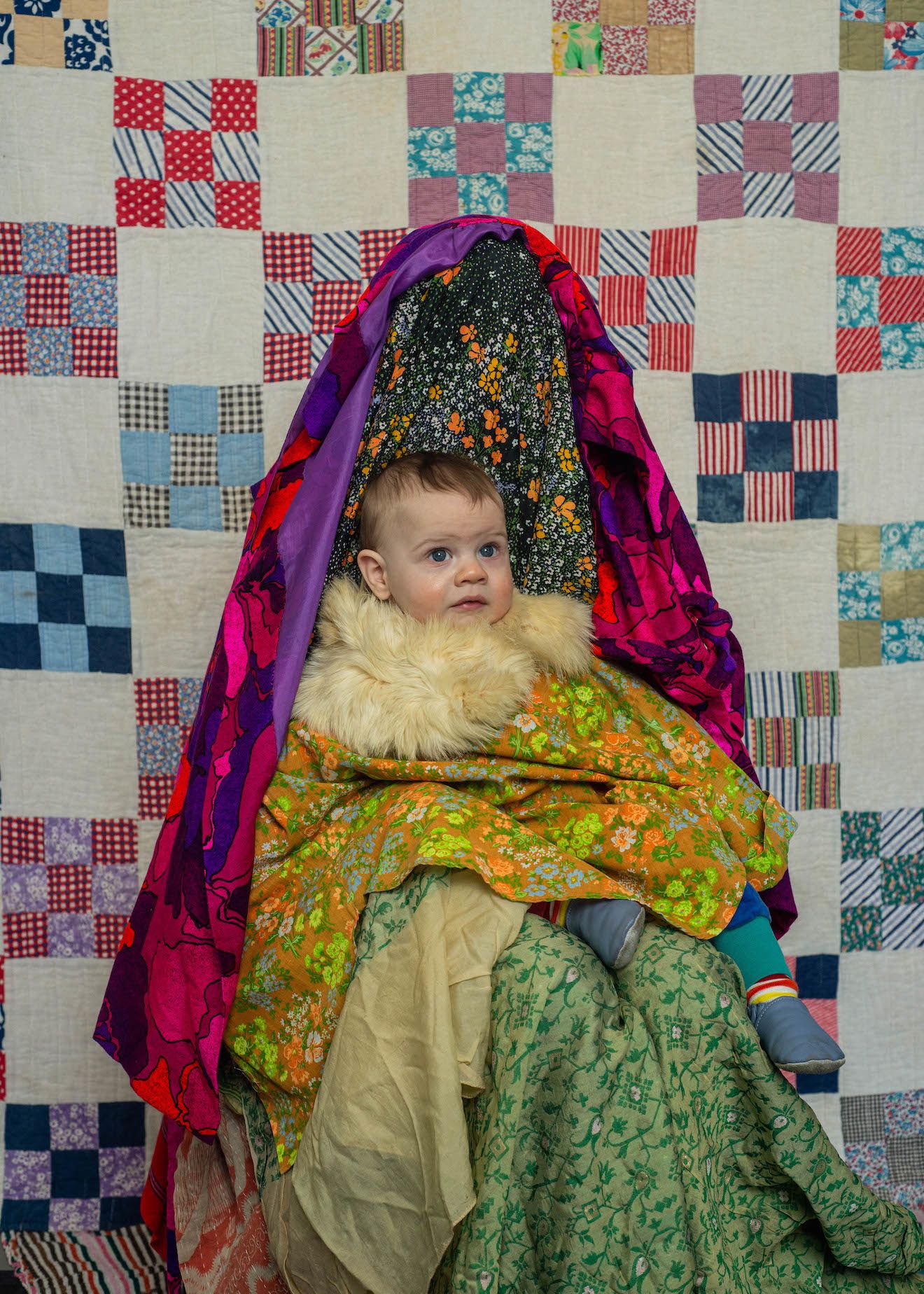 Caroline McAuliffe, Pink Hair
2022
Brooklyn, New York, United States
Digital Print
I am interested in the idea of sielunmaisema, a Finnish word, meaning the soul's landscape. My photographic work chases this soul-scape of masked creatures, powerful and free, protected and proud. The masks are fashioned from predominantly scavenged materials ranging in process from crochet, knit, and woven textiles. I am exploring the concept of power and myth, and familial lore that I am a descendant of vikings through textiles and portraits.
"My series S/HE/R, My Norse Fylgja, brings to life my own Norse myth. A fylgja is a Norse spirit that accompanies a person and connects them to their fate. I imagine my spirit to be a uid, shape-shifting, colorfully loud dancing fool: powerful and free. S/HE/R is a statement about the spectrum of masculine and feminine energies in me and all of us. There is an exchange—one of dualities of dominance and submission, fragility and power. Power from the unknown as a headpiece that masks the face. S/HE/R lives in its contradictions; nonetheless, it is also comfortable in a state of play and intimacy. I want to dress up in costume and be something else, a different version of myself—my fylgia. I want to be the multitudes of self and fate. I want to be hidden and completely present, vulnerable and protected.
The Invisible Móðir series exemplifies the concept of being hidden and completely present in plain sight. The photographs reference the Victorian invisible mother images, while also referencing the invisible mother within. I am forever present. I feel mother non- conforming, unsure of how I am apart of and embody the role. There is an invisible mother in me that I can not yet make a part of my identity, and yet it can feel that mother may be the only visible aspect of myself. Many former selves are now in the shadows of this bigger thing that muscled in-mother." - Caroline McAuliffe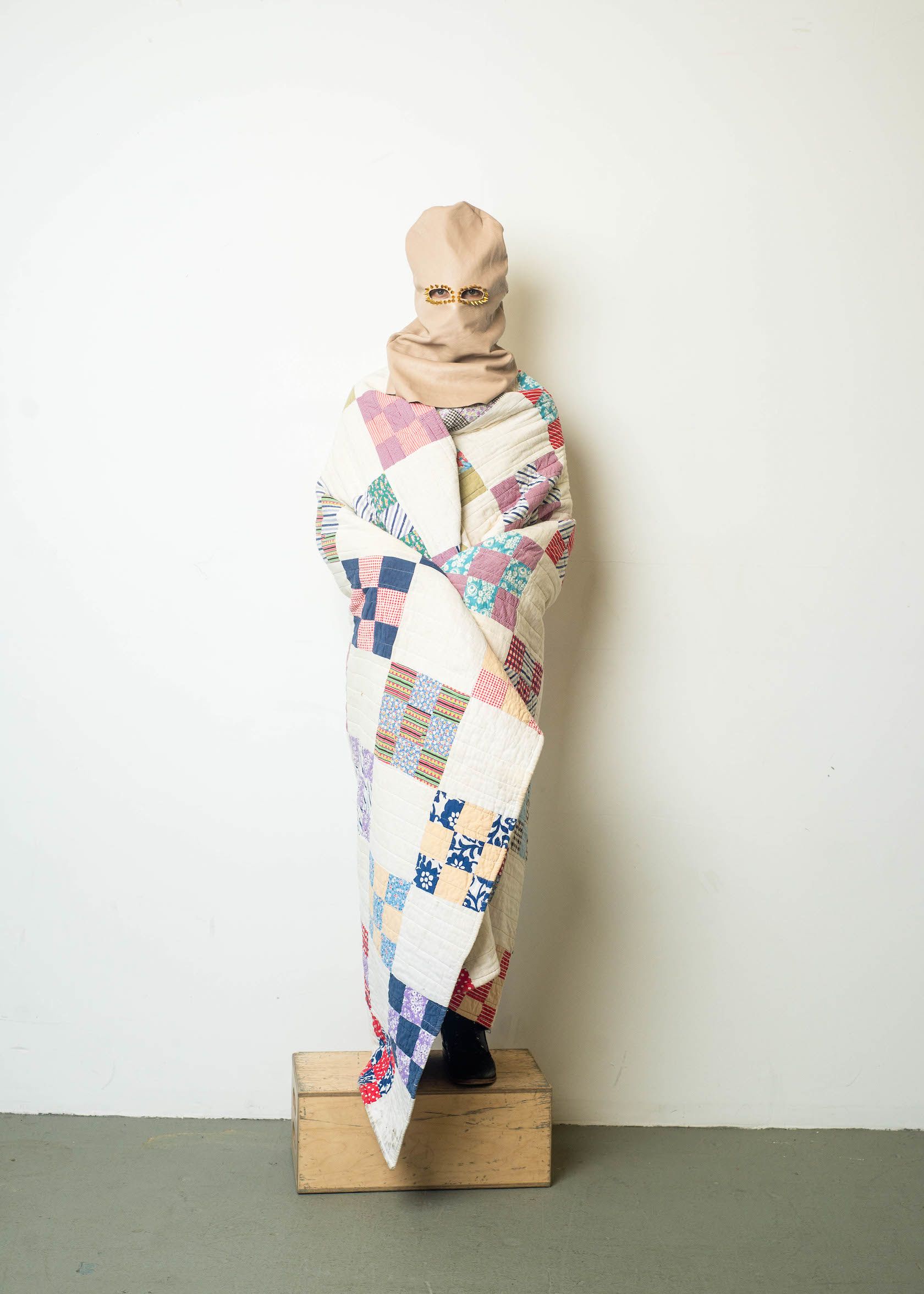 Caroline McAuliffe, Wearing Rós With Thorns
2022
Brooklyn, New York, United States
Digital Print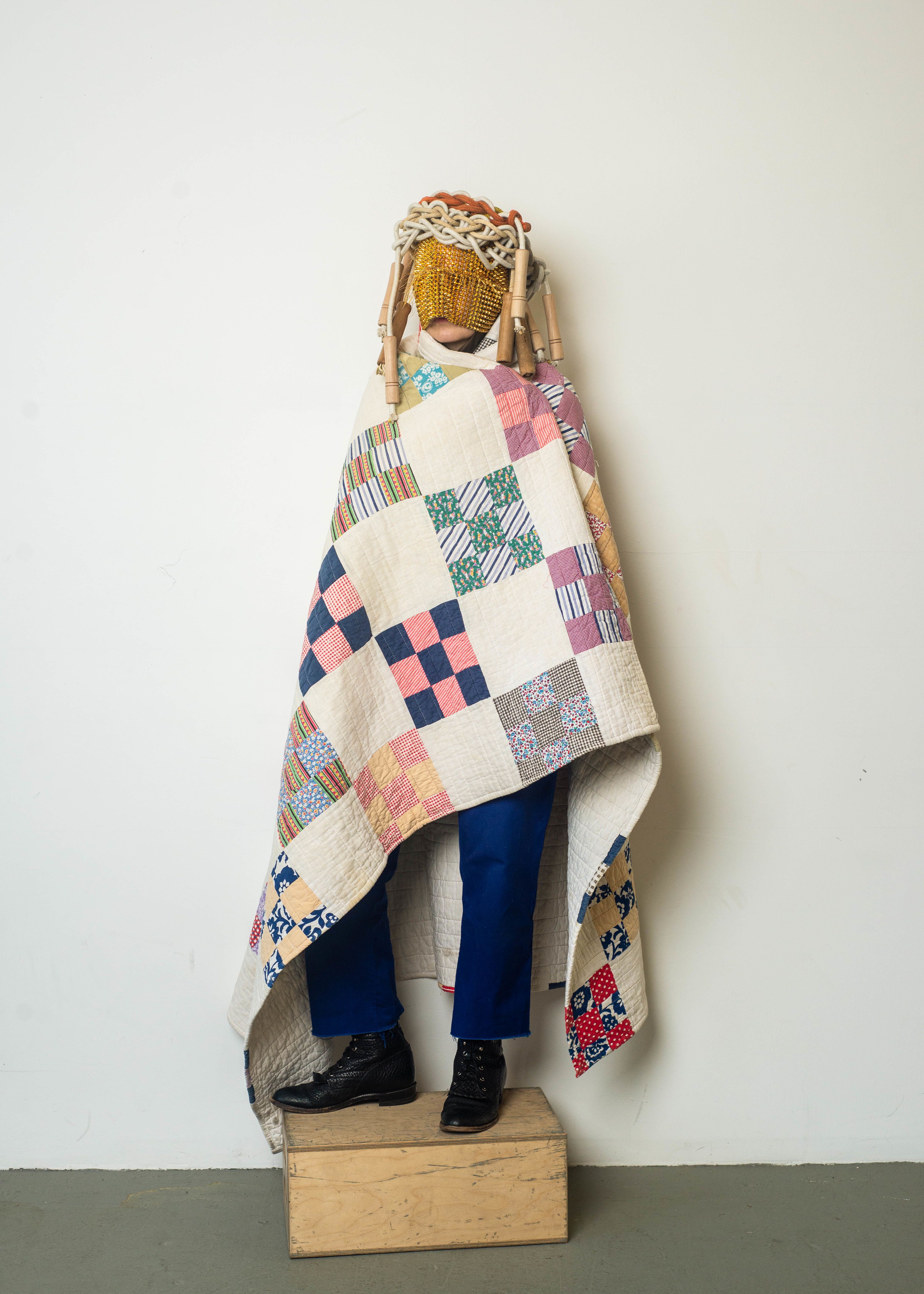 Caroline McAuliffe, Stökk Foli (Jump Stud)
2022
Brooklyn, New York, United States
Digital Print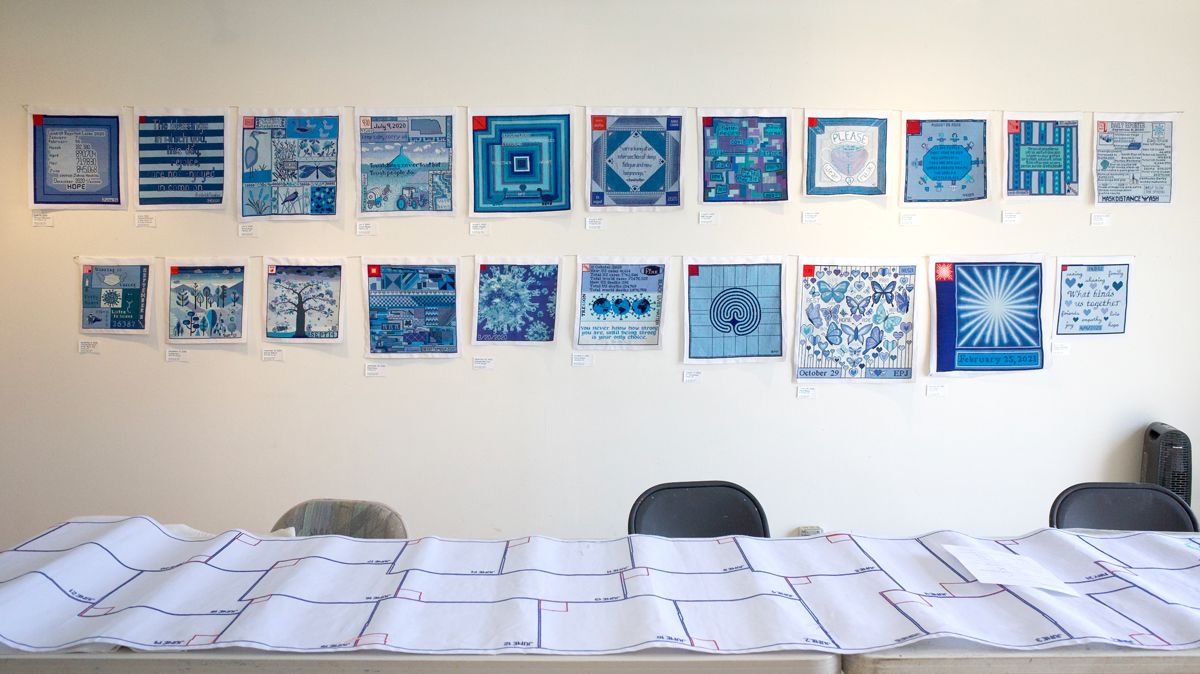 Heather Schulte, Stitching the Situation
2020-2022
Boulder, Colorado, United States
Embroidery thread on cotton canvas
Stitching the Situation is a collaborative art project in response to the pandemic. Utilizing the Johns Hopkins Coronavirus database, we embroider each case and death reported with blue and red threads, one stitch each, respectively. What began as artist Heather Schulte's personal grappling with lockdown, then her uncle's death from COVID in April 2020, developed into a communally created work that has held space for safe gathering amidst isolation. As the pandemic developed, the project expanded to a nationwide effort, with more than 250 people in 36 states, and growing. The first 6 months are represented on three panels, the backbone of community stitching sessions held in Boulder and the Denver metro area (so far). From June 26, 2021, onward, individual kits, which represent each day since, are sent to stitchers directly. 22 have been completed and returned.
I think the pandemic across the board has exposed all of our weak points in general, and the arts in particular. It's exposed how precarious living as an artist, whether you're talking performing arts, which were definitely the heaviest hit because all of the venues were closed and audiences couldn't see theater or performances in person anymore. And so, it really showed how dependent the art world is on grants, on public donations, and how precarious that funding is...

The very beginning of this project was supported by a creative neighborhood grant that was given out by our Arts Council to people who were doing any kind of artwork within their neighborhoods. There were people that were having concerts on their lawn with other neighbors. There were folks that did storytelling, poetry readings. I brought this product out into our frontline and stitched with neighbors. I met some neighbors through having this project out that lived on our block and I never met before...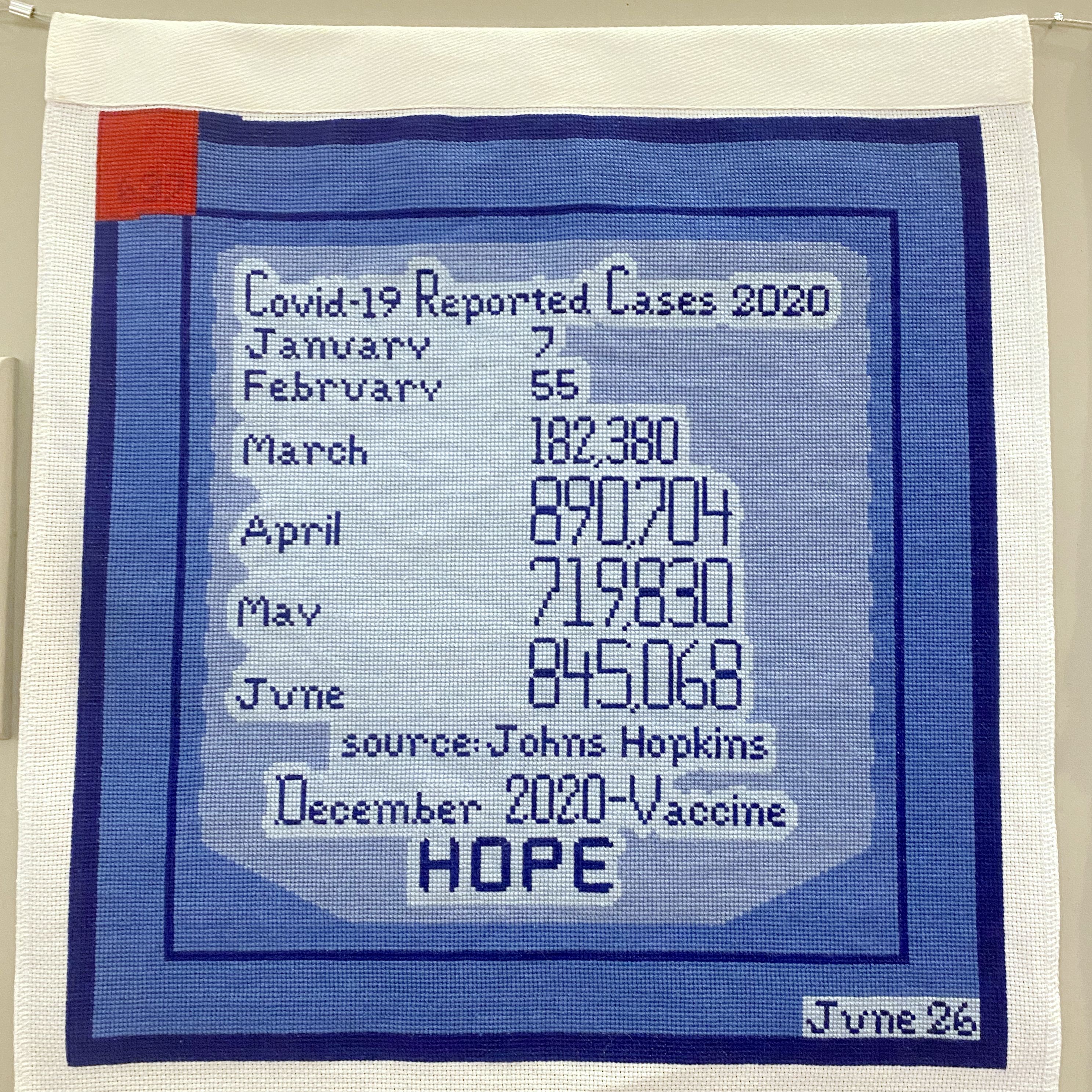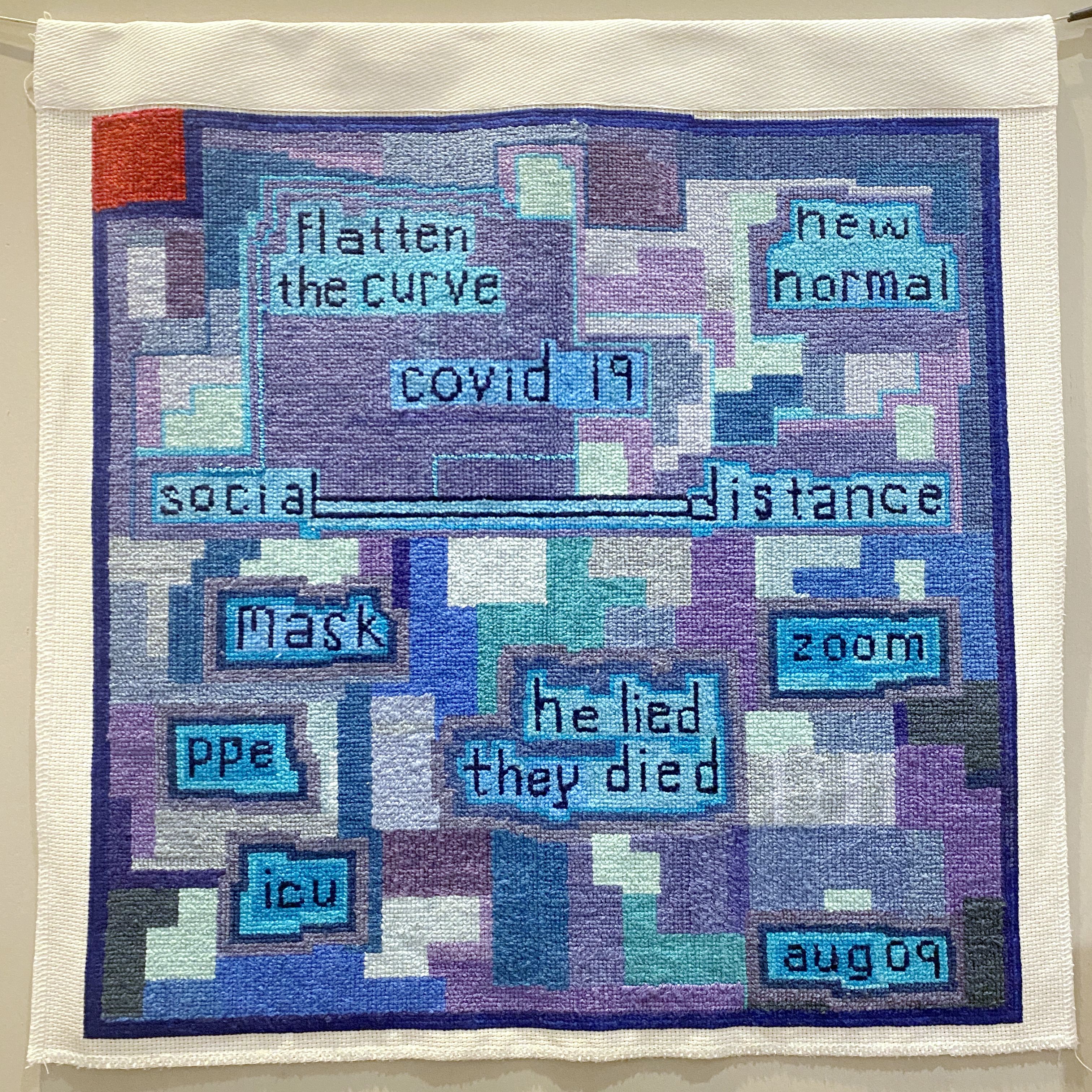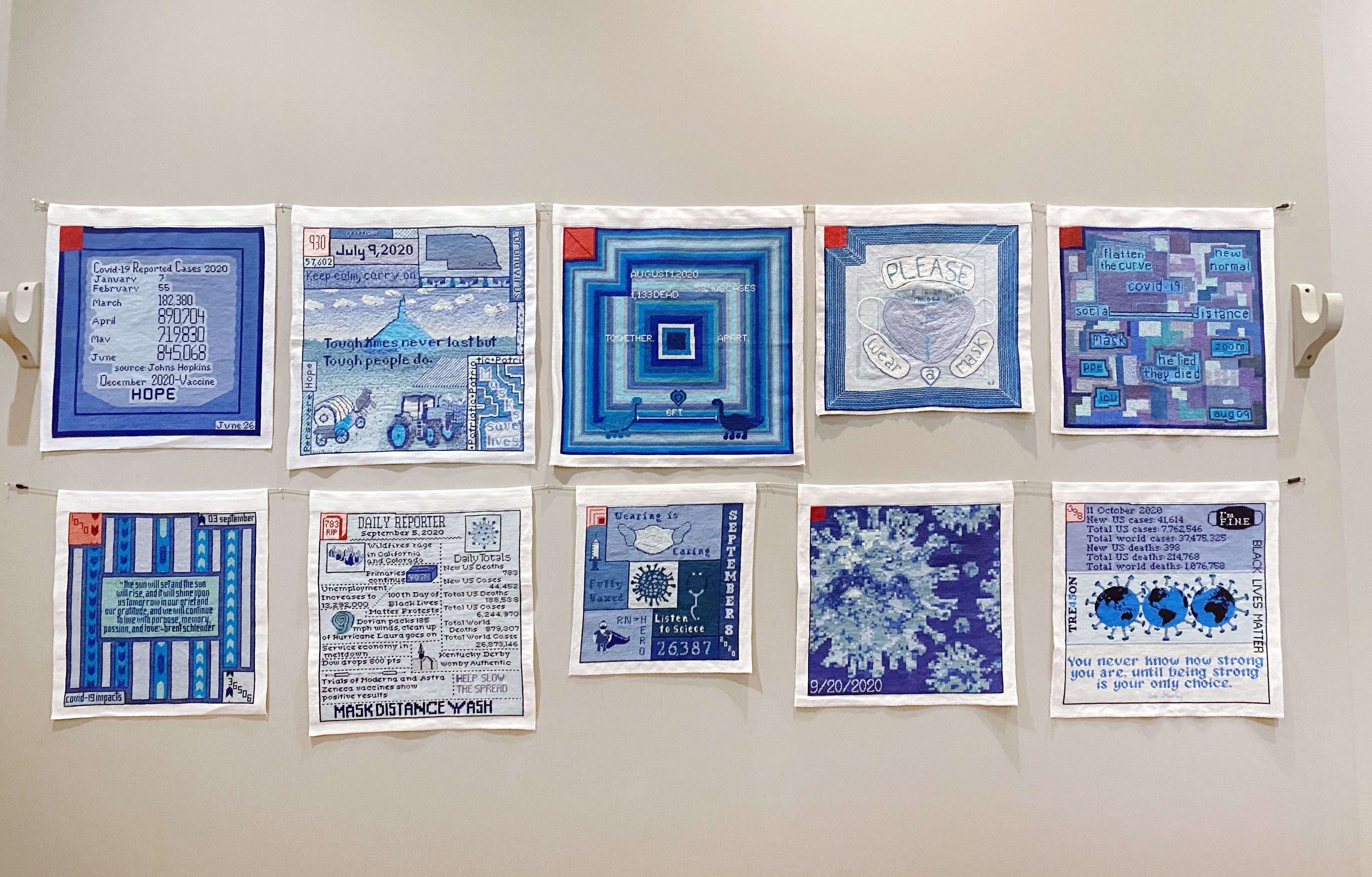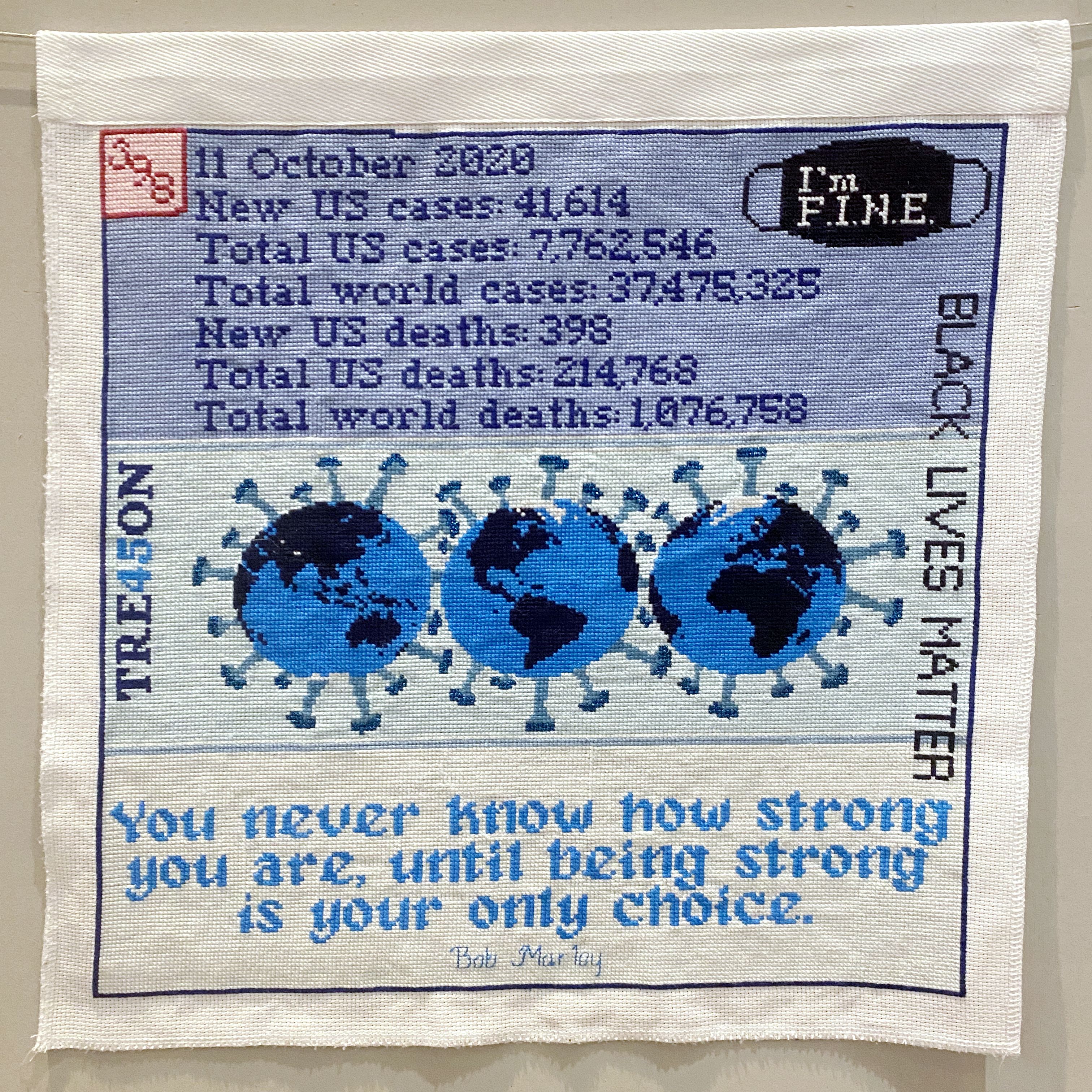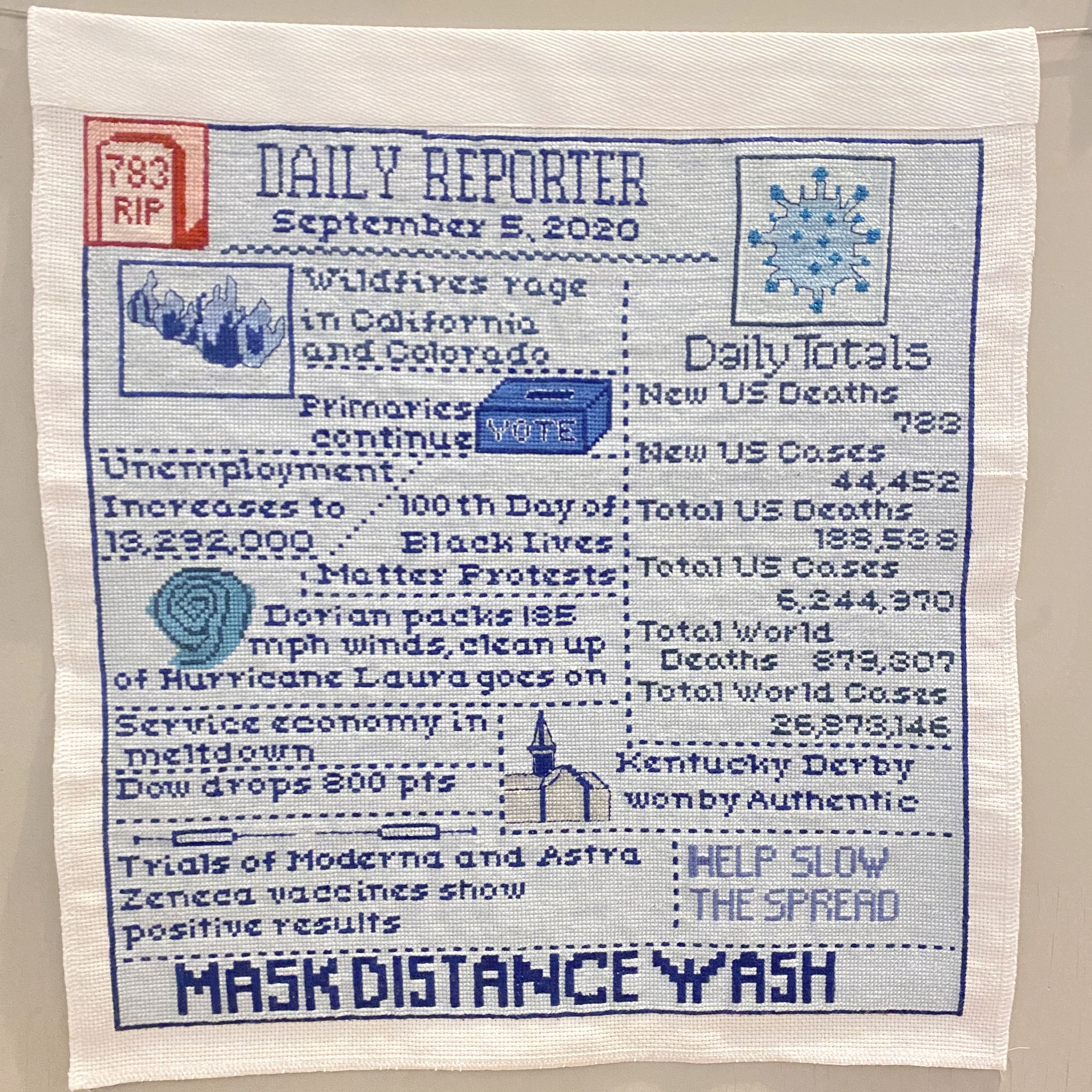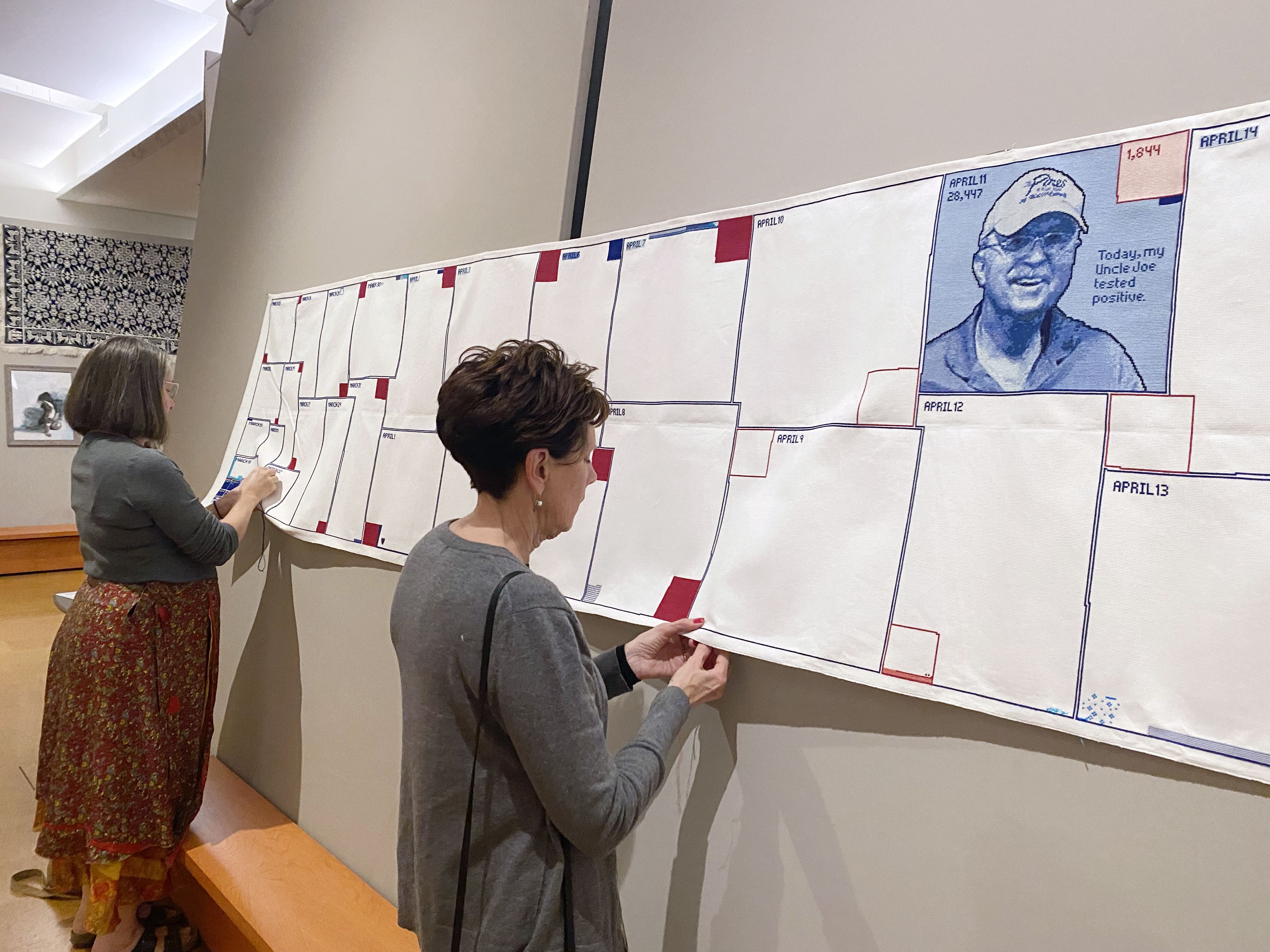 Item 1 of 6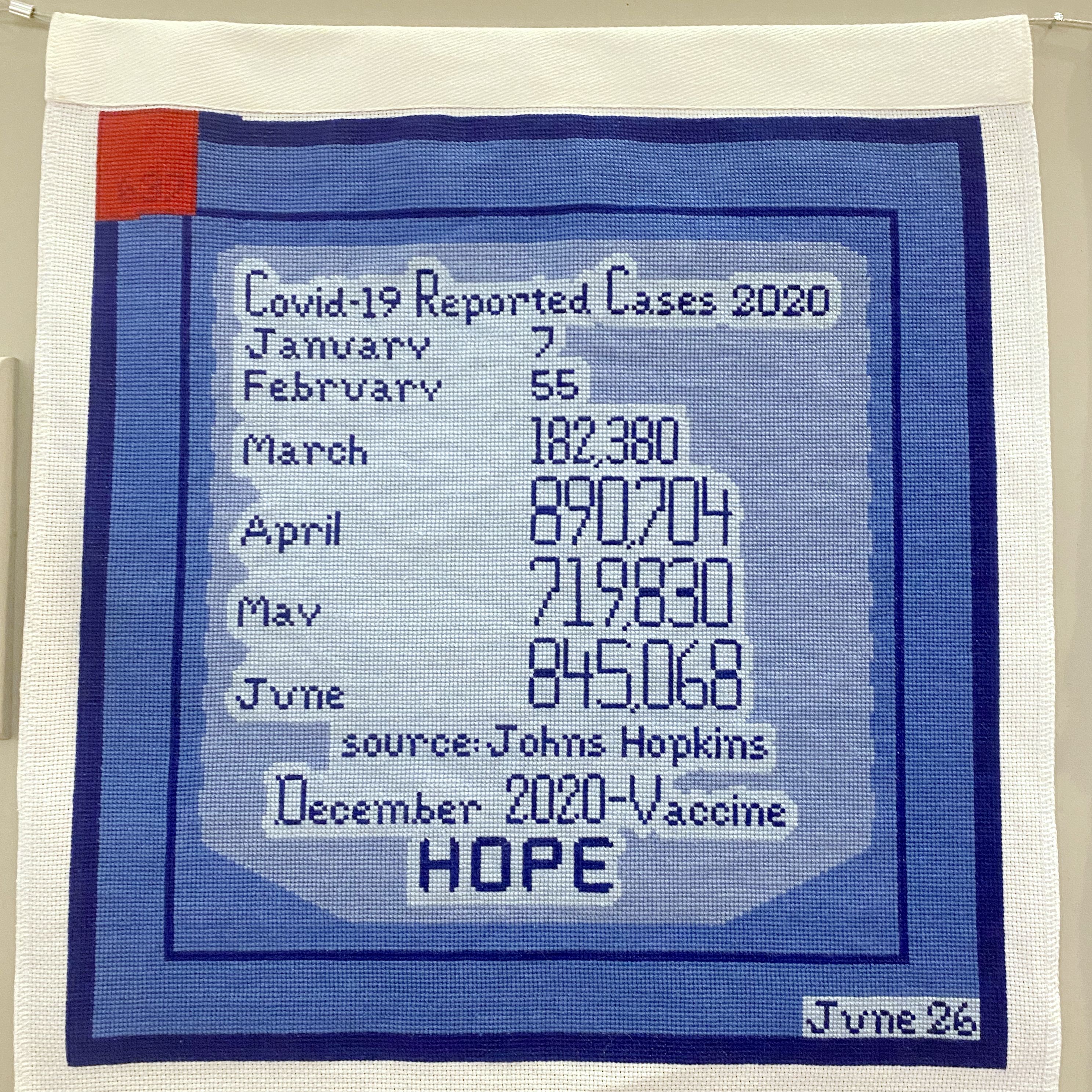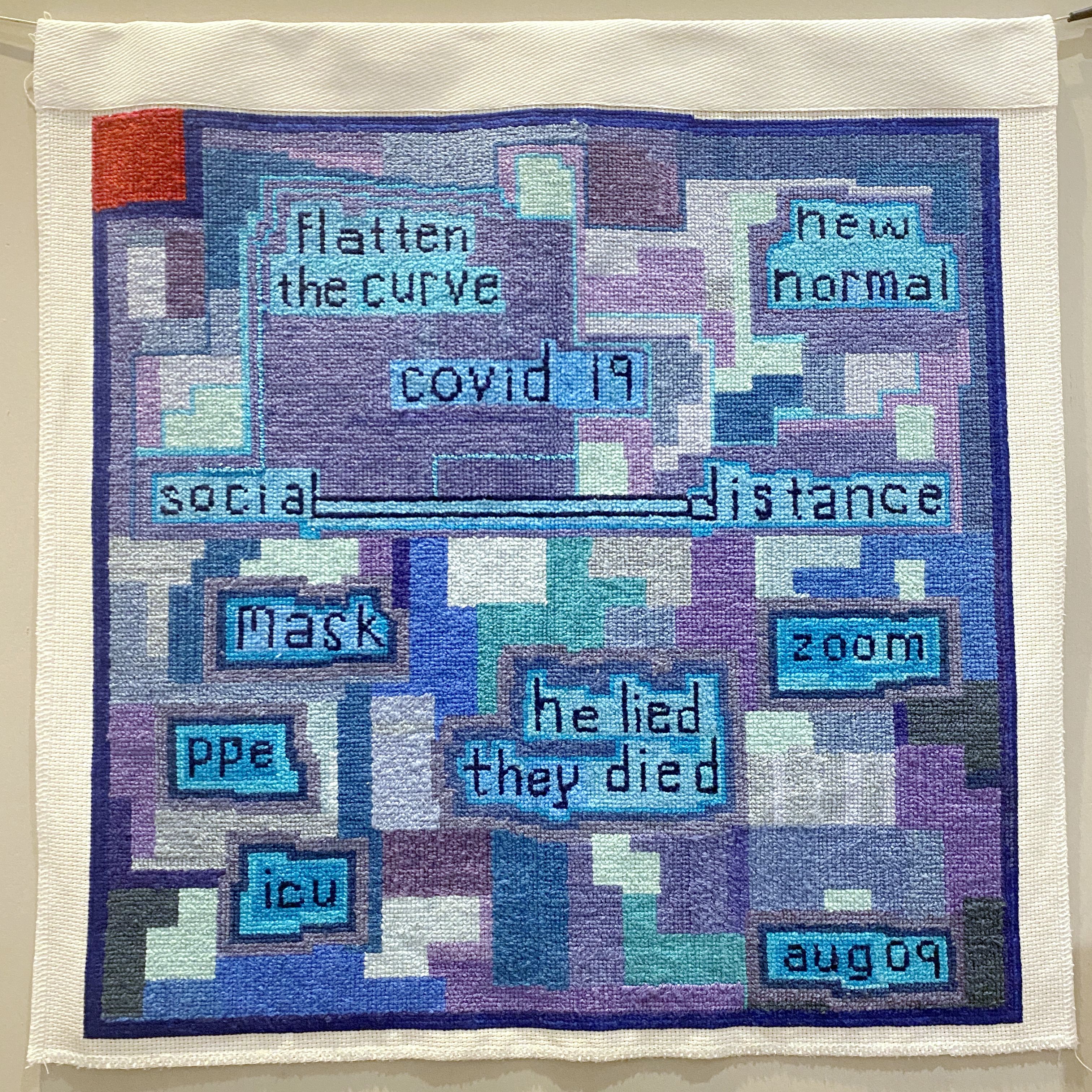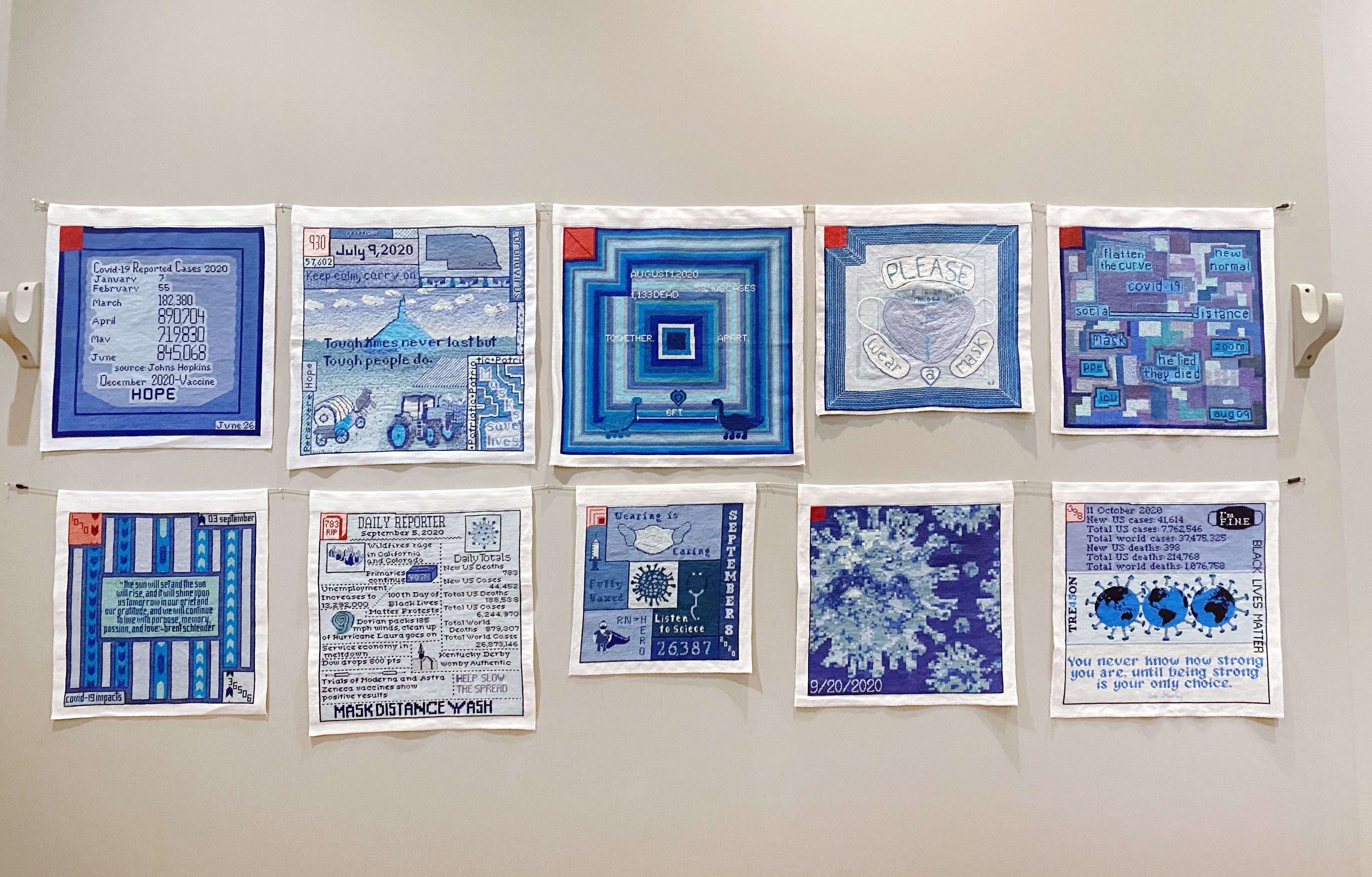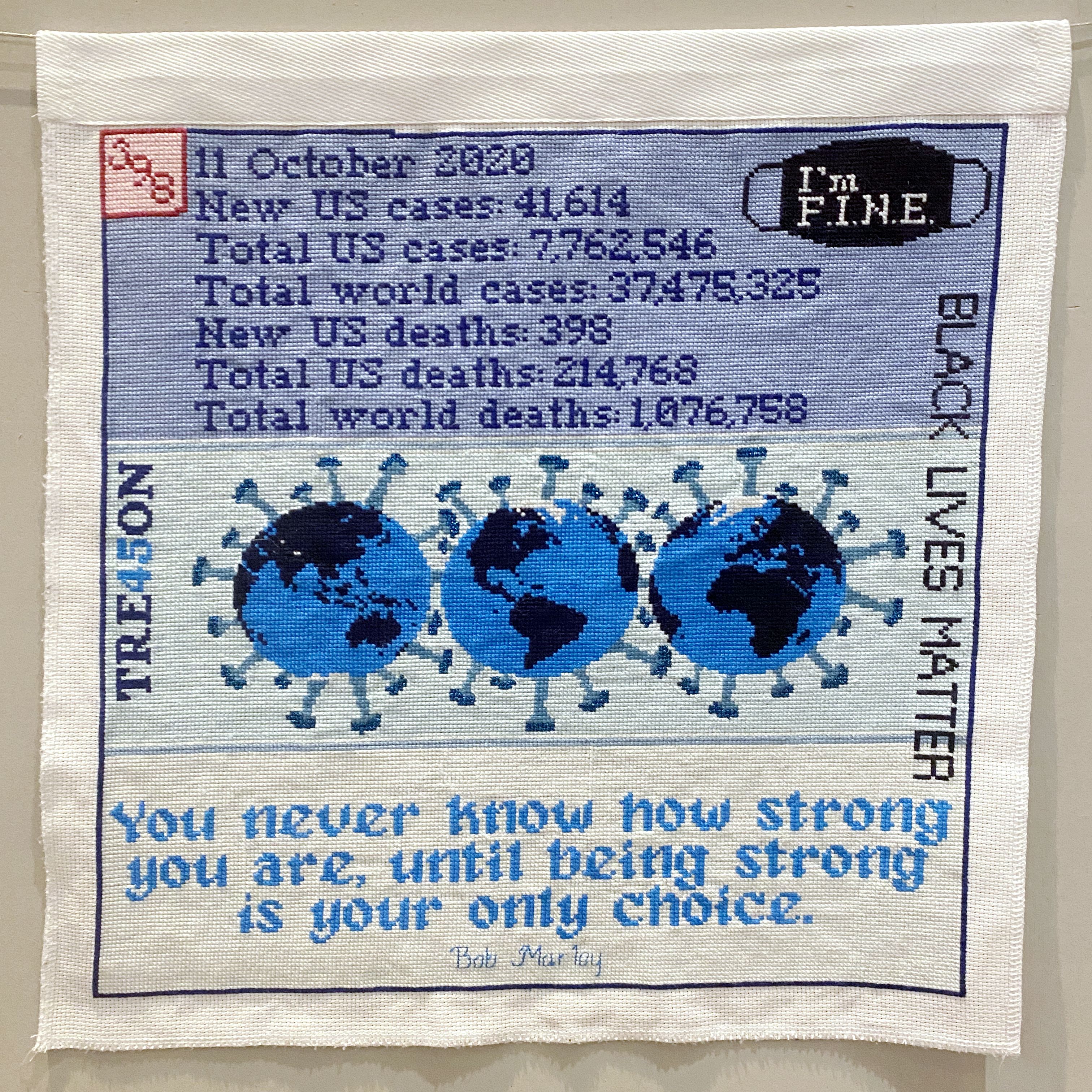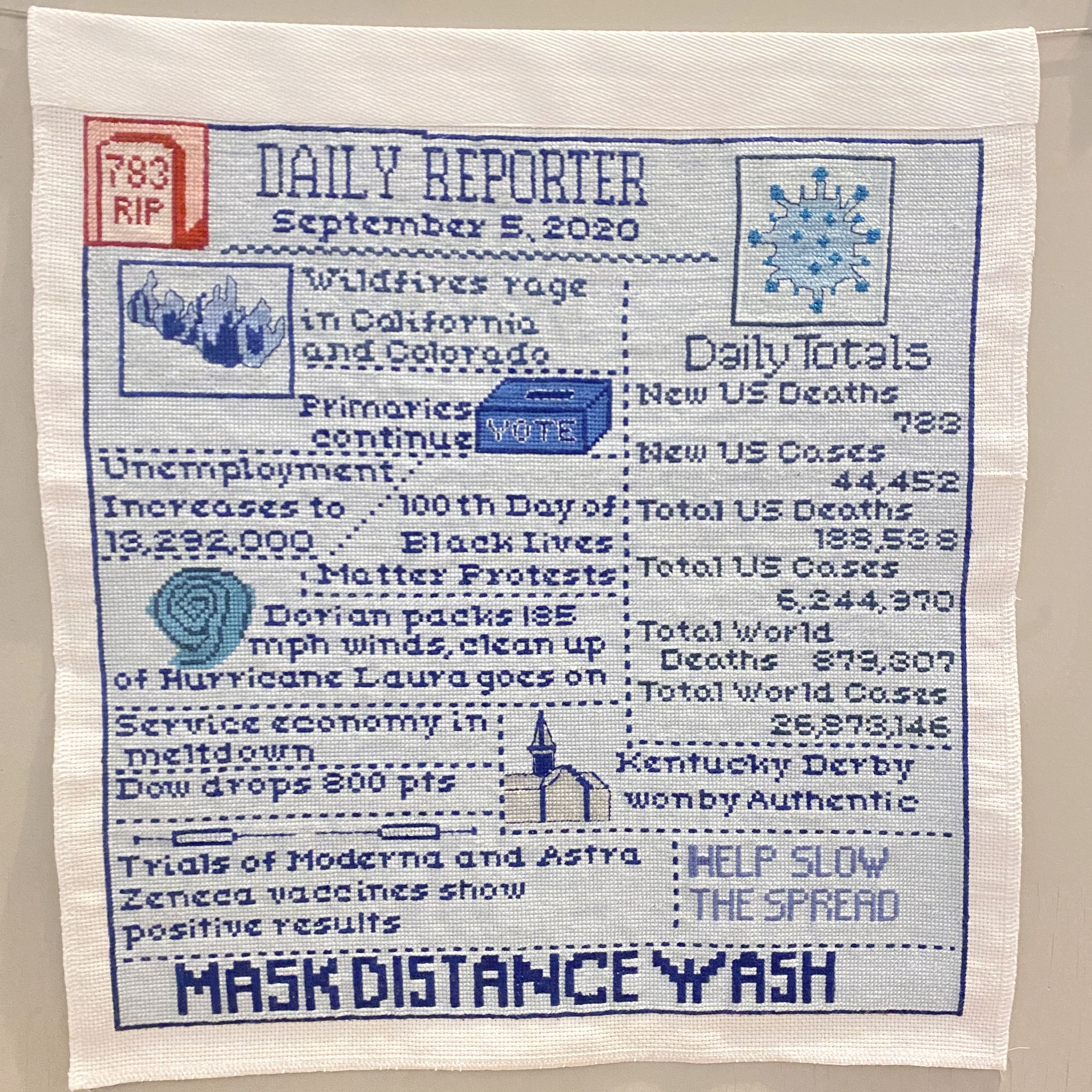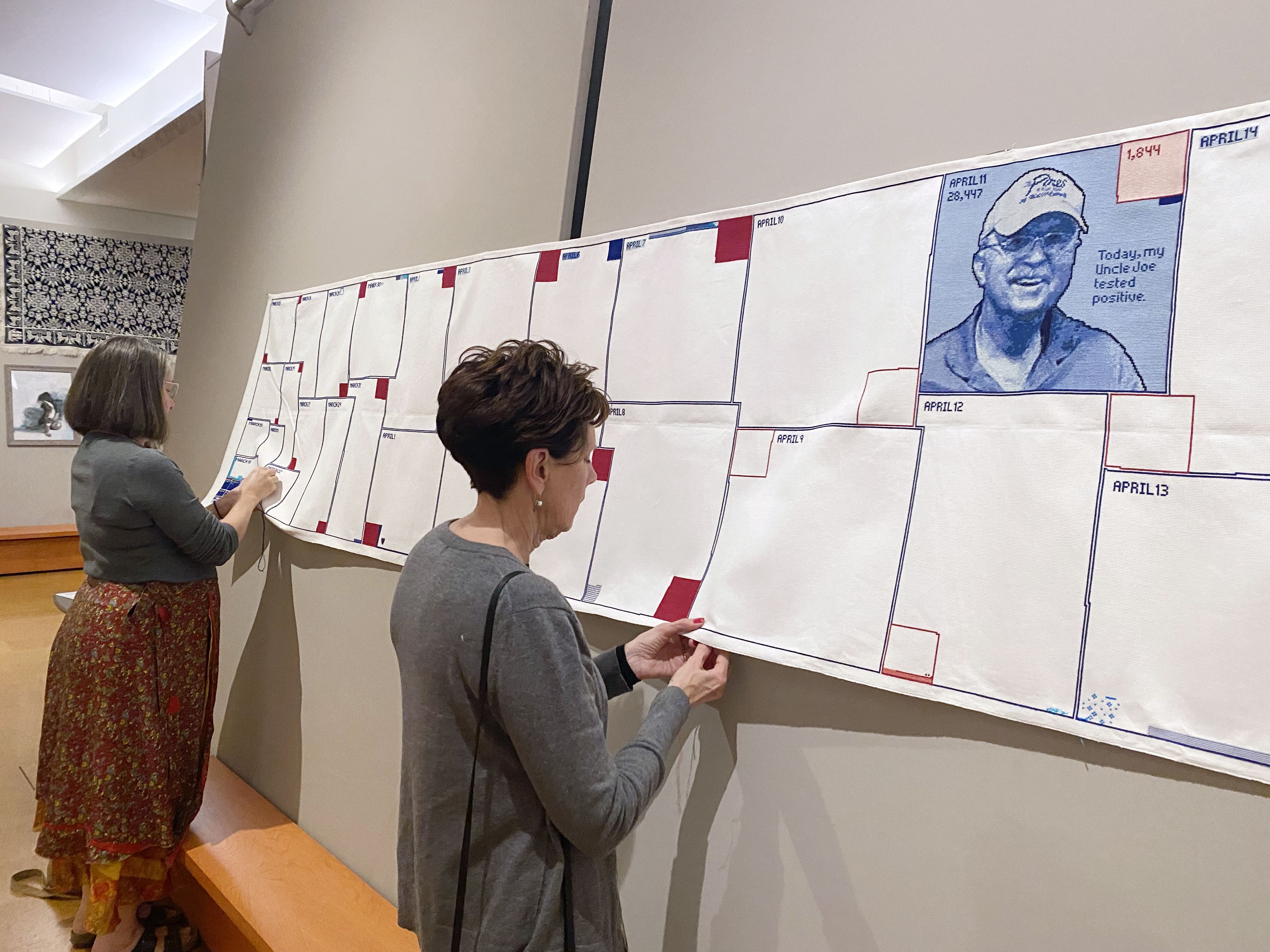 Wearing the Mask
Wearing a mask may be one of the most ubiquitous experiences of the COVID-19 pandemic. While serving a public health purpose, masks have also come to symbolize many experiences and emotions associated with this era. The idea of covering one's face can be a complicated concept, providing protection and security, concealing identities and expressions, or representing cultural traditions. "Wearing a mask," therefore, extends beyond the physical face mask to the idea of "masking" or "unmasking" human emotions during a public health crisis. The artwork in this section explores interpretations of "wearing a mask."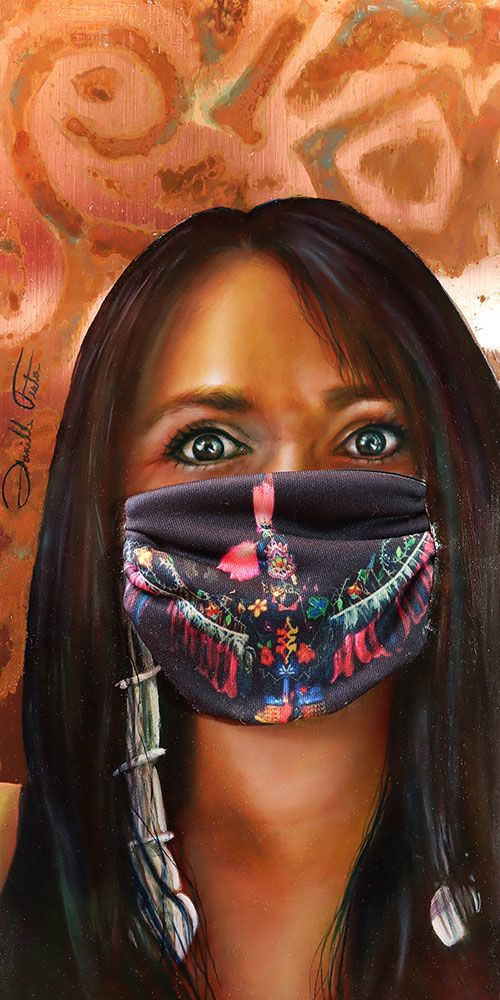 As COVID-19 caused many changes to the external world, these changes also impacted people internally. The unpredictability of the disease and its social and economic fallout caused feelings of isolation, confusion, and fear. Access to resources like a stable income and support system affected one's ability to cope, making marginalized and at-risk individuals more vulnerable. Many grappled with fundamental questions about their identities, work-life balance, and what brought them true fulfillment:
Who am I without my usual lifestyle? My job and career aspirations? My ability to go places and travel? Who am I without loved ones who may have passed?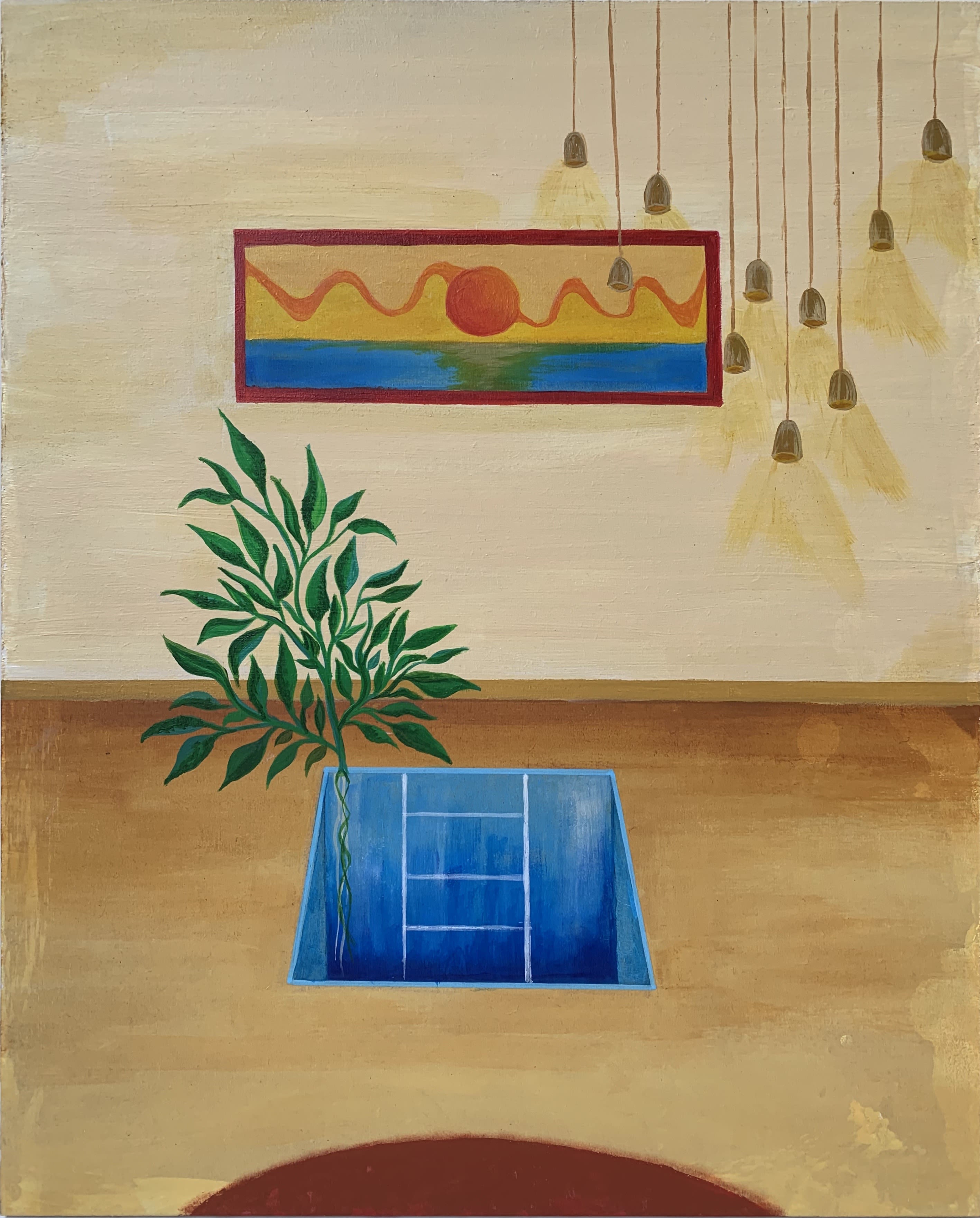 Hannah Bowden, Escape
2020
Cardiff, Cardiff, United Kingdom
Acrylic on MDF board
This piece is from my project "Isolation and The Creative Act" which demonstrates my attitudes and coping methods during lockdown caused by COVID-19. I have drawn an emphasis on the idea of escapism, originally focusing on the wish to transition from place to place. I am interested in spatial zones and how they can provoke a feeling or emotion, especially when there are no human forms. This has been portrayed in my work as I have been primarily focused on interiors and landscapes by combining the inside and outside.

My project also explores how the idea of being able to transition between these two places is designed to relieve the negative effects of lockdown. These portals are representative of not only being able to escape physically but mentally too. This piece reflects the hardships I have faced during lockdown, dreaming and wishing that I could magically escape the harsh world of lockdown. I feel like I have truly been through these portals, stepped down the ladders and climbed the staircases that I depict in my work.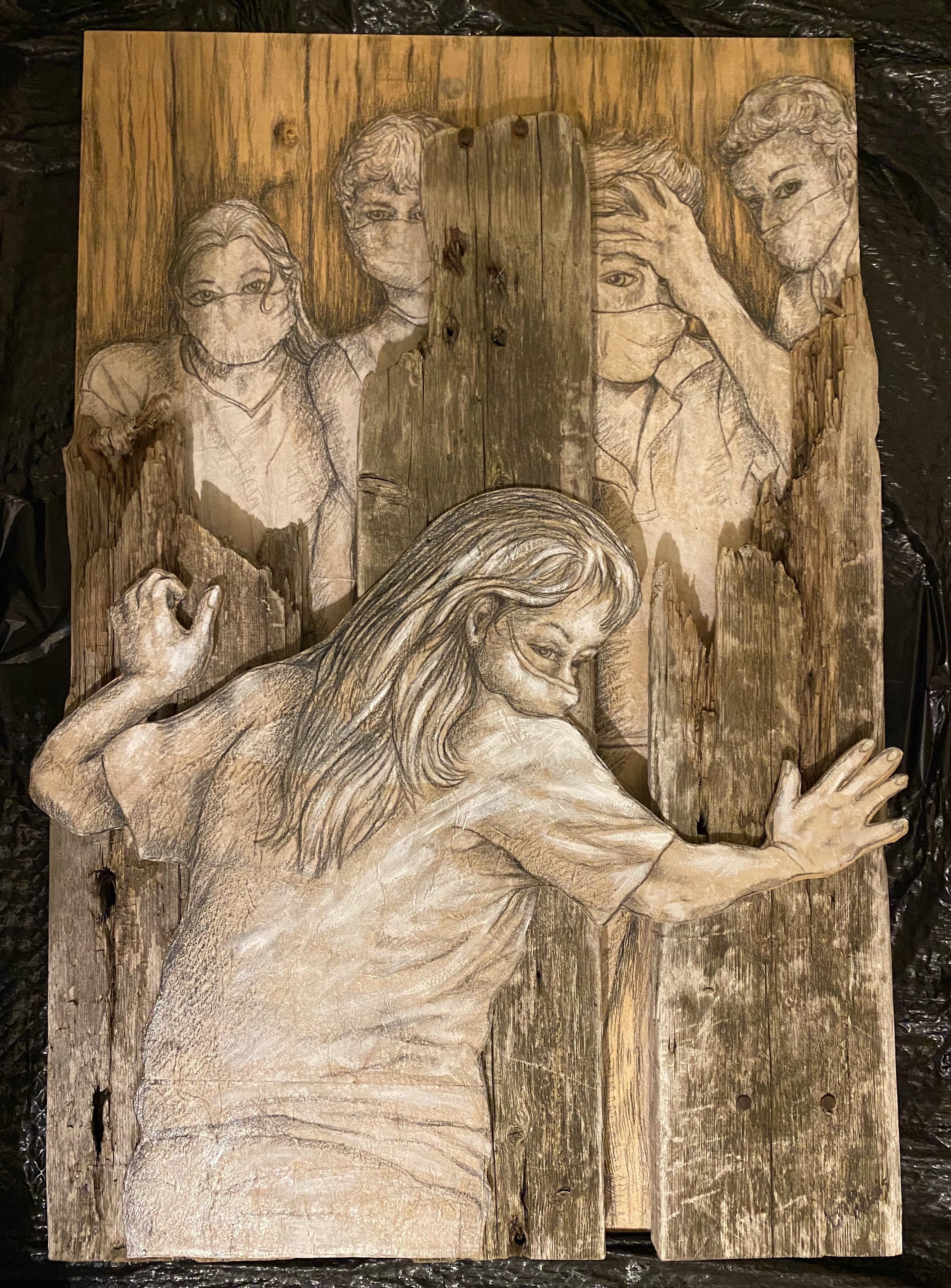 Cindy Morris, Holding Back the Tide
2021
Hockessin, Delaware, United States
Mixed media
I spent my time in quarantine with an abusive man, which changed my perspective forever. The idea of masking in a physical sense is a painful reminder of the emotional masking that one must do to hide the darkness that often goes on behind closed doors. When half of the face is covered, can you still see the light behind one's eyes or the sadness that they so desperately try to hide?
Angel Atkinson, You Cannot Love Someone Into Not Abusing You.
2021
Tecumseh, Oklahoma, United States
Charcoal and watercolor on paper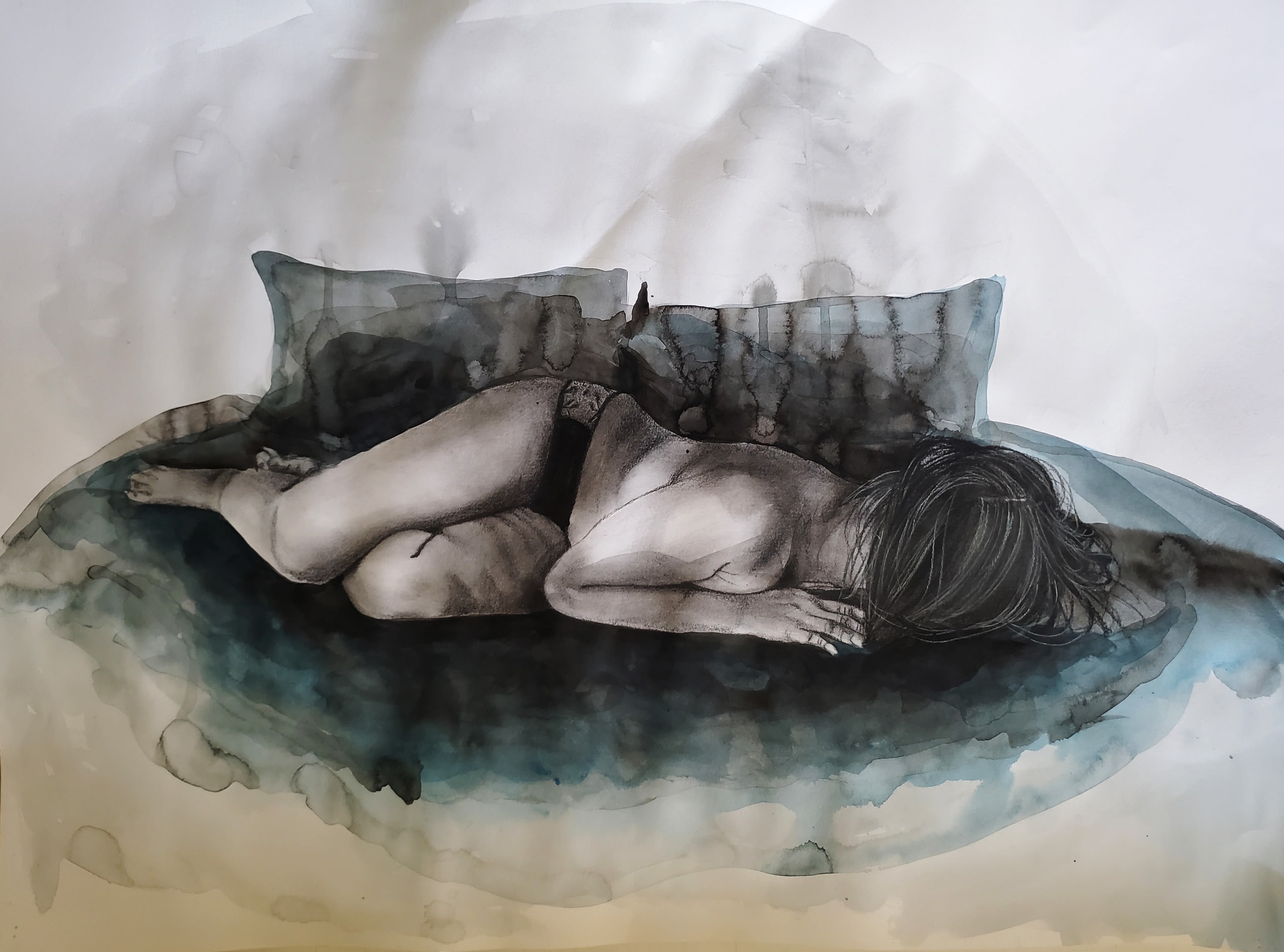 Angel Atkinson, Aftershock
2021
Tecumseh, Oklahoma, United States
Charcoal and watercolor on paper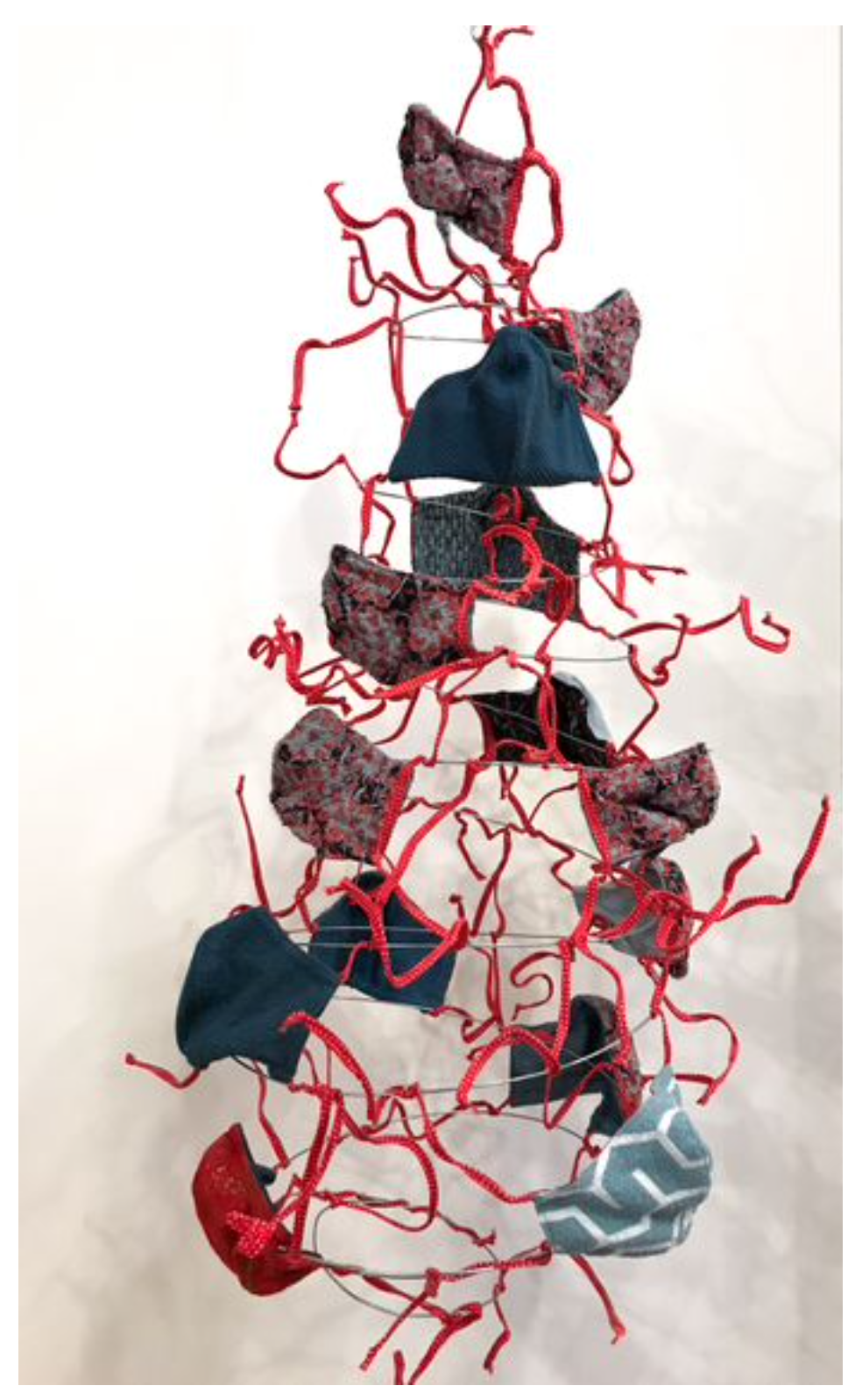 Andrea Finch, Veiled Reality Stay-mobile
2020
Chambersburg, Pennsylvania, United States
Quilted textiles
April started with me making hundreds of masks, in white & neutral colors. As a quiltmaker and textile artist with a large stash of fabric & a sewing machine, I could not just sit by while the world needed masks. I wanted to do all I could as an artist to keep as many people healthy as possible.
"While other artists were sharing the art they were creating in their isolation, I felt the pressure to keep as many people as possible safe. I didn't realize how angry I felt until I stopped making them. The loss, the fear, the anger at the people and politicians in my area who refused to care about the safety of others. I couldn't make another mask until I was challenged to make a mobile from them. I returned to making masks, in many bright fabrics; adapting the pattern for the best fit so everyone can wear it in comfort.
The virus changed our lives, now that we may be on the backside of the pandemic I find I am still holding the resentment and distrust of those around me. At a time when we should have come together to help one another too many followed those in power with ulterior motives to retain that power. I'm an artist who creates 'pretty' art. As a white middle-aged, middle-class, invisible mom I felt there was nothing I could say that others didn't have more right to say. No place for my voice. I often envied other artists who create to expose inequities, unjustness, and cruelness of our so-called modern civilized life." Andrea Finch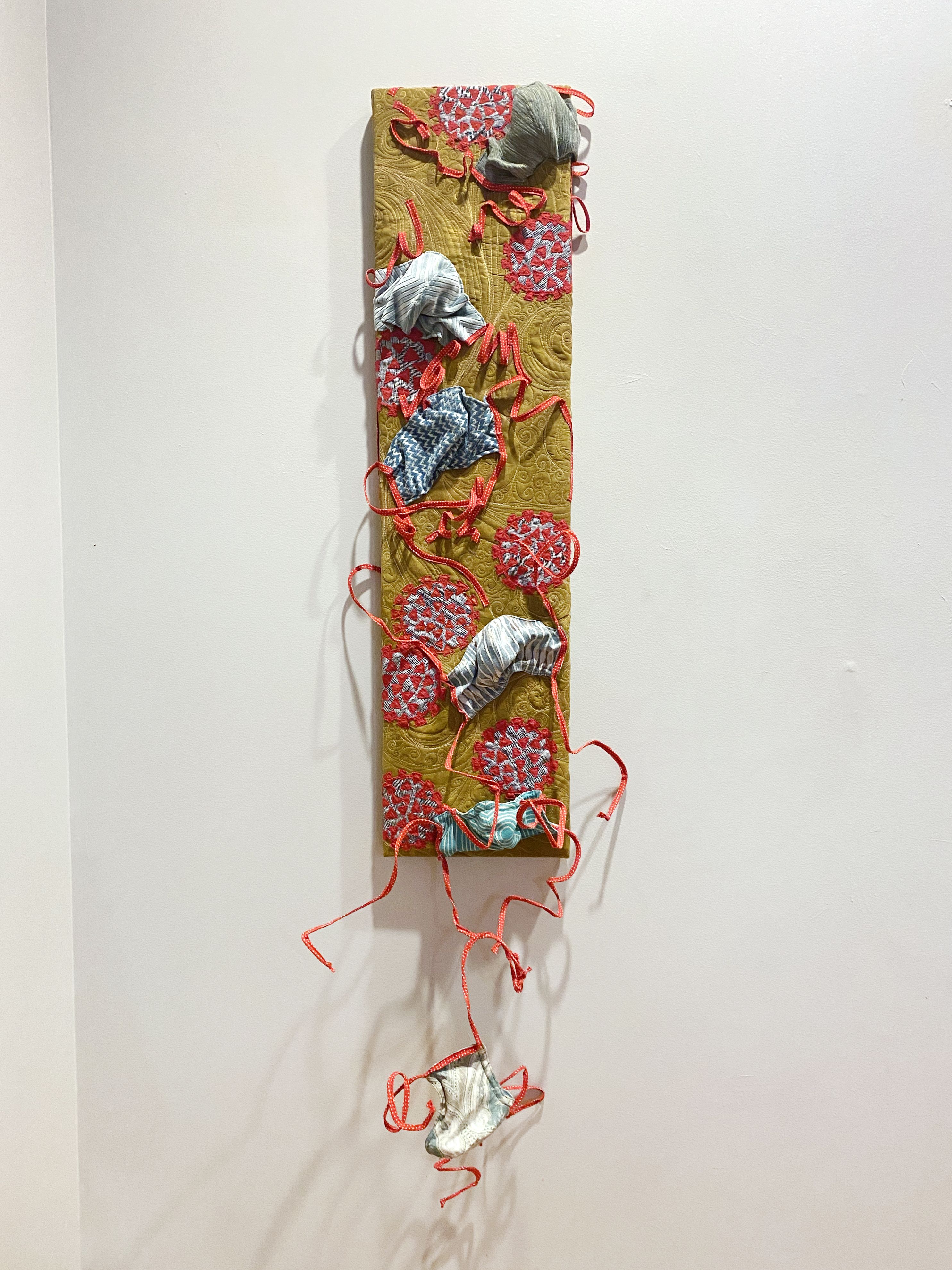 Andrea Finch
2020
Chambersburg, Pennsylvania, United States
Quilted textiles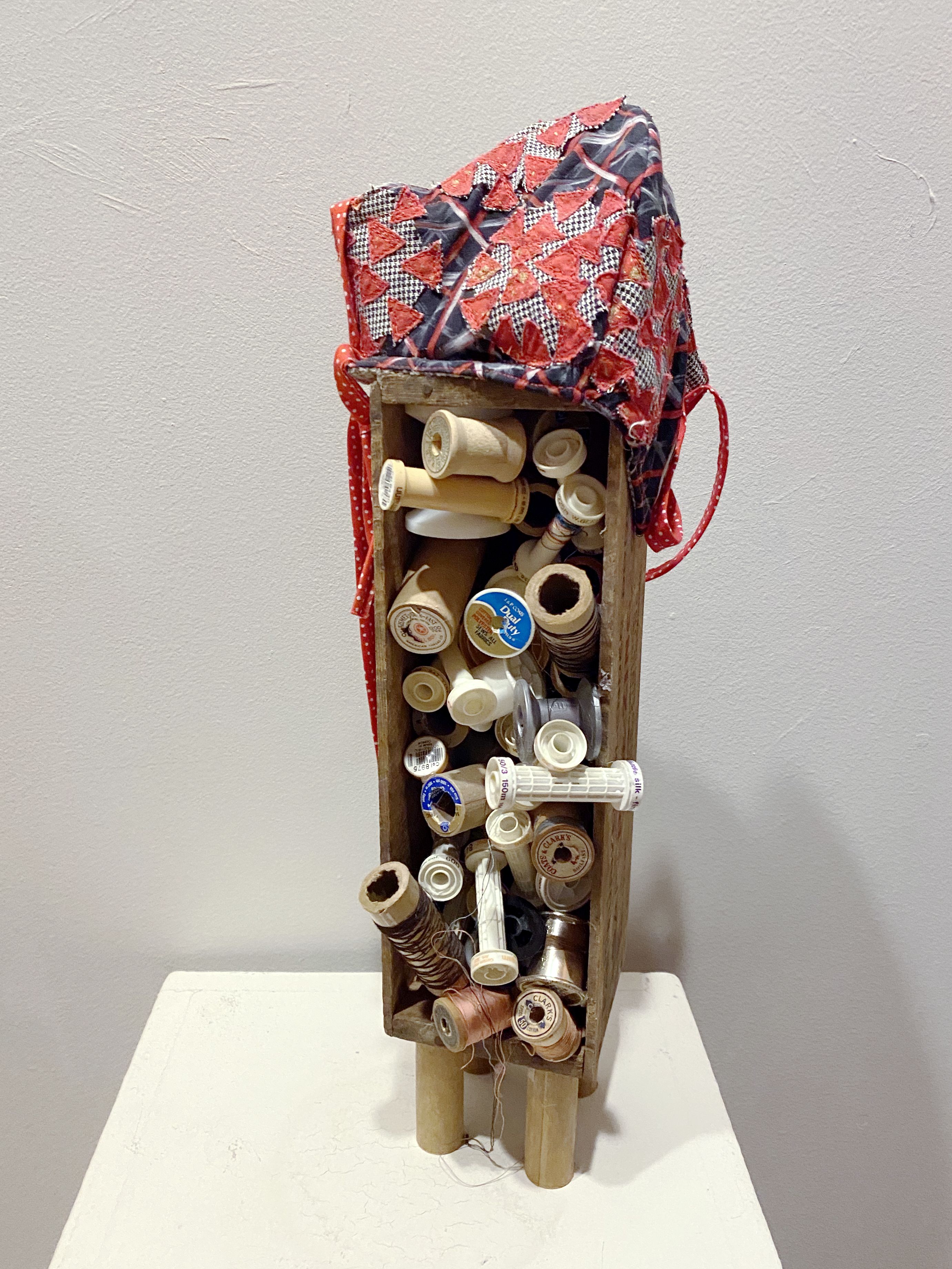 Andrea Finch
2020
Chambersburg, Pennsylvania, United States
Quilted textiles
Moe Wakai, Security Scarf
2021, Los Angeles, California, United States
Hand-woven wool, hand-embroidered cotton yarn
"I extrovert through my photography, and introvert through my textiles. I extrovert by documenting relationships in me, my camera, the subject, and the conversations in between. I reflect in post- production. I introvert through rumination and planning, labor- intense creating, and the simple act of crafting.
I like to make people at ease; I like having a moment of introspection. I like pretty things that make me question myself. The lack of contradiction between opposites — simple and complex, introvert and extrovert, ease and conflict — is something I like to think others enjoy, too.
I want that feeling you get after secretly touching art in a gallery. The satisfaction of touch and the slight guilt that lingers in your fingertips. It's that calm introspection that comes after, the small but sweet existentialism." - Moe Wakai
3/23/20 "Today, Governor Baker said non-essential business has to close starting tomorrow at noon until April 7th and possibly longer AND The Olympics got postponed until 2021! This is so crazy. I can't have a single conversation without talking about corona. It's taking over everyone's mind. I wonder what's gonna happen to the economy. Man. We're gonna have so much to talk about in my International Politics class. LOL. Stay safe and healthy."
3/30/20 "Hey, it's our 5 year anniversary! And we can't see each other! Not that I'm very upset…but it would've been really nice if we could hang out, or something. It's also terrible weather, when it's nice, let's go out on picnic!
I'm so bad at expressing my love for you on social media as you probably already saw lol but that's who we are right? We are just like that :) And I love that about us. I can say at least 1 nice thing about us on our anniversary, right? That's allowed? Haha.
Anyways, as I always say, I love you! Even after 5 years, I still love you."
4/7/20 "I had my first 2 classes on Zoom today…Tried to listen to a lecture as well. The classes/discussions went okay but the lecture was brutal. The content was interesting I just think it was just so…dissatisfying? Boring? I'm not sure exactly what about it was not good but it was just so disengaging and when I talked to you/other people they all agreed with me, so I think the Zoom lectures / asynchronous learning is not off to a good start."
Creativity and Innovation
During times of crisis, the arts can provide a sense of comfort, contemplation, and creativity. For viewers, art can present the world from many perspectives, validate emotions and experiences, encourage reflection, spark conversations, and touch the heart. For artists, it can provide an emotional outlet and opportunity to explore new mediums and projects.
Research shows those who engaged in creative pursuits during the pandemic experienced higher levels of self-esteem and optimism, while those who did not were more prone to depression, anxiety, and boredom. According to the National Endowment for the Arts, while arts and cultural industries sustained heavy losses during the pandemic, they contributed significantly to the national economy and to the well-being and resilience of individuals and communities.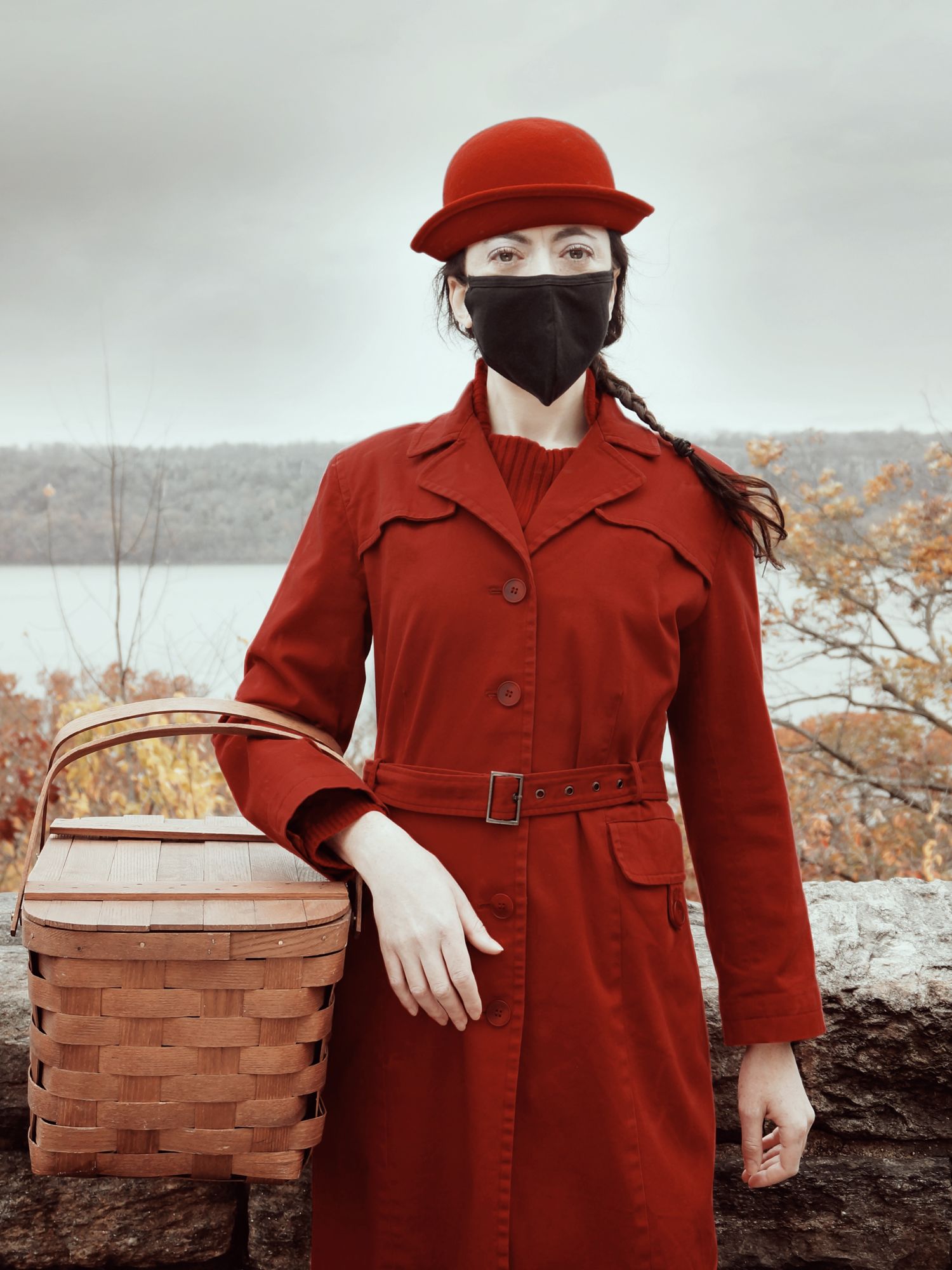 Lisa Stock, Daughter of Disease
2020
New York, New York, United States
Photograph
Taking inspiration from Magritte's "Son of Man" and the tale of Little Red Riding Hood, I created a personal PSA to encourage people to wear a mask in the dangerous world of Covid-19. As Magritte commented about his painting of the "visible that is hidden and the visible that is present," I wish to convey a similar curiosity and frustration that we've all come to experience in a world behind masks.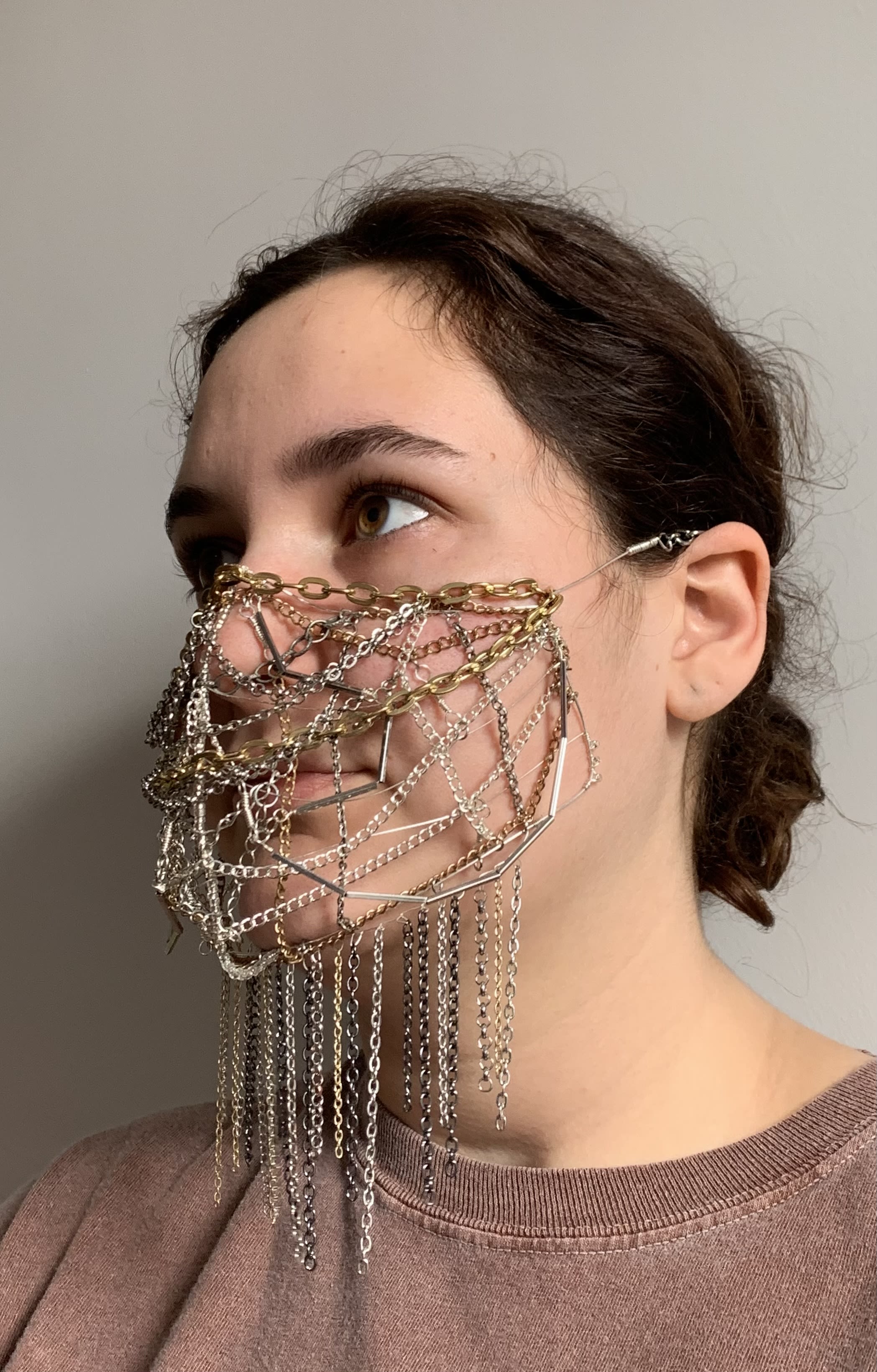 Hannah Bowden, Face Covering
2022
Cardiff, Cardiff, United Kingdom
Upcycled jewelry, chain and wire
Face coverings have a long cultural history, tied to religious, spiritual, and artistic traditions from around the world. Masks gained use in modern medicine at the end of the 19th century. They were widely adopted during the 1918 influenza pandemic, symbolizing civic duty and modernity. Over the past century, they have been tools in the fight against numerous diseases, as well as pollution caused by wildfires and industry.
Masks have become a multilayered symbol of the COVID-19 pandemic, representing many perspectives, opinions, and feelings. They have endured mandates and political debates, were embraced and rejected by various individuals and groups, symbolized personal discretion and community responsibility, and become an object through which artists and makers can explore their ideas.
In my mask series, I am focusing on the act of wearing a face mask; a small piece of fabric connecting the world, strengthening our fight against an invisible enemy, but at the same time making us feel different. I want to emphasize the opportunity for self expression, strength and unity that a face mask can represent.

Incorporating symbols of strength in the copper patina background and amplifying the vibrant oil details of my subjects, I want to highlight the role we can all embrace in combating this world crisis together.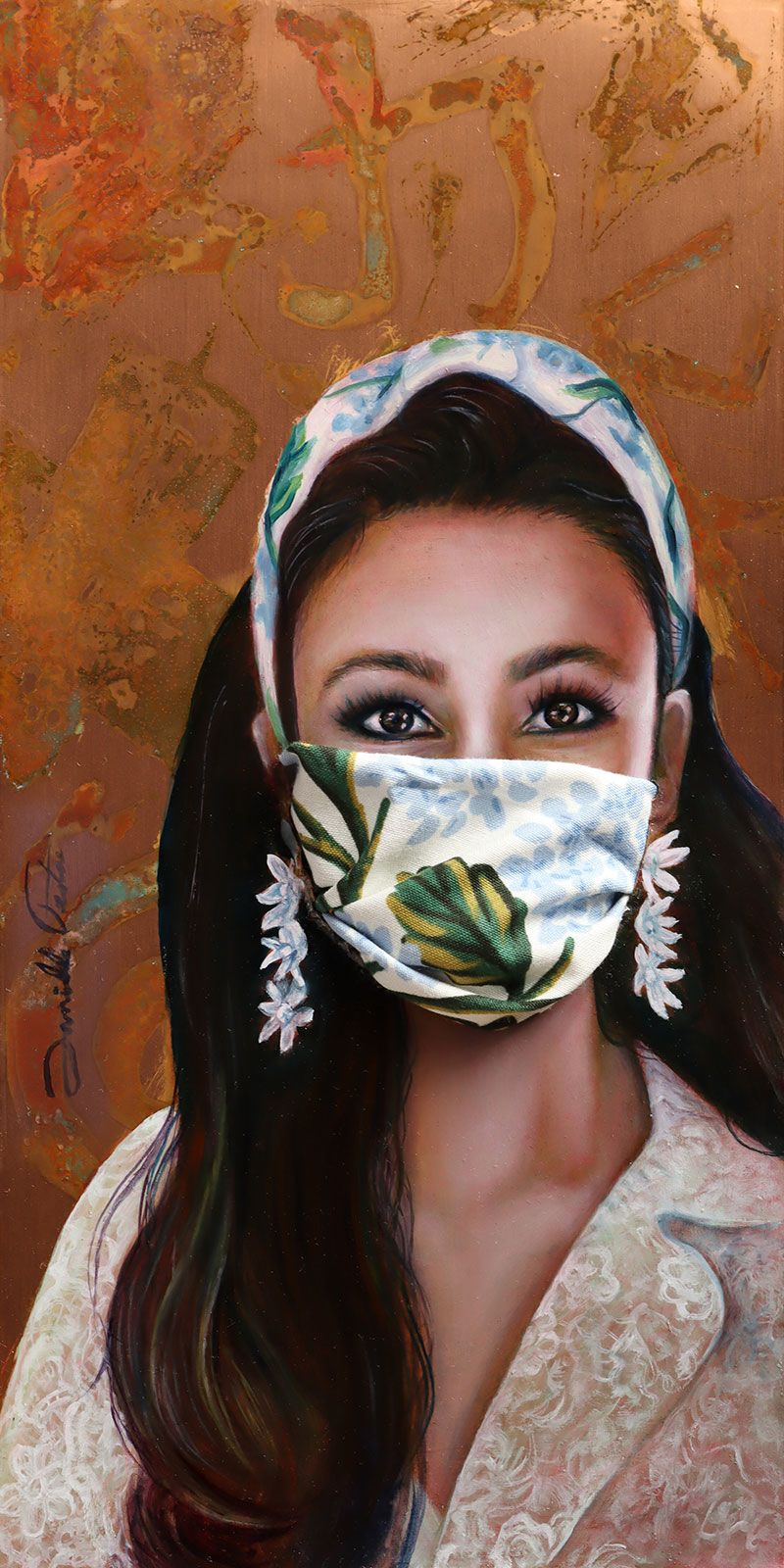 Danielle Festa, Femme Floral
2021
Dover, New Hampshire, United States
Oil on copper with textile
Each piece starts with white vinegar and salt on a copper panel, graphite drawing studies, gesso with watercolor underpaintings, drilling and cutting copper to allow for the mask fabric to pass through. That is all before I pick up my oil brushes. To get a photo realistic effect, I use the traditional renaissance glazing approach with many thin layers of opposing oil colors and fine details. Finally, I pull fabric through as a three dimensional element to highlight the importance and strength behind a small textile addition."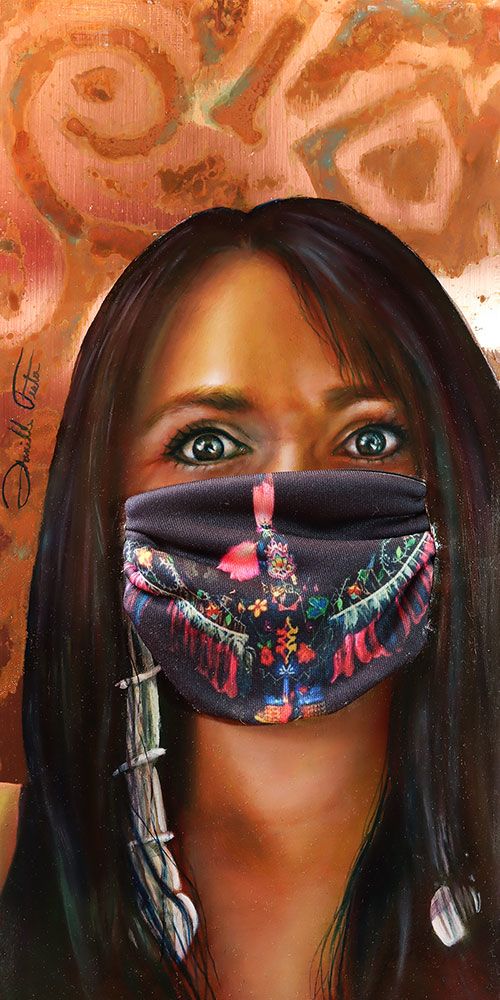 Danielle Festa, Ojibwe Spirit
2021
Dover, New Hampshire, United States
Oil on copper with textile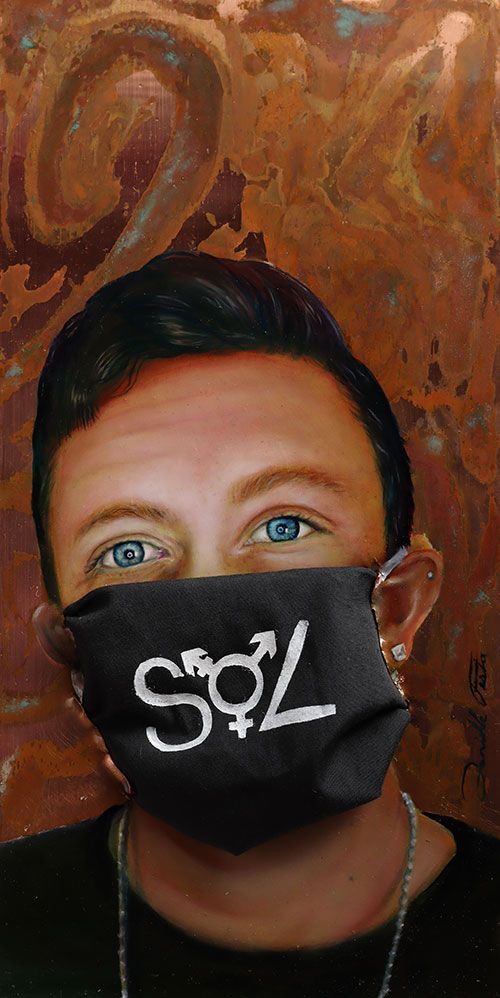 Danielle Festa, Heart and Sol
2020
Dover, New Hampshire, United States
Oil on copper with textile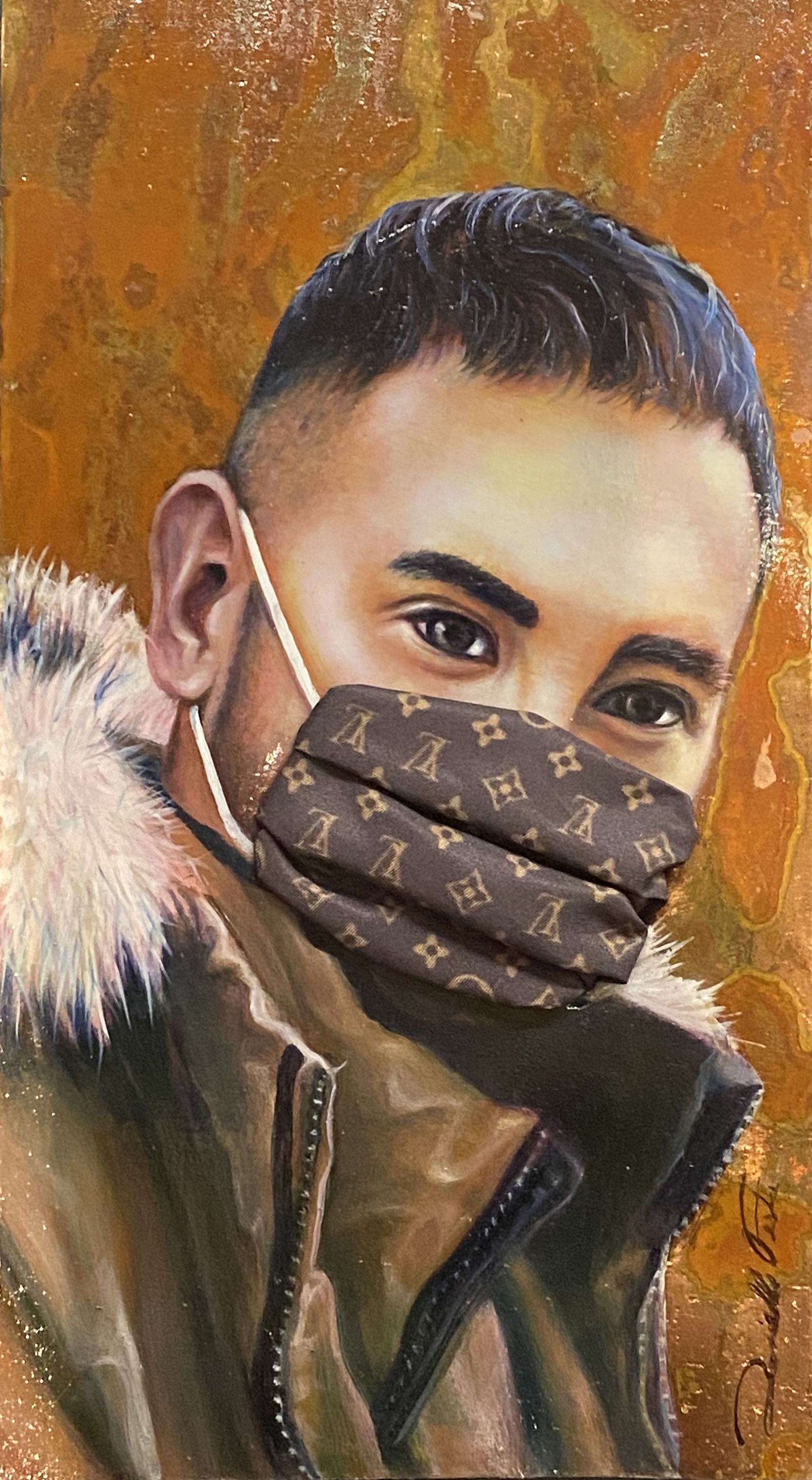 Danielle Festa
2021
Dover, New Hampshire, United States
Oil on copper with textile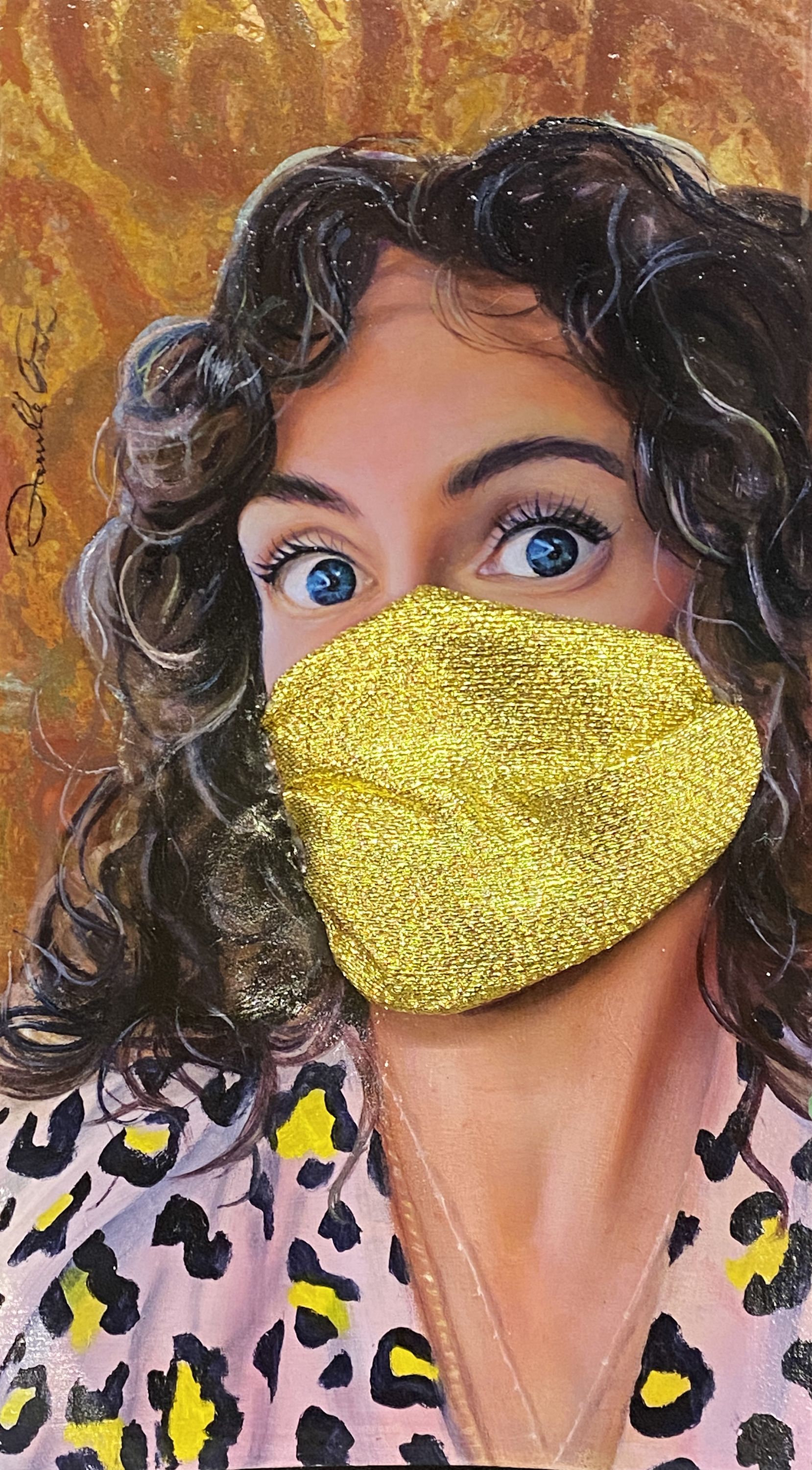 Danielle Festa
2021
Dover, New Hampshire, United States
Oil on copper with textile
As we move into a new era of living with COVID-19, the mask is a reminder of all that the pandemic caused us to endure. From the initial lockdowns to quarantines to the continuing presence of disease, the pandemic created not only a public health crisis but a reckoning of our internal and external worlds. Today, lifted mask mandates, less social distancing, and fewer travel restrictions have signaled a return to normalcy for some, while others see their lives, careers, and loved ones forever changed; a combination of complex, even contradictory, responses can also be present.
The artwork in this exhibit represents the wide-ranging experiences and emotions of individuals, as well as the effects of broader systems on individuals and communities. COVID-19 is still a leading cause of death in the United States (third leading in 2020 and 2021) and is expected to remain a threat to public health indefinitely. We continue to face economic fallout and challenge the systems that perpetuate injustice. As the conclusion of this event remains unwritten, we can reflect on how it impacted ourselves individually and as part of a larger group, and how we may remember it for the future.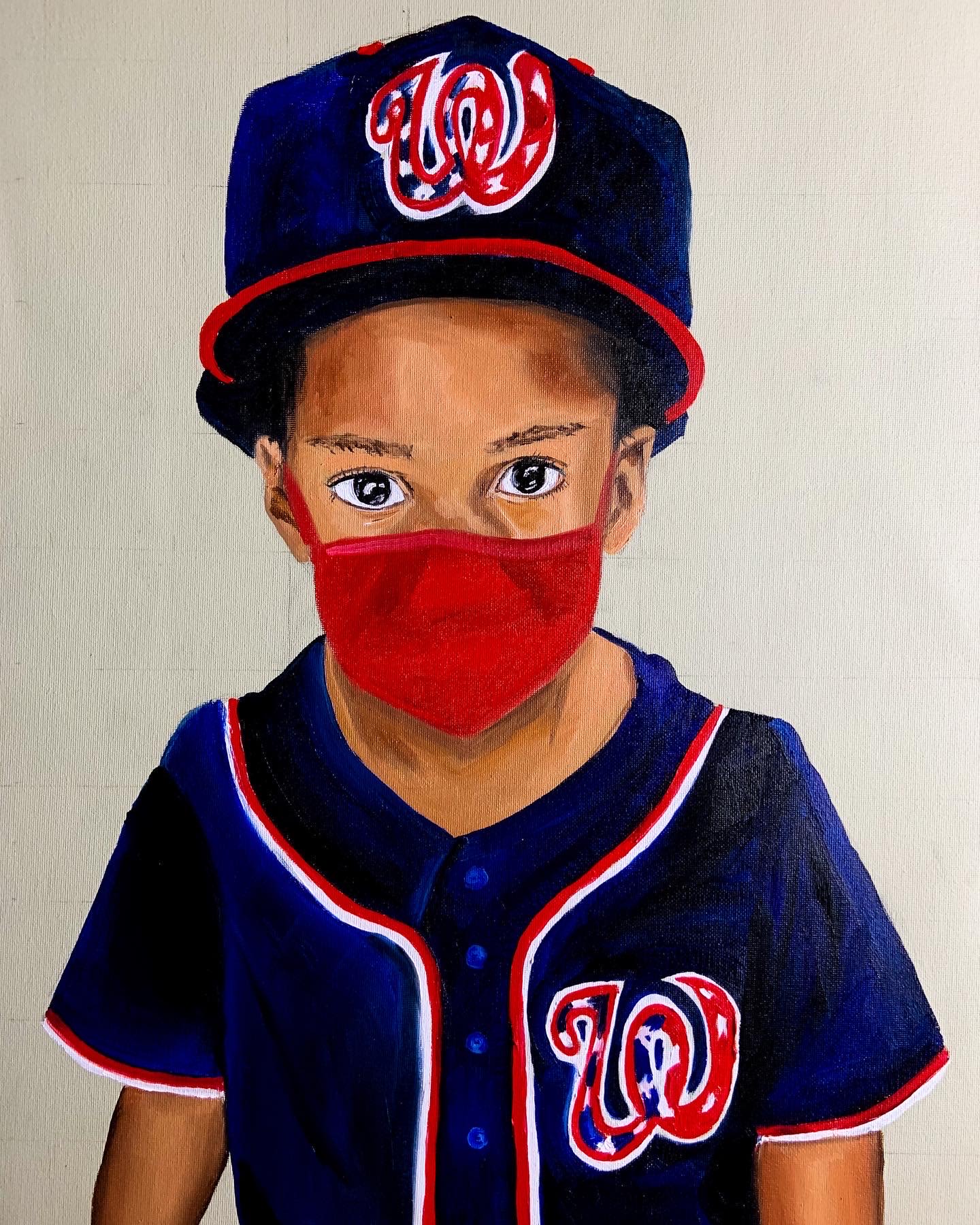 Acknowledgements
Courtesy of a PA SHARP (Sustaining the Humanities through the American Rescue Plan) Grant administered by PA Humanities and provided as part of the National Endowment for the Arts response to the American Rescue Plan Act of 2021.
Exhibit Curators
Elaine Bennett, Dean of the School of Arts, Humanities, and Social Sciences and Associate Professor and Chair of Sociology and Anthropology Department at Saint Vincent College
Casey Bowser, oral history consultant, Instructor of History at Saint Vincent College, archivist at Sisters of Charity at Seton Hill Archives
Lauren Churilla, Instructor of History at Saint Vincent College
Pamela Curtin, exhibit consultant and Instructor of History at Saint Vincent College
Andrew Julo, Director/Curator of the Verostko Center for the Arts at Saint Vincent College
Dr. Karen Kehoe, Associate Professor of History and Director of Public History Program at Saint Vincent College
Student Workstudies
Oral History and Digital Humanities Workstudy positions funded by PA SHARP to assist with oral history interviews, the exhibit, and public engagement
Laura Horn, Oral History and Digital Humanities Workstudy at Saint Vincent College
Kelsie Patton, Oral History and Digital Humanities Workstudy at Saint Vincent College
Laura Wargo, McCarl Coverlet Gallery Workstudy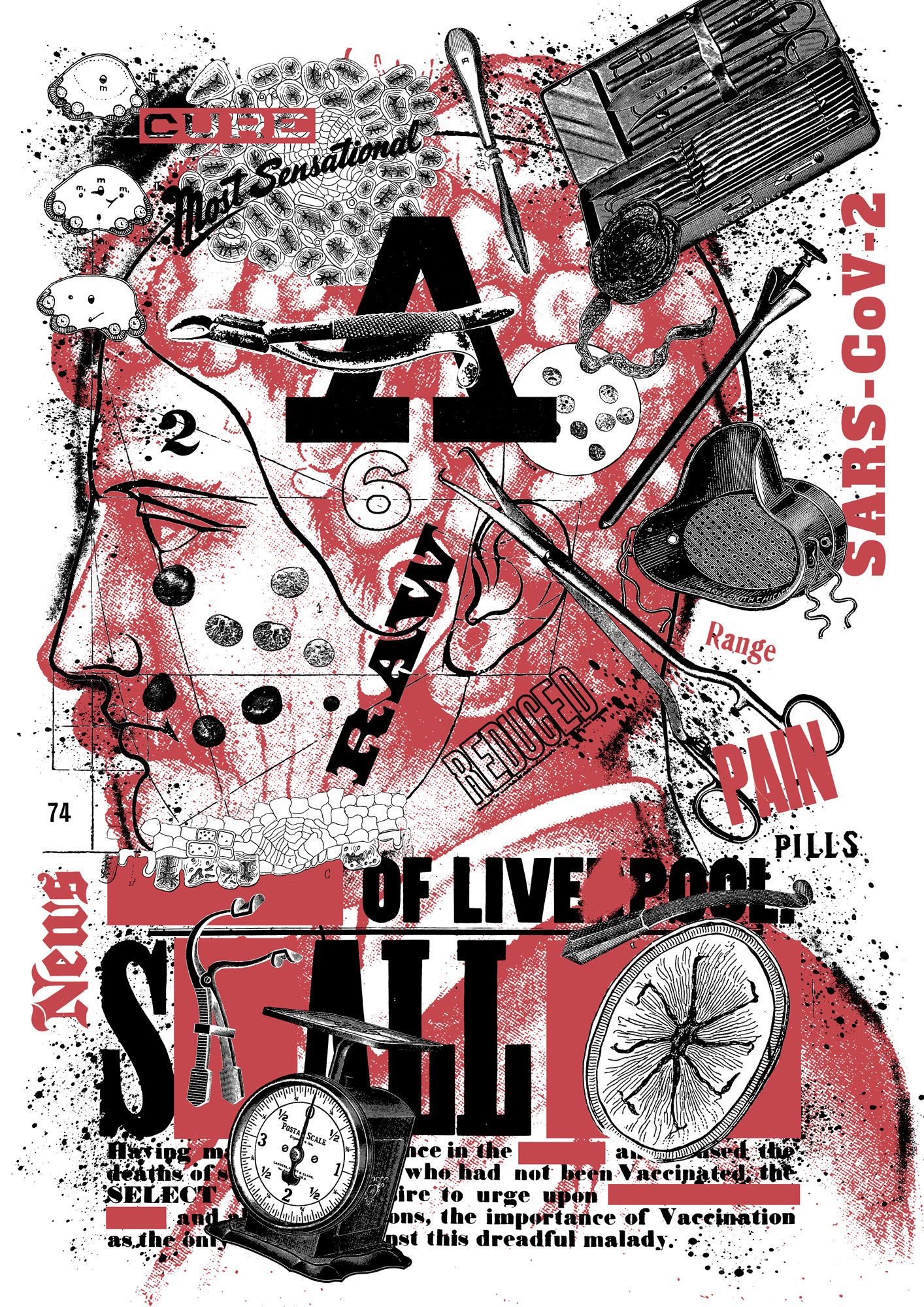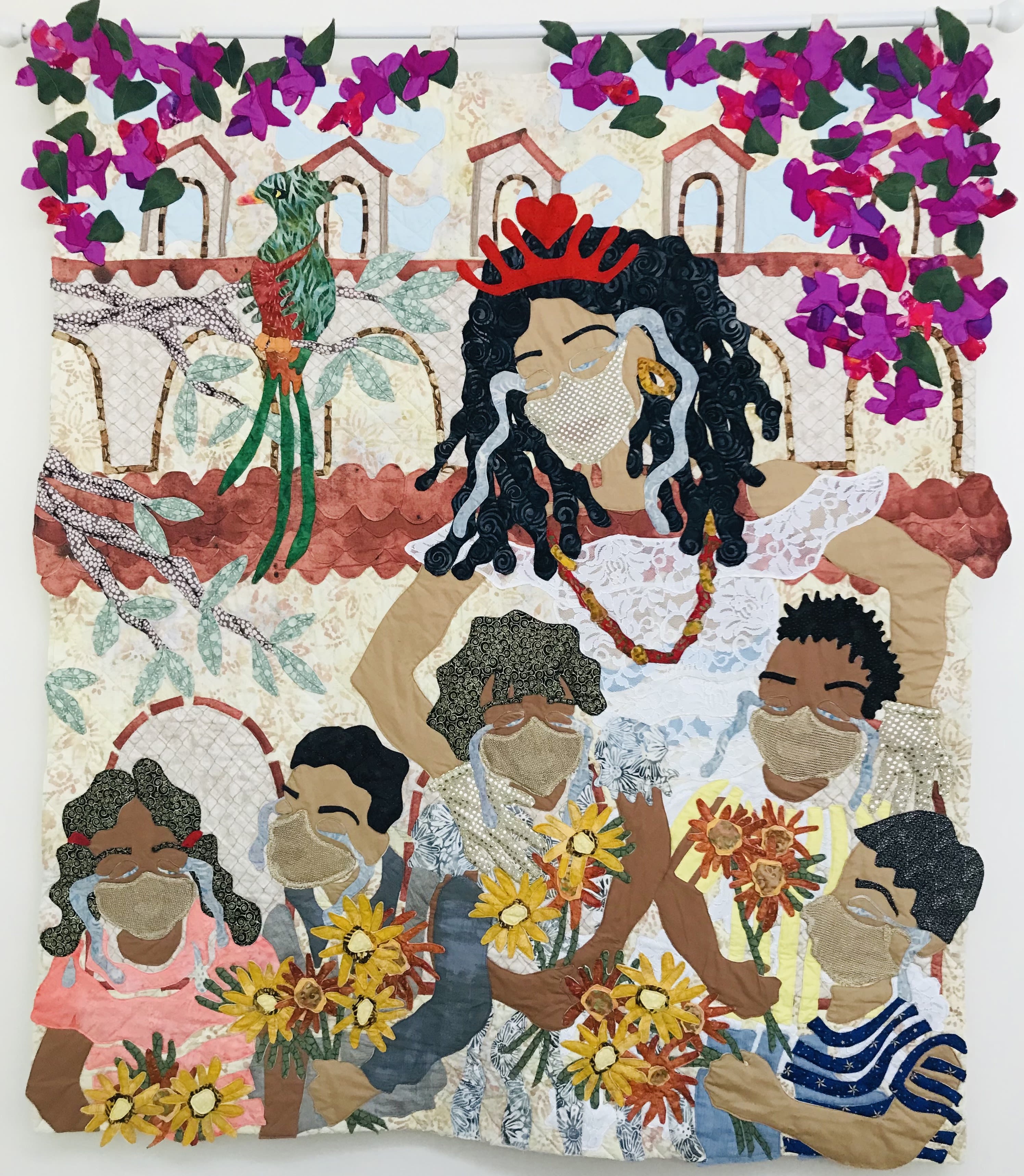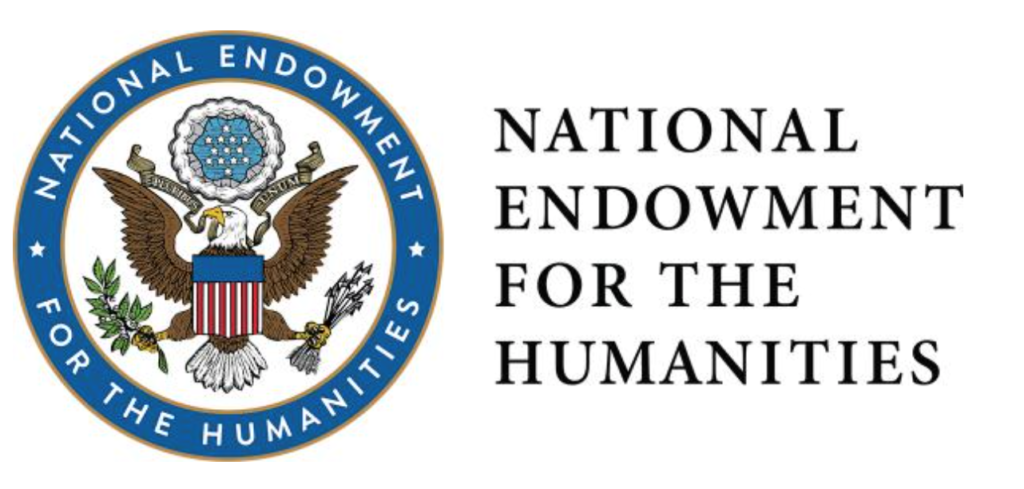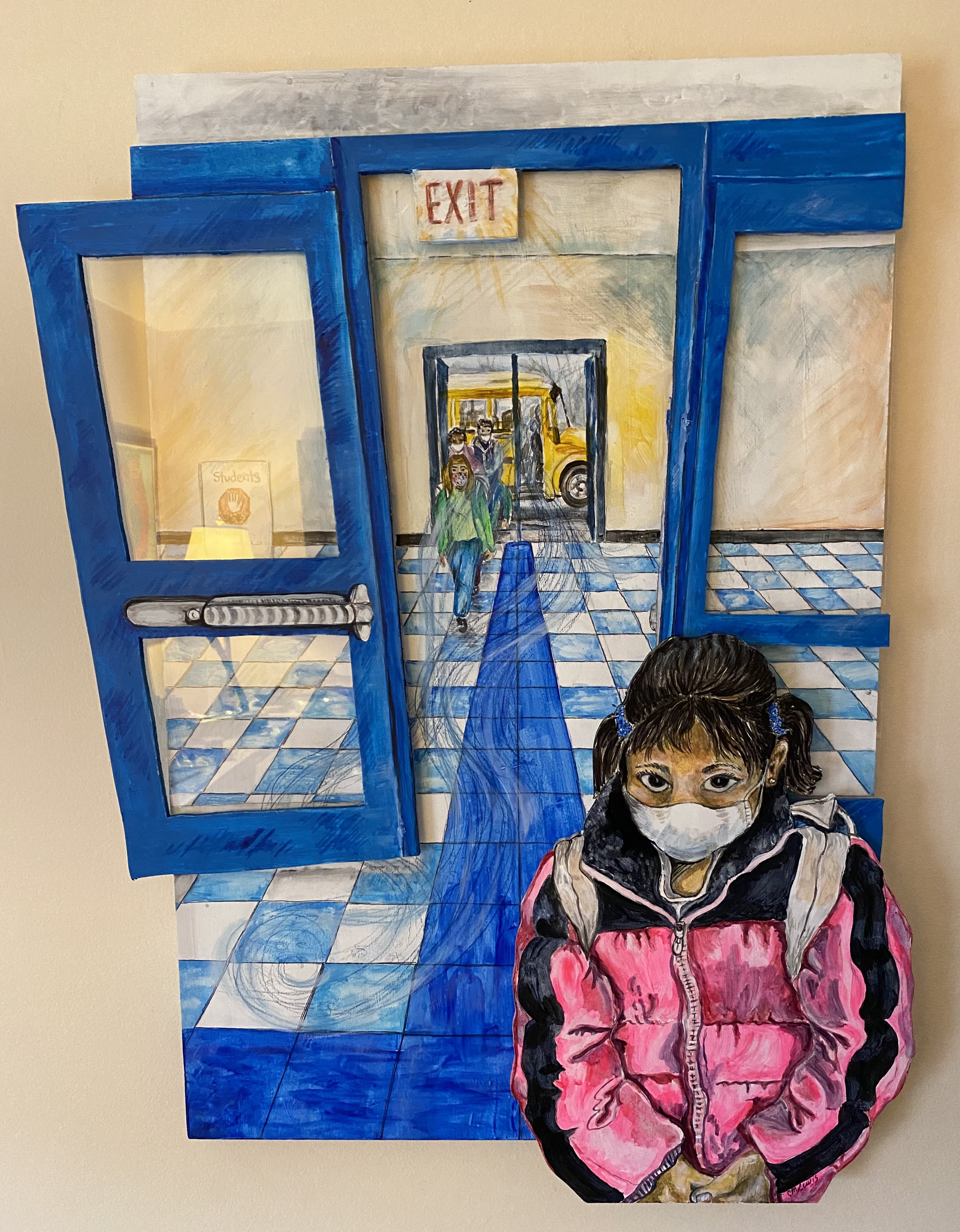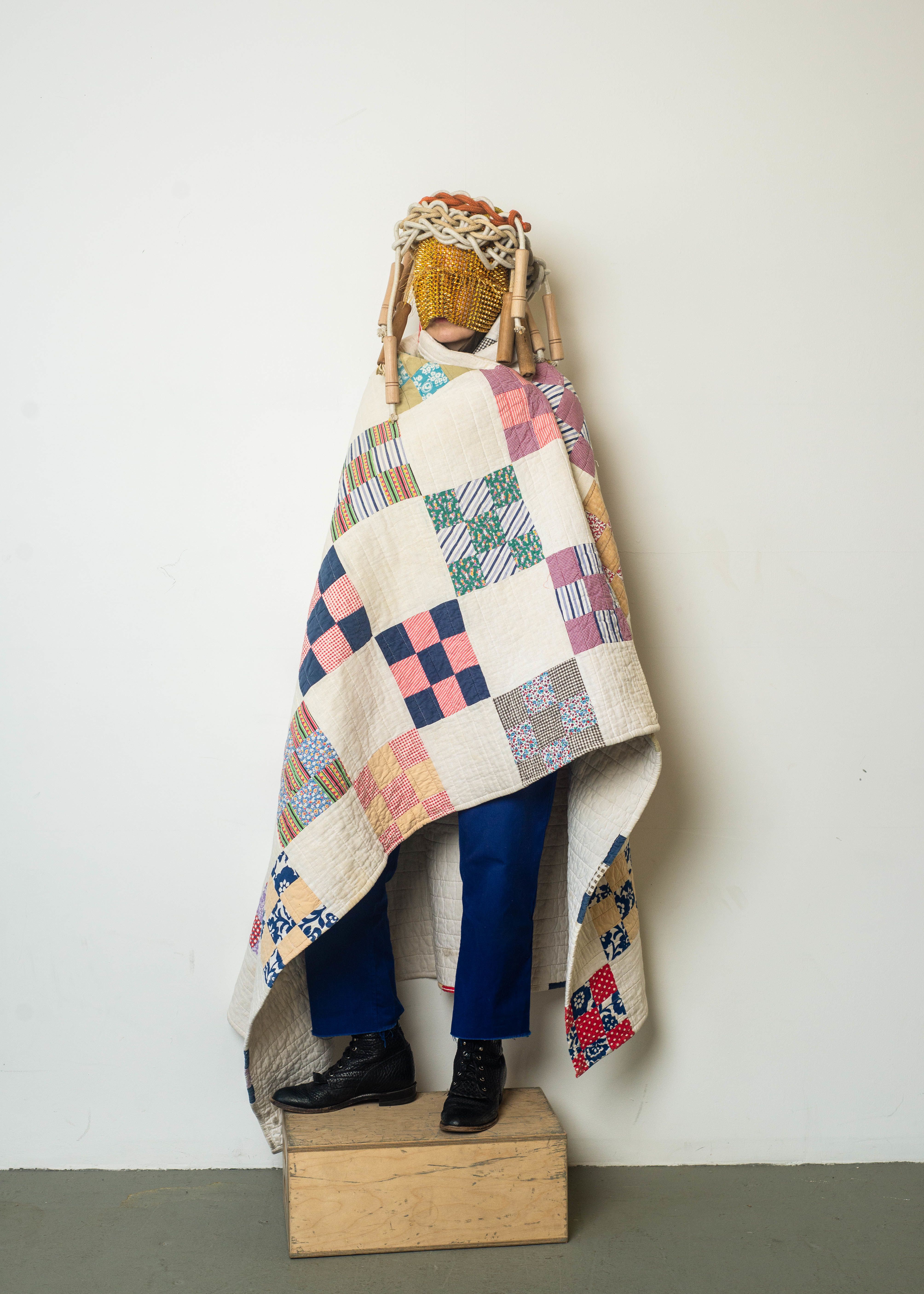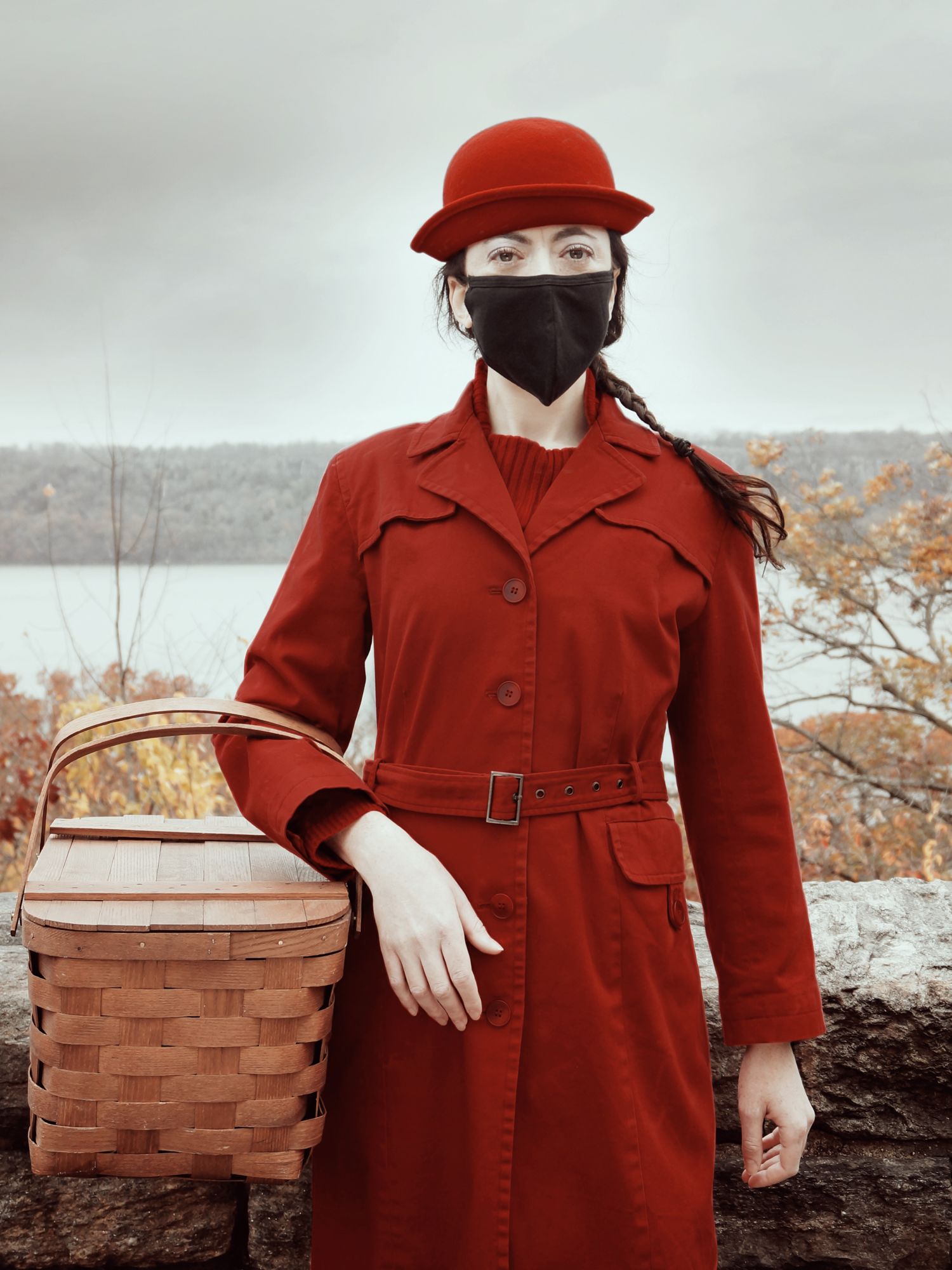 Bibliography
Arora, Maneesh. "How the coronavirus pandemic helped the Floyd protests become the biggest in U.S. history." The Washington Post. August 5, 2020. Accessed October 17, 2022. https://www.washingtonpost.com/politics/2020/08/05/how-coronavirus-pandemic-helped-floyd-protests-become-biggest-us-history/
Bendix, Aria and Shannon Pennypiece. "Covid will be a leading cause of death in the U.S. indefinitely, whether or not the pandemic is 'over'." NBC News. September 19, 2022. Accessed October 28, 2022. https://www.nbcnews.com/health/health-news/covid-will-leading-cause-death-indefinitely-us-rcna48374
Bowles, Terry, "Our Changing Identities Under COVID-19." Pursuit, The University of Melbourne. July 20, 2020. accessed October 17, 2022. https://pursuit.unimelb.edu.au/articles/our-changing-identities-under-covid-19
Branswell, Helen. "Public Health Officials Have Tools to Beat Back Covid Again. Does Anyone Want to Use Them?" Stat News, July 22, 2021. Accessed October 8, 2022. https://www.statnews.com/2021/07/22/public-health-officials-have-tools-to-beat-back-covid-again-does-anyone-want-to-use-them/
CDC. "Interim Guidance for Managing Healthcare Personnel with SARS-CoV-2 Infection or Exposure to SARS-CoV-2," cdc.gov, September 23, 2022. Accessed October 8, 2022. https://www.cdc.gov/coronavirus/2019-ncov/hcp/guidance-risk-assesment-hcp.html
Dorn, Emma, Bryan Hancock, Jimmy Sarakatsannis, and Ellen Viruleg, "COVID-19 and Learning Loss – Disparities Grow and Students Need Help," December 8, 2020, https://www.mckinsey.com/industries/public-and-social-sector/our-insights/covid-19-and-learning-loss-disparities-grow-and-students-need-help, Accessed September 27, 2022.
Feinberg, Andrew P. "We Had the Tools to Fight Covid-19 Before it Arrived. Next Time We Might Not be so Lucky." The Washington Post. January 3, 2021. Accessed October 8, 2022. https://www.washingtonpost.com/opinions/2021/01/03/we-had-tools-fight-covid-19-before-it-arrived-next-time-we-might-not-be-so-lucky/
Findling, Mary, Robert J. Blendon, John Benson, and Howard Koh. "COVID-19 Has Driven Racism and Violence Against Asian Americans: Perspectives from 12 National Polls," Health Affairs, April 12, 2022, accessed October 17, 2022, https://www.healthaffairs.org/do/10.1377/forefront.20220411.655787/
Friedman, Vanessa. "The Mask." The New York Times. March 17, 2022. Accessed October 17, 2022. https://www.nytimes.com/2020/03/17/style/face-mask-coronavirus.html.
Jeleff, Maren, Marianna Traugott, Elena Jirovsky-Platter, Galateja Jordakieva, and Ruth Kutalek. "Occupational Challenges of Healthcare Workers During the COVID-19 Pandemic: A Qualitative Study." BMJ Open. Volume 12, No. 3, Occupational and Environmental Medicine, Original Research, bmjopen.bmj.com, accessed October 8, 2022.
Jones, Damon, and Diana Fishbein. "COVID-19 and Social Injustice – A Wake-up Call in 2020." Penn State Social Science Research Institute. August 28, 2020. Accessed October 16, 2022. https://covid19.ssri.psu.edu/articles/covid-19-and-social-injustice-wake-call-2020
Kuhfeld, Megan, Jim Soland, Karyn Lewis, and Emily Morton. "The Pandemic Has Had Devastating Impacts on Learning. What Will It Take to Help Students Catch Up?" Brown Center Chalkboard. March 3, 2022. Accessed October 22, 2022, https://www.brookings.edu/blog/brown-center-chalkboard/2022/03/03/the-pandemic-has-had-devastating-impacts-on-learning-what-will-it-take-to-help-students-catch-up/
Long, Cindy, "Omicron Exacerbating School Staff Shortages," National Education Association News, January 13, 2022. Accessed October 22, 2022. https://www.nea.org/advocating-for-change/new-from-nea/omicron-exacerbating-school-staff-shortages
Mayo Clinic. "Coronavirus Disease 2019 (COVID-19): Symptoms." Mayo Clinic. Accessed October 8, 2022. https://www.mayoclinic.org/diseases-conditions/coronavirus/symptoms-causes/syc-20479963
McNeely, Connie L. and Laurie A. Schintler. "The Pandemic Challenges: Reflections on the Social Justice Dynamic." World Med Health Policy. Dec. 12, 2020 (4): 344–346. Published online 2020 Nov 29. doi: 10.1002/wmh3.375. https://www.ncbi.nlm.nih.gov/pmc/articles/PMC7753789/
MHA: Mental Health America. "The Mental Health of Healthcare Workers In COVID-19." Mental Health America. Accessed October 8, 2022. https://mhanational.org/mental-health-healthcare-workers-covid-19
National Endowment for the Arts. "New Data Show Economic Impact of COVID-19 on Arts & Culture Sector." National Endowment for the Arts. March 15, 2022. Accessed October 17, 2022. https://www.arts.gov/news/press-releases/2022/new-data-show-economic-impact-covid-19-arts-culture-sector.
National Institutes of Health. "COVID-19 was third leading cause of death in the United States in both 2020 and 2021." National Institutes of Health. July 5, 2022. Accessed October 28, 2022. https://www.nih.gov/news-events/news-releases/covid-19-was-third-leading-cause-death-united-states-both-2020-2021
Ng, Kwan Hoong and Ray Kemp. "Understanding and Reducing the Fear of COVID-19." Journal of Zhejiang University Science B. September 2020. Vol. 21, No. 9: 752-754. Accessed October 6, 2022. https://www.ncbi.nlm.nih.gov/pmc/articles/PMC7301038/
Office for Civil Rights, "Education in a Pandemic: The Disparate Impacts of COVID-19 on America's Students." United States Department of Education. June 2021. Accessed September 28, 2022. https://www2.ed.gov/about/offices/list/ocr/docs/20210608-impacts-of-covid19.pdf.
Press, Benjamin and Thomas Carothers. "Worldwide Protests in 2020: A Year in Review." Carnegie Endowment for International Peace. December 21, 2020. Accessed October 28, 2022. https://carnegieendowment.org/2020/12/21/worldwide-protests-in-2020-year-in-review-pub-83445
Robson, David. "The Fear of Coronavirus in Changing Our Psychology." BBC: Future. April 1, 2020. Accessed October 6, 2022. https://www.bbc.com/future/article/20200401-covid-19-how-fear-of-coronavirus-is-changing-our-psychology
Romero, Simon, Roni Caryn Rabin, and Mark Walker. "How the Pandemic Shortened Life Expectancy in Indigenous Communities." The New York Times. August 31, 2022. Accessed October 17, 2022. https://www.nytimes.com/2022/08/31/health/life-expectancy-covid-native-americans-alaskans.html
Russell, B.S., M. Hutchinson, R. Tambling, A.J. Tomkunas and A.L. Horton, "Initial Challenges of Caregiving During COVID-19: Caregiver Burden, Mental Health, and the Parent-Child Relationship," Child Psychiatry & Human Development 51 (2020): 671-682. Accessed October 8, 2022. https://link.springer.com/article/10.1007/s10578-020-01037-x
The Associated Press. "More Than 9,000 Anti-Asian Incidents Have Been Reported Since The Pandemic Began." NPR. August 12, 2021. Accessed October 17, 2022. https://www.npr.org/2021/08/12/1027236499/anti-asian-hate-crimes-assaults-pandemic-incidents-aapi
Thompson, Jennifer. "Testing Remains One of Our Best Tools to Fight COVID-19." Tacoma-Pierce County Health Department. February 12, 2021. Accessed October 8, 2022. https://www.tpchd.org/Home/Components/Blog/Blog/31919/333
University of Michigan-Dearborn. "How Serious is the COVID 'Learning Gap'?" News University of Michigan – Dearborn. April 7, 2021. Accessed September 27, 2022. https://umdearborn.edu/news/how-serious-covid-learning-gap